When the painting is finished, the painter usually isn't. Deciding what to do with leftover paint can be a post-project pain, but state legislators and environmental activists are banding together to change that.
Legislation in the state Capitol would establish a PaintCare program in Massachusetts, giving Commonwealth residents options for swiftly and safely recycling or disposing of what's left in the can.
Adding 75 to 95 cents to the price of a gallon at the point of sale would allow residents to take cans of the leftover back to the same retailers later for collection and either recycling of latex or disposal of oil-based paint.
"Convenience matters," Thomas Irwin, a member of the Green Dalton Committee and a PaintCare activist, said. "The beauty of this is that it will be convenient."
PaintCare is a nonprofit program operating in the District of Columbia and 10 states, with Oregon in 2009 the first. The program mostly collects house paints and primers in original containers. Under the proposals in the statehouse, participation by paint retailers would be voluntary with PaintCare hoping to have retailers sign up.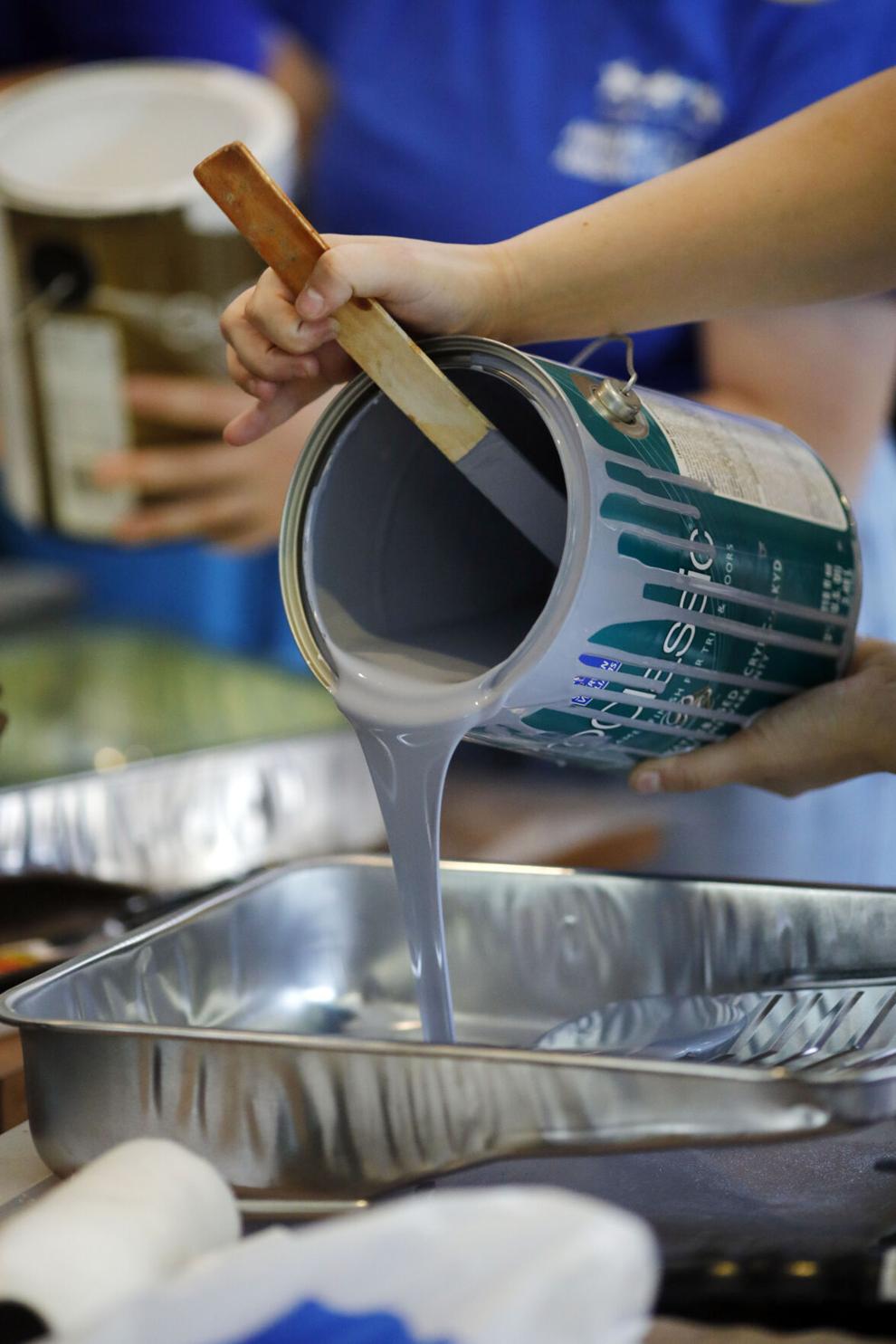 One bill has sponsors in both the House — state Reps. Patricia Haddad and Smitty Pignatelli — and the Senate, with state Sens. Susan Moran and Paul Mark. State Sen. Patrick O'Connor also has introduced a paint-recycling bill, which Mark backs.
Previous attempts at getting the program enacted have stalled, and not everyone is applauding this year's effort. A trade association representing retailers is skeptical.
But Irwin said the program's biggest benefit would be reducing the amount of potentially toxic paint in landfills.
Irwin and others make the argument that customers could bring back unused latex paints that can be blended again into bulk paint for those that need it, such organizations as Habitat for Humanity.
Oil-based paints cannot be remixed and will be used as industrial fuel, Irwin said. The paint will be treated to go into industrial burners with gas filtration systems that will send out clean air after they are burned.
Irwin estimates that six retailers would be available for collections in the Berkshires if the legislation is enacted. The bill's text asserts that 90 percent of state residents would have a drop off location within a 15-mile radius.
The drop offs would aid existing efforts in the county. Linda Cernik, program coordinator for the Northern Berkshire Solid Waste Management District, said the district tries to collect hazardous materials at least twice a year.
Her district, which covers 12 towns in the county, collects other items too, but predominantly ends up taking away cans of paint. Twice-a-year often leaves a lot of people waiting, she said.
"I know that there's a need for" more paint-disposal options, Cernik said. "I get calls all year."
Cernik said PaintCare would be a tremendous help for the district's disposal efforts, and it would provide better options for the paint than ending up in the waste stream.
"This program is going to repurpose and bring this paint back to life," Cernik said. "I think it's just a beautiful thing."
Retailers are not convinced, however. Bill Rennie, vice president of the Retailers Association of Massachusetts, said solid waste and trash hauling are already paid for by regular taxes, so adding a "hidden tax" on consumers could make retailers across the state less competitive, including against online vendors and neighboring states.
Vermont, Maine, Rhode Island, Connecticut and New York have PaintCare programs.
"It's concerning if we're going to then start to take individual products and add fees at the point of sale to then go pay specifically for the end of life use of some of that individual product," Rennie said.
He was also concerned that once the program is introduced in the state, the collection fee later would rise.
Rennie said he worries that if retailers were pressured to participate in the collections, they would not be able to operate normally. Becoming a drop off site wouldn't be as easy as a snap of the finger for most, he said.
"That space, that real estate in the retail store is very valuable." Rennie said. "Not everybody has the room ability to offer it as a collection site."
Irwin pointed out that retailers who joined as collection sites would be voluntary.
Rep. Haddad said that it may take a while for people to get accustomed to using the retailers as a main source for paint recycling, but she thinks people would warm up to the changes once they saw the benefits.
"You establish a good process that makes sense and isn't burdensome," Haddad said, "and people will work it into their routine."