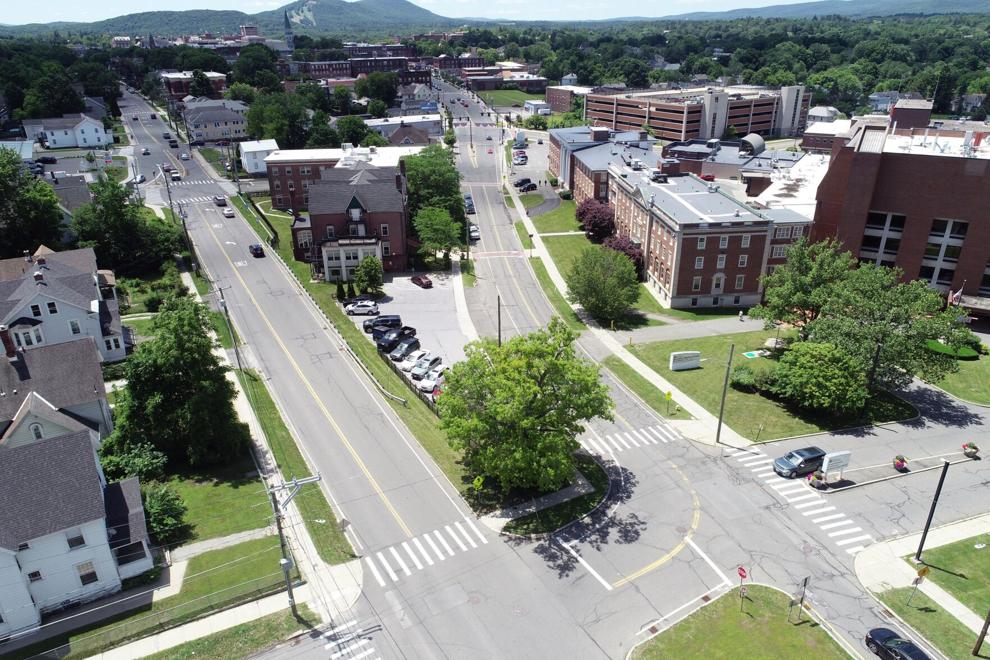 PITTSFIELD — Odds are, when the question of a proposed Pittsfield roundabout opens to public comment Wednesday evening, someone is going to rise to say no.
No. Oh, please. Don't.
State transportation planners expect it.
"It happens very frequently, still," Andrew Paul, the state Department of Transportation's master highway design engineer, said of public doubts. "Some people are just afraid of change. It's a dramatic change. You're changing how people get around every day."
This week, after years of behind-the-scenes work, the department goes fully public with its plan to work with Pittsfield to cure the "bad geometry" of intersections near Berkshire Medical Center, at the north end of downtown, that impede the flow of traffic and lead to a high number of crashes.
On Wednesday, in an in-person session at the Berkshire Athenaeum, the DOT will unveil its nearly $5 million plan to create a roundabout joining First and North streets, Stoddard Avenue and Berkshire Medical Center's main entrance. The session starts at 7 p.m. at the 1 Wendell Ave. library.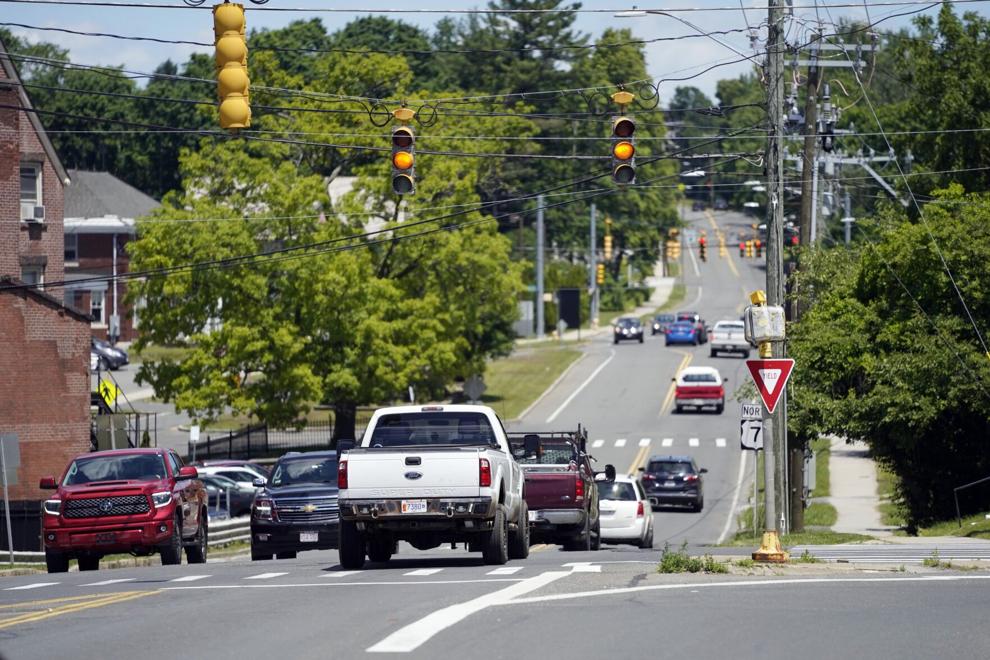 If all goes as planned, in a few years a traveler coming south on Route 7 into Pittsfield who is heading toward Dalton on Tyler Street will drive through three roundabouts in four miles.
What goes around, for highway engineers, is getting around. The DOT is developing roundabouts for Great Barrington and Dalton, after creating one a few years ago on Route 8 in Adams. Separately, the city of Pittsfield is moving to rebuild the junction of Tyler Street and Dalton and Woodlawn avenues as a roundabout.
The proposed work, which is subject to change, is scheduled to begin in late 2022 or 2023.
Lawrence Cash, the DOT's project manager for the Pittsfield remake, said roundabouts have a way of winning converts. "It's common to have this upfront opposition," he said. "But I find that 95 percent of the time, when they're built, [people] then realize, 'Wow, this really does work.' More often than not they are very surprised."
The city of Pittsfield is the DOT's partner on the roundabout near BMC. Though the intersections involved include sections of state Route 7, the road is managed by the city within its borders. "This project has been identified as a state project on a municipal road," said Ricardo Morales, the city's commissioner of public utilities.
At times, Morales said it seemed possible a long effort to create safer passages through the area would founder due to complications. "At one point it looked like it would be tabled," he said. But city and state officials worked with officials at BMC, Morales said, "to really carry this forward and cross over the different hurdles in our path."
"This is a very long time in the making," he said. "This is how we're doing it. We're not changing much from here."
Ahead of Wednesday's full briefing, here are six takeaways on the Pittsfield project: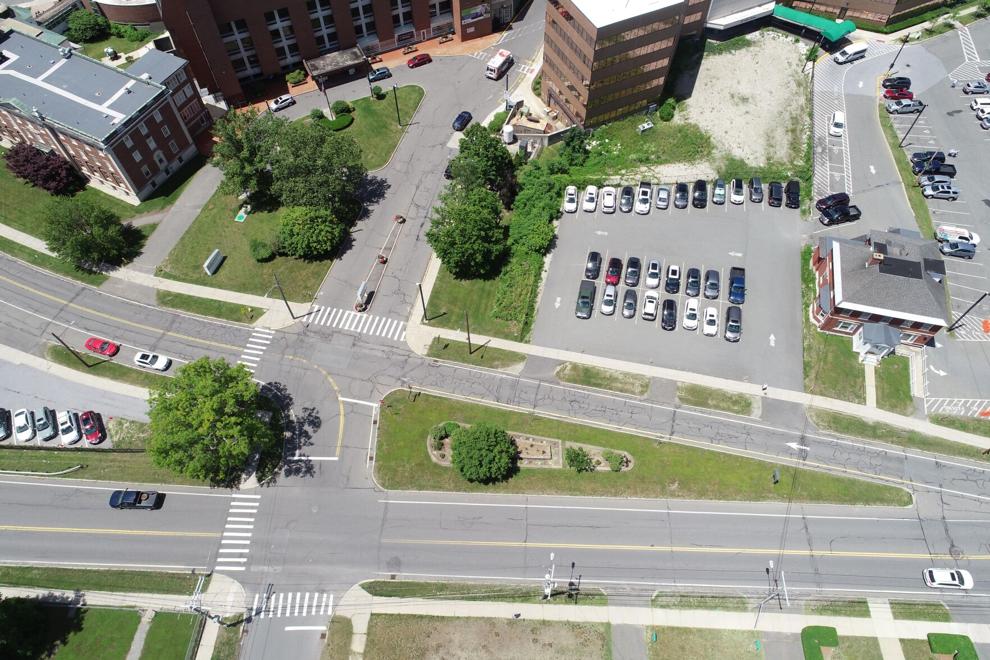 1. Rise of the roundabout
It's been 14 years since the state created its first roundabout, at Washington Square in Worcester, according to Paul, the DOT engineer. Paul, who worked on that project, says roundabouts went on to gain acceptance and use as officials worked to improve road safety, hand in hand with the federal government. Well more than 50 roundabouts now exist in the state.
"They're a proven safety countermeasure that's shown to reduce speeds and thereby reduce the severity and likelihood of fatality, if a crash were to occur," Paul said in an interview.
Kind of like airbags for the intersection itself.
The Worcester roundabout enabled that city to reduce the size of an earlier rotary, freeing up space for development. "There's a hotel there now [and] other commercial space where there once was a rotary," Paul said.
The DOT says these factors make roundabouts a good choice for troublesome intersections: They get travelers through pinch points more smoothly, at reduced speeds, improving safety. And crashes, when they occur, are less severe.
The state is even building a roundabout in the rural Hampshire County town of Worthington, retiring the community's single traffic light.
2. What it's not: A rotary
While the smaller roundabouts are relatively new, the state has had circular intersections since the middle of the last century. Rotaries typically have a diameter of 300 or more feet, while roundabouts are half that size or less.
With a small center circle, roundabouts encourage slower speeds and tend to "calm" the traffic guided through, most often in a single lane. Rotaries, in contrast, can have multiple lanes. Because of their size, vehicles travel through them more quickly, with lane changes possible.
"It's a small, slow-speed intersection in the form of a circle," said Morales, when asked to define the roundabout.
3. Why here?
A 2016 report by the firm Fuss & O'Neill found the area at the north end of downtown Pittsfield to be riddled with traffic safety problems, from bad lighting and sight lines to faded signs, misplaced pavement markings, missing crosswalks and bus turnouts and obsolete traffic signals. The audit had been recommended a full decade before by the "Downtown Pittsfield Circulation Study" conducted by the Berkshire Regional Planning Commission.
For that report, 14 people associated with the DOT, city, planning commission, BMC and Fuss & O'Neill studied traffic flows and snags at five different intersections: First Street at Burbank Street; First Street at Tyler Street; North and First streets at Stoddard Avenue and the BMC entrance; North Street at Charles Street; North Street at Springside Street.
One clear problem, the team found, was the presence of two intersections close to one another: First Street at Stoddard Avenue and North Street at the entrance to BMC.
The team suggested building a roundabout to replace the two intersections.
"This improvement would address the close proximity of the two intersections by configuring all approaches into a single roundabout," the report said. "This would also have the benefit of simplifying the currently confusing right of way. Roundabouts are proven to reduce crash severity and improve overall safety."
Cash, the DOT project manager, said that over years of study, the problems stacked up, including "crash clusters," delays and congestion — not to mention bad experiences for pedestrians and bicyclists, "which is really something that can be improved upon also," he said.
And then there was the five-legged junction outside BMC. "Having the roundabout there will bring all that together nicely. That's going to be the geometry improvement."
The 2016 audit noted frequent crashes in the area near BMC, due mainly to congestion and confusion over who held the right of way.
Cash said he believes the roundabout, by organizing traffic, will help people on foot in the area. "It was the alternative that seemed to work the best," Cash said.
Morales, the Pittsfield official, said the changes will encourage people traveling north on Route 7 to points above Pittsfield to use First Street.
The design would not allow drivers heading north on North Street to reach the roundabout; that last section will be one-way travel south out of the new junction, in part to protect pedestrian safety.
"We're making it narrow and one-way traffic into downtown," Morales said, speaking of how North Street will connect to the roundabout. "We're providing a safer environment for other means of transportation, like bicyclists and pedestrians."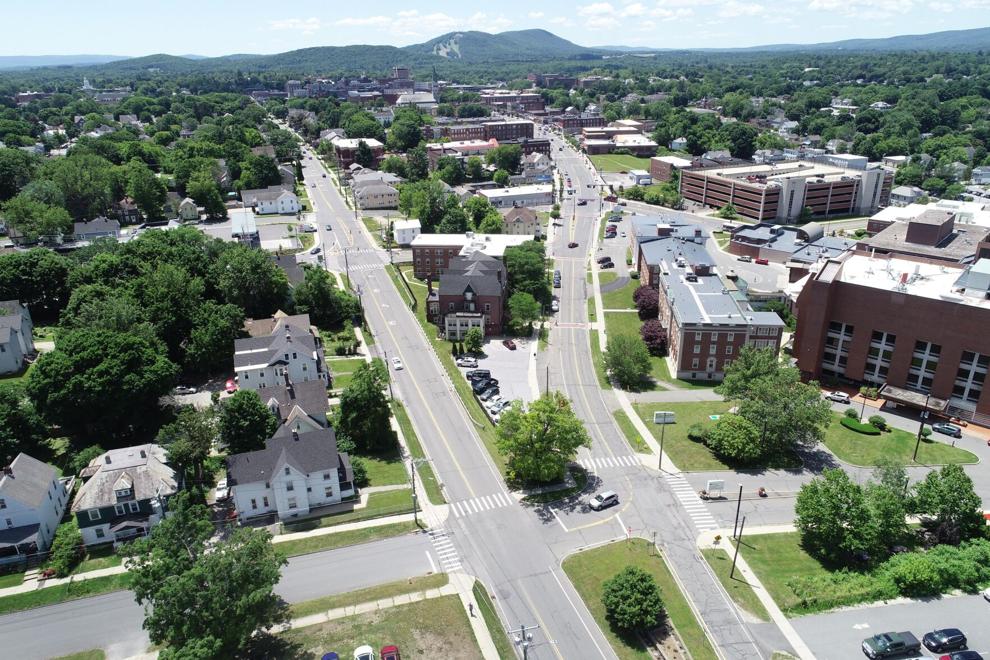 4. Why safer?
Roundabouts, by nature, change the angles of vehicle travel. "They really reduce a lot of the angular-type accidents," Cash said. Along with that, roundabouts slow vehicles, Paul notes, so if crashes occur, they tend to do less harm.
In a regular intersection with a signal, people might be going 30 or 35 miles per hour, he said. But in a roundabout, that speed can be cut by half.
Officials have good reason to want to reduce crashes. The 2016 study tallied three years of crash data and found that the future site of the roundabout saw 19 collisions, or an average of 6.33 a year. First and Tyler streets saw even more: 27 crashes in that same period from 2012 to 2015, or an average of nine a year. Other nearby intersections weren't much safer. The study counted 17 crashes at North Street and Springside Avenue, above BMC, and 14 at First and Burbank streets, south of the hospital.
5. What to expect
Cash said that during construction, still as long as two years away, the DOT will keep travel routes open. "We always try to maintain traffic through the construction zones," he said.
Francisca Heming, director of DOT's District 1, in Lenox, said the department's policy is to keep roads passable. "Residents and businesses will have access to their facilities for the entire project. MassDOT always provides accessibility to residents and businesses through the construction site," she said.
6. Early idea: Build 3 roundabouts
People wary of roundabouts might have had their fears supersized. At one point early in the design process, the DOT considered creating three roundabouts in the area near, above and below BMC.
"We were going to be going crazy putting roundabouts everywhere," said Morales, the public utilities commissioner.
Cash said the issue of gaining access to rights-of-way took that option off the table. "Some of the alternatives were going to involve some house-takings, so we just wanted to keep an eye on the impacts to the area," he said.
Paul, the statewide design engineer, said road grades on Tyler Street near North Street also created problems.
In the end, the design team's focus remained to improve safety and accessibility for travelers.
"We really want to start from a place where we're listening to the community," Paul said. "I think we've done that, working closely with the municipality and not jumping to conclusions. We had the three roundabout option, but there were impacts, real-world impacts from doing that."