PITTSFIELD — A grassroots fight to curb a Pittsfield power plant's environmental damage just won a new public ally.
Health officials in Pittsfield will appeal to the company that owns Pittsfield Generating on Merrill Road to discuss ways to shift from use of fossil fuels to lighten the plant's carbon footprint and environmental harm.
"It's consistent with our mission," Brad Gordon, a member of the Board of Health, told his colleagues Wednesday.
The four-member board voted unanimously to write to the plant's owner, Hull Street Energy, and request that officials explore a transition to green energy to alleviate its contribution to global warming and to lessen local health consequences.
That letter will go out in the days ahead, as Hull Street Energy continues to pursue a new permit from the state Department of Environmental Protection.
"I would think that we'd want to get that process moving," said board member Steve Smith.
The move widens public calls for action. On June 30, the leader of the Tri-Town Health Department, which covers Lee, Lenox and Stockbridge, urged Hull Street Energy to clean up its act.
"Given the feasible alternative of solar energy with battery storage, the Tri-Town Health District, and its board of health members hereby strongly encourages that these outdated facilities transition to green energy to comply with reductions in emissions," wrote James J. Wilusz.
The 30-year-old Pittsfield plant, which operates only in times of high power demand, is known as a "peaker" and is fueled mainly by fracked natural gas.
"It's some of our dirtiest energy," said Jane Winn, executive director of the Berkshire Environmental Action Team. In 2019, the plant emitted 39,176.89 metric tons of carbon dioxide and 6.65 metric tons of nitrous oxide, according to the Environmental Protection Agency.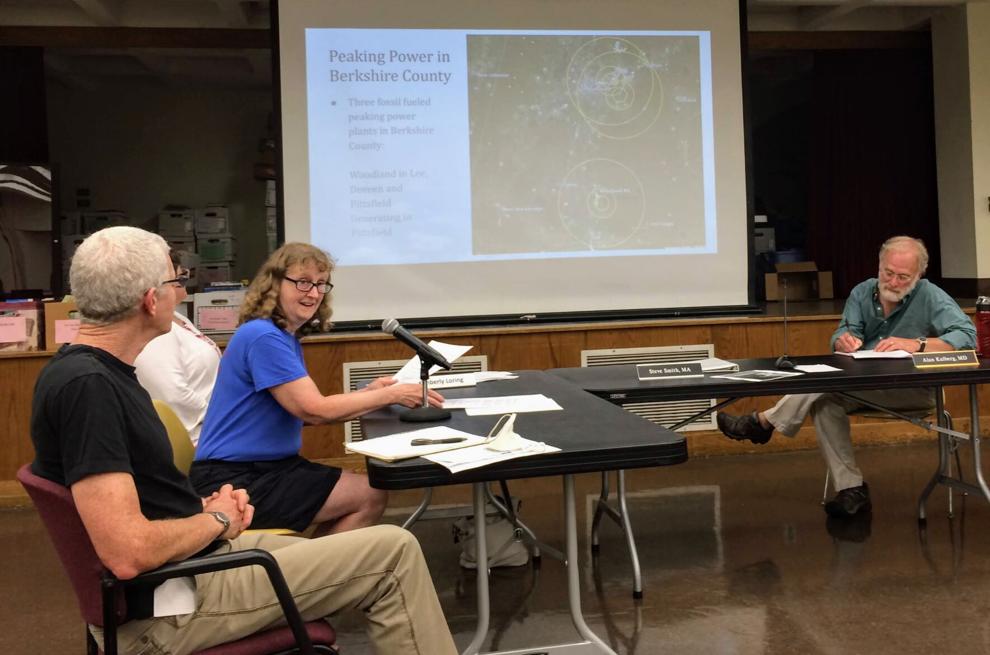 Winn told the board that while Pittsfield Generating operates about 5 percent of the time, in 2018 it contributed 15 percent to the overall emissions from stationary sources in the city. Hull Street Energy, of Bethesda, Md., is a subsidiary of a Japanese company.
Dr. Henry Rose, of Dalton, who is part of a coalition seeking to address peaker plant pollution, joined Winn in briefing the board on the health consequences of the plant's emission of particulates and sulfur and nitrogen oxides near schools and two neighborhoods — Allendale and Morningside — that are home to minorities and lower-income people.
"The air quality index for our region is not always excellent," Rose said. "It's out there and it's causing health problems."
Confronting pollution from peaker plants is needed, he said. "It's time to use them less and it's time to get rid of them."
Rose said that peaker plants can operate more cleanly and still serve to provide power at times of high demand.
"We want ample power. This is not about going into the cold or into the dark," he said.
One way to reduce the need for peak power, Rose told the board, is to limit household use of electricity at times of the highest demand, typically late afternoon and early evening. People can sign up for notifications from the Metropolitan Area Planning Council about when peaks are likely to occur during summer months.
Other plants
Though Winn said the owners of Pittsfield Generating have not responded to requests to discuss the plant's future, the owner of two kerosene-fueled peaker plants in the Berkshires, on Doreen Street in Pittsfield and Woodland Road in Lee, shows a willingness to seek a cleaner future.
Cogentrix met June 30 with members of the coalition and area lawmakers, including state Sen. Adam Hinds, D-Pittsfield, and state Reps. Tricia Farley-Bouvier, D-Pittsfield, and William "Smitty" Pignatelli, D-Lenox.
The plants run by Cogentrix are 61 and 51 years old. Because of their age, they do not need permits under the Clean Air Act.
Not only are the peaker plants outsize polluters, they are costly, Winn told officials. The plants are paid to provide emergency capacity.
"We pay millions of dollars to keep them on standby," Winn said. Those costs are covered by ratepayers.
Though the kerosene-fired plants operate just 0.1 percent of the time, both emit significant amounts of carbon dioxide, according to EPA records for 2019. The Doreen Street plant emitted 152.77 metric tons of carbon dioxide that year, while the Woodland Road plant in Lee emitted 54.03 metric tons of carbon dioxide.