GREAT BARRINGTON
It was only in the past few months that Aaron Eliassen, 43, started venturing out to the grocery store. Now, he goes at night to avoid the crowds.
He has a respiratory disorder called primary ciliary dyskinesia that has led to lifelong problems and left his lungs scarred, and also causes him to feel like he's battling an ever-present cold. Eliassen became eligible for the coronavirus vaccine just this week, when the state opened up appointments to all adults with two or more health conditions that put them at higher risk.
Getting vaccinated feels like a step forward for Eliassen, an inflection point of sorts. Still, the father of three said he does not plan to ease up on the coronavirus safety precautions he's followed diligently for almost a year.
"I do think it signals a turning point for myself, a roadblock or a barrier being taken down," said Eliassen, of Pittsfield. "It is exciting, but we have a long way to go."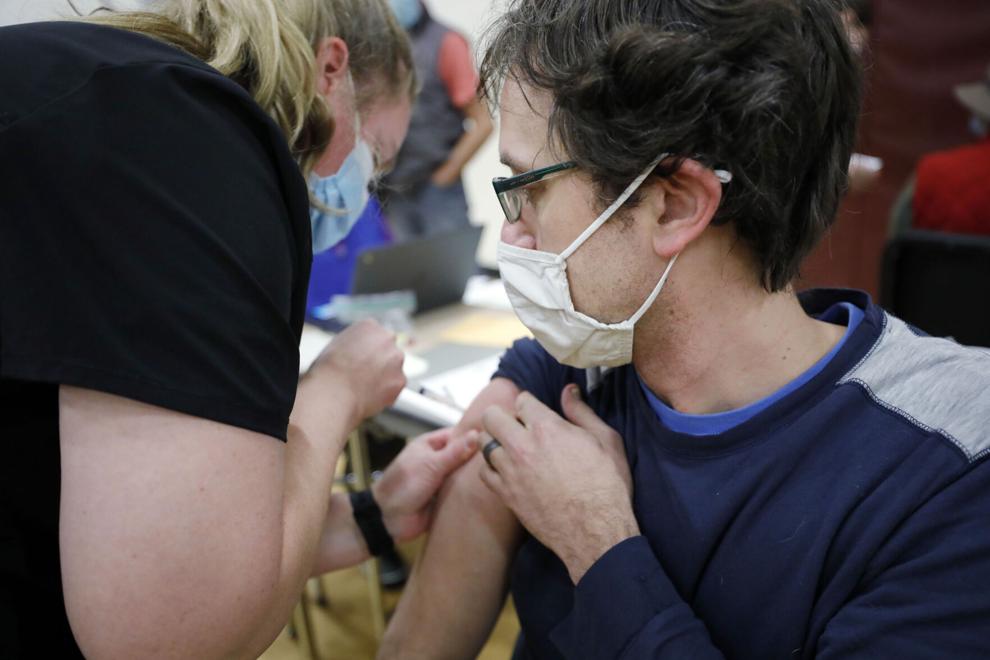 He was one of about 160 adults under 65 with comorbidities who had appointments to receive their first jabs at W.E.B. Du Bois Regional Middle School on Saturday, said Heather Barbieri, the director of the vaccination site. In total, nearly 1,600 people were scheduled to receive their first or second dose that day.
It was the largest number of vaccines administered at the Great Barrington clinic on a single day, according to Barbieri, who serves as director of emergency management at Fairview Hospital.
Beginning around 11:30 a.m., a line of vehicles advanced slowly toward the parking lot behind the middle school, grabbing spots only as they opened up. Clinic volunteer Ari Zorn directed a steady flow of the soon-to-be vaccinated toward two entrances, one of which was reserved for people with mobility issues.
Barbieri said she expanded the clinic — which operates on Wednesdays and Saturdays to accommodate the district's hybrid learning schedule — by two hours due to the larger number of arms vaccinators had to get doses into Saturday. It was the first day the clinic administered first shots to adults over 65 and all adults with certain comorbidities.
After registering, people filtered in a loose line steadily toward the gym and waited at the threshold of the open doors. Inside the gym, one of several vaccinators would periodically raise his or her arm to signify they were ready for their next patient, in a pace that Barbieri said was in keeping with her motto: "Never let the seat get cold."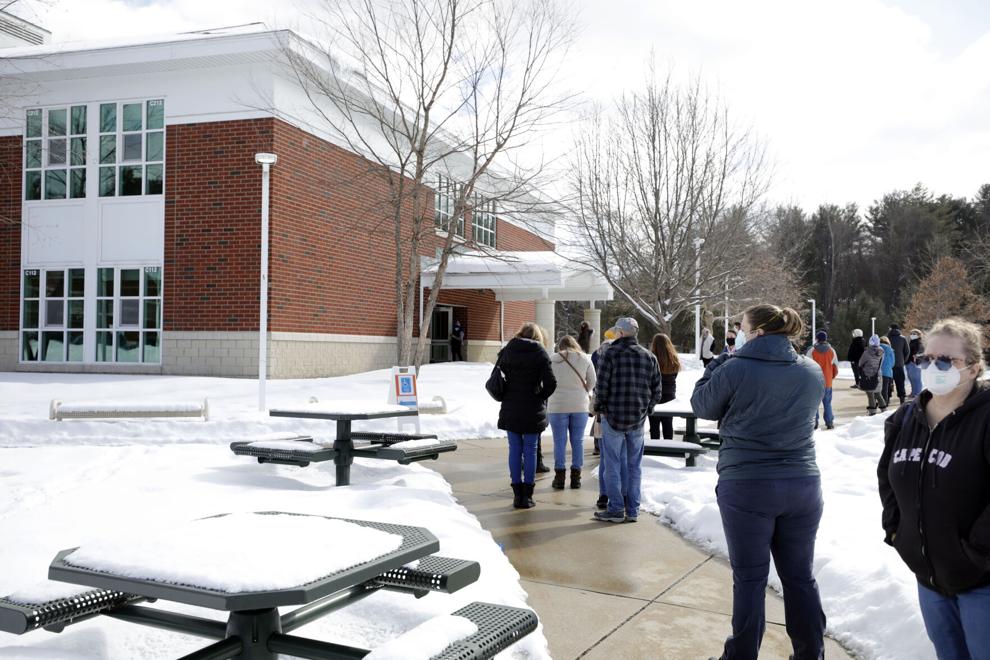 The clinic was staffed by a mix of paid employees and dedicated volunteers, said Barbieri, who cheerfully greeted staff and those they served as she moved throughout the clinic answering questions as she went. Her team is motivated and moved by the emotional reactions many experienced after their shot, she said.
"People cry, people sing, you can see them relax" after a jab, Barbieri said, "there's that release of hope, of joy and excitement."
Zach Andrews, 23, received a shot, then walked to the rear of the gym where a few dozen people sat in chairs placed about six feet apart, passing the mandatory 15-minute post-vaccination waiting period.
Andrews, who said he suffers from an autoimmune disease, explained that he caught COVID-19 in November, and experienced severe symptoms for about three days. Andrews said he has no memory of one day during his sickness, when he was running a 103.8 degree fever. He learned that he had been transferred from Fairview Hospital via ambulance to Berkshire Medical Center in Pittsfield when he came to in a hospital bed.
Andrews said he looks forward to playing basketball again. Like Eliassen, he expressed that receiving the vaccine brought with it a feeling of cautious comfort.
"I'm still gonna wear a mask, I'm still going to do all that, but I just feel relieved, especially with my condition," he said.
Barbara Cormier, the recent recipient of a knee replacement, was driven to middle school clinic by her grandson's girlfriend, Haley Korte. Her jab completed and documented for the state's dose-tracking efforts, Cormier said she and Korte live together with their partners in Sandisfield.
Cormier described feeling a deep sense of isolation during the pandemic, and couldn't wait to get out and about again.
"It's been hell, isolation's been horribly depressing, but I'm excited to get out of here," she said, cracking a slight smile. "I already booked a trip to the casino."
Korte, an educator, has had to get creative over the past several months while teaching physical education to children in South Hadley remotely.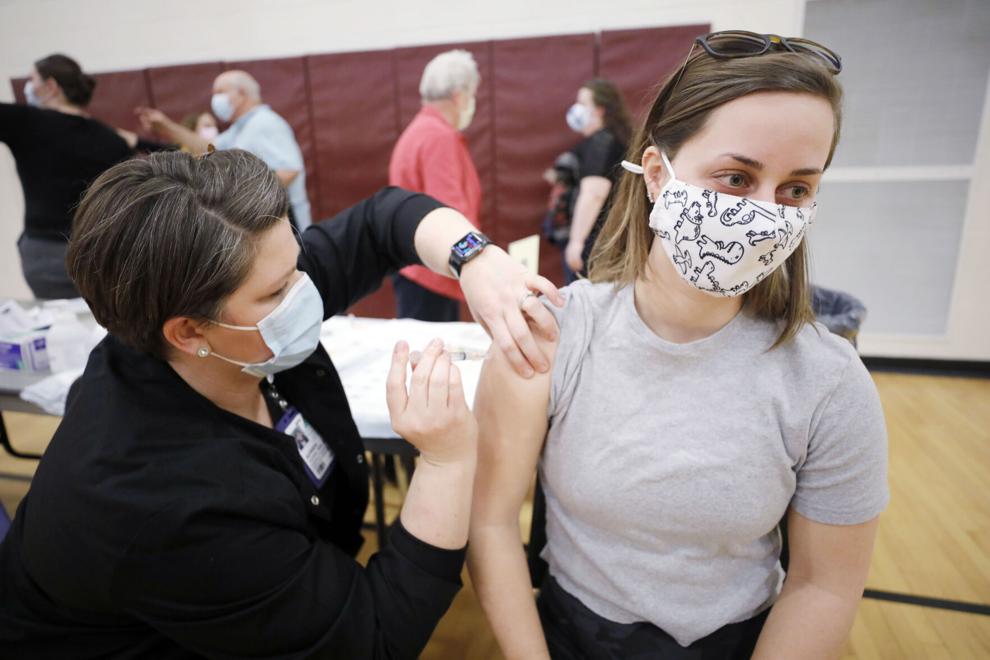 While states like New York have expanded eligibility to include teachers, Massachusetts has not. However, Korte said she qualified for an appointment as the trusted caregiver to Cormier.
A little earlier on Saturday, Barbieri had to turn away a young woman who walked into the clinic with two eligible patients and asked for a caregiver shot. She explained that even as a caregiver, the young woman was required to register in advance.
People seeking a vaccine without an appointment — or who booked an appointment before they were eligible — have shown up to the clinic and pleaded with her for a dose. They often shared details of their health histories, putting Barbieri in the heartbreaking position of having to inform them that per state rules they could not be vaccinated that day.
Looking back, Korte said she thought her profession as a teacher would have made her eligible for the vaccine before her status as a caregiver. Nevertheless, she said she was thrilled to be heading back to class with her first dose, at least, in the books.
"I'm feeling better going into schools now, being able to teach finally in person, which is huge," said Korte.