"West-east" rail, for state Rep. William "Smitty" Pignatelli, is more than a catchphrase.
Unless track upgrades for Pittsfield-to-Boston passenger rail — it commonly is called "east-west" rail by those further east — begin in Western Massachusetts, the Lenox Democrat says, he does not expect to board that train in his lifetime.
A recent federal infrastructure law will send $9.5 billion to Massachusetts over five years, and Gov. Charlie Baker suggested last week that his administration would seek money through that law for track upgrades, which the state Department of Transportation has estimated would cost $2.4 billion to $4.6 billion.
The Baker administration identified "service improvements between Springfield and Worcester" in a news release Thursday as "an initial step to expand service between Boston and Albany."
But, what about improvements between Springfield and Pittsfield? That's the question Berkshire County leaders are asking.
"If they start in Worcester, and the money dries up by the time they get to Springfield, I will not live long enough to see that train get to Pittsfield and the Berkshires," Pignatelli said.
"Start here, and we win," he said. "If not, all that money that's coming here, that'll get sucked up out east, and we'll never see it again in 100 years."
Berkshire County lawmakers argue that track upgrades either should begin in Pittsfield, or begin in Springfield and run east and west at the same time.
"Whether it starts in Pittsfield or starts in Springfield and goes both ways, I'm happy to continue discussing," said state Sen. Adam Hinds, D-Pittsfield. "But, I do get nervous about folks saying Worcester to Springfield first. The years and capital investments that that would take make it far less likely that we will see a train between Boston and Pittsfield."
"I think that if we start it in Pittsfield, it would be even better, but if we start in Springfield and go in both directions, I have no problem with that," added state Rep. Tricia Farley-Bouvier, D-Pittsfield.
Pittsfield Mayor Linda Tyer said that while she is glad to see "some commitments" from Baker, she wants the state to prioritize the Pittsfield-to-Springfield stretch.
"By excluding that segment from this first round feels like it might be easy to just exclude it altogether, and that would be a real detriment to the vision of having this connectivity all across the commonwealth," she said.
The state Department of Transportation initially weighed proposals to use buses for the Pittsfield-to-Springfield leg, rather than extend rail service to Pittsfield. Pignatelli's objections to those scenarios led state officials to dub him the "bus killer."
Pignatelli and Tyer said that they would support starting work in Springfield and going east and west at the same rate. Pignatelli voiced that proposal on a recent call that state lawmakers had with U.S. Reps. Richard Neal, D-Springfield, and Jim McGovern, D-Worcester, he said.
"I've asked the two congressmen to say: We got you the money, it's here, and we want you to start it in Western Massachusetts," Pignatelli said.
A spokesperson for Neal, who chairs the powerful House Ways and Means Committee, said the congressman continues to work with the Baker administration and state lawmakers on the project.
"Chairman Neal remains committed to ensuring that funding from the Bipartisan Infrastructure Law that he crafted and worked to pass goes to improving rail from Boston to Worcester to Springfield and Pittsfield," communications director Margaret Boyle said in an email.
A MassDOT spokesperson said Monday that track reconfiguration in Springfield is "a critical first step for any additional service in Western Massachusetts."
"The Springfield to Worcester segment would support incremental service growth with connections to Boston, Hartford and points west, as well as improve connections between the Valley Flyer and these destinations," communications director Kristen Pennucci said in an email. "The Commonwealth continues to engage in discussions with Amtrak, CSX, and other stakeholders regarding plans for improving rail service."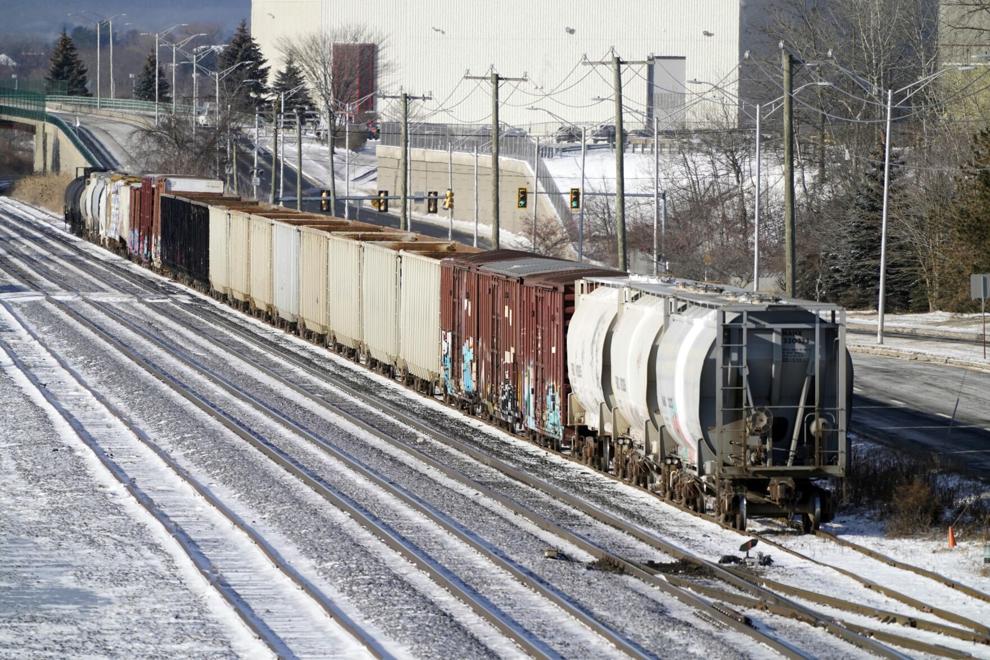 Freight railroad company CSX Corp. owns the tracks on the route west of Worcester, and necessary track upgrades for passenger service include double-tracking certain sections and upgrading stations.
In addition to the question of where track upgrades would begin, lawmakers say there still are details to be worked out regarding funding and administration.
Calling the Baker administration's plan to seek federal rail money "underwhelming," Hinds expressed concern that the state could be limited by federal requirements when "we have the power to do it here."
"I don't want to say [the funding] needs to come exclusively from the bipartisan infrastructure law," Hinds said. "It could be a combination of bonding and other avenues that we have, but I think the fact that the estimated costs are far below the amount the state just received in the bipartisan infrastructure law is what makes it incredibly enticing to move now."
State Rep. John Barrett III, D-North Adams, has advocated for resurrecting "northern tier" passenger rail from North Adams to Boston through Greenfield. Barrett, who said that North Adams-to-Boston service would require relatively few infrastructure upgrades, has asked the state to speed up the 18-month study that it began in December.
"It's there, and I strongly believe that as we're waiting for east-west, west-east, rail to get done, and it should get done, we could have the northern tier in the meantime," Barrett said.
Beyond funding for track upgrades, Pittsfield-to-Boston passenger service would need consistent funding to operate.
MassDOT has suggested that Amtrak could operate this service and that a Western Massachusetts Intercity Rail Authority, which does not yet exist, could take up the administrative work. The MassDOT white paper, though, did not identify a funding source, leaving Berkshires observers wondering whether such an authority would be funded sufficiently.
"There is a once-in-a-century opportunity for these capital improvements, but then it has to operate, and that has to be set up so there's long-term stability in the operating budget," Farley-Bouvier said.
Farley-Bouvier points to the "penny on the sales tax" that all Massachusetts residents pay, amounting to over $30 million per year in Berkshire County, to make the case for funding passenger rail that serves Western Massachusetts residents.
Barrett and Pignatelli say they would prefer that the Massachusetts Bay Transportation Authority oversee service, rather than a new Western Massachusetts body with uncertain funding.
Yet, Pignatelli said he sees that conversation as something for further down the line. For now, he is looking for commitments on funding and the Pittsfield-to-Springfield track upgrades.
"I'm looking for a greater sense of urgency from my colleagues in the Western Massachusetts delegation — that's Springfield west — to say if it doesn't start here, we're not supporting it," Pignatelli said.