PITTSFIELD — First, she went door to door selling candy bars. Last summer, she ran her own lemonade stand. Now, she has her own apparel company.
At 8, Hadley Light already has made her mark.
"She's always had this entrepreneurial mindset," said Lenny Light, Hadley's father.
Her latest venture might be successful, Light said, but more impressive is her desire to give back to the community. On Tuesday, the third grader at Williams Elementary School donated the $1,900 she has earned so far from her apparel company, Waves, to the Christian Center on Robbins Avenue to help the nonprofit fight homelessness.
Light, who turns 9 on April 4, wants to ensure that the homeless "can have homes like me, and food, and that they can have protection.
"Sometimes when I think about homeless people I feel bad for them," Hadley said. "So, I wanted to make up a company."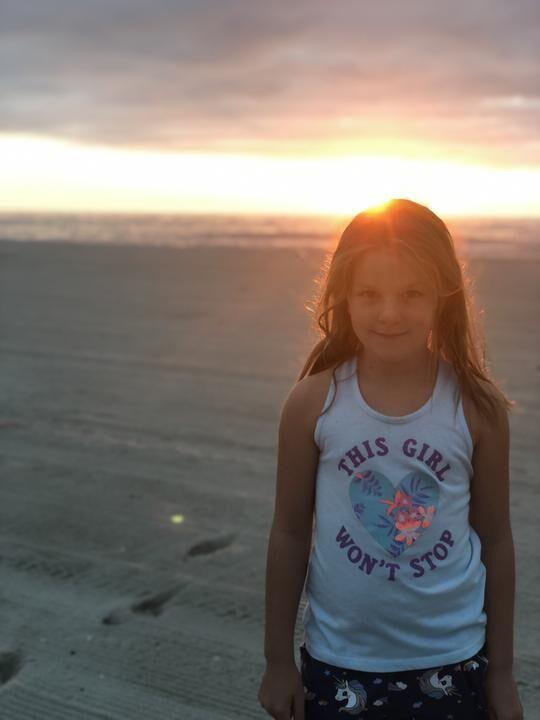 The Christian Center is honored that Hadley chose to donate the money to it.
"We think it's amazing," said Karen Ryan, who runs the Christian Center's food program. "Her mother reached out to me a few weeks ago asking if this was something we would be interested in. She's a bright, talented little girl. We're going to use that money for supplies."
Ryan said children have donated items to the Christian Center before.
"We've had a few 12-year-olds, and a couple of teenagers who did a bake sale, but [Hadley] is the youngest," Ryan said.
Last week, the Christian Center set up a large trailer that it had leased to serve as a warming center for those who need a place to stay during the day. The trailer, which officially opened Tuesday, is staffed by employees of ServiceNet, which runs the city's winter homeless shelter at the former St. Joseph's Central High School. Hadley is planning to make a donation to ServiceNet, too.
"We had reached out to the community to see a couple of entities that are addressing homelessness and food and shelter, and those are the two that came up," said her father, who is vice president of sales at the family-owned business, Lenco Armored Vehicles of Pittsfield. "ServiceNet, I think, has a broader reach, but the Christian Center is more local in nature."
He said that, as the company expands, they might donate to more organizations that address homelessness in the Berkshires.
Hadley, who started Waves last fall with her dad, said she picked the name because she wants people to wear her products when they go to the beach. The company sells T-shirts, tote bags and coffee mugs all emblazoned with a colorful logo that the pair created with the help of people on a freelance website for graphic designers. Her products can be found online at hadley's-Tshirts@myshopify.com.
She enjoys helping people.
"Imagine if someone got hurt and no one came to help them," Hadley said. "Imagine how you would feel; really sad."
Light began promoting his daughter's products on the business networking site LinkedIn last week and already has gotten a significant response from the community. Folks at Zogics in Lenox, Berkshire Money Management in Dalton, and Scarafoni Financial Group of Pittsfield are among the private enterprises that have purchased items from Waves, along with members of the Pittsfield Fire Department and school district.
The community support has been "incredible," said Light, who has matched everything that his daughter has raised so far.
"I feel really good about it," Hadley said, "because I know that when people are buying my products, I know I'm going to give money to stop homelessness so more and more people can have homes and food."
Light believes his daughter might have picked up her entrepreneurial instincts by watching her relatives manage Lenco Armored Vehicles. Lenny's father and mother run the business, and Lenny and several siblings work there.
"My dad being a business owner, and my mom, seeing the two of them in leadership roles," he said. "She's been to the factory and seen me give talks. I think she's probably just been exposed to the idea of being in that position, so the progression seems natural to her."
Several youngsters have been on the television show "Shark Tank," where budding entrepreneurs pitch their products to investors with the goal of having them invest in their companies. Is "Shark Tank" in Hadley's future?
"You know what? Maybe," Lenny said with a laugh. "She said, 'When I'm done with Waves, I want to make custom-made hot chocolate jars.' So, perhaps she'll come up with something down the line that will land her on 'Shark Tank.'"
Don't bet against it.