As Pittsfield community leaders spoke to a crowd of protesters on the sidewalk in Park Square, Kamaar Taliaferro took to the streets. When others saw what he was doing, they stood alongside him.
"It just takes one to break the dam," he said. "We need to learn to give each other permission to exercise our power."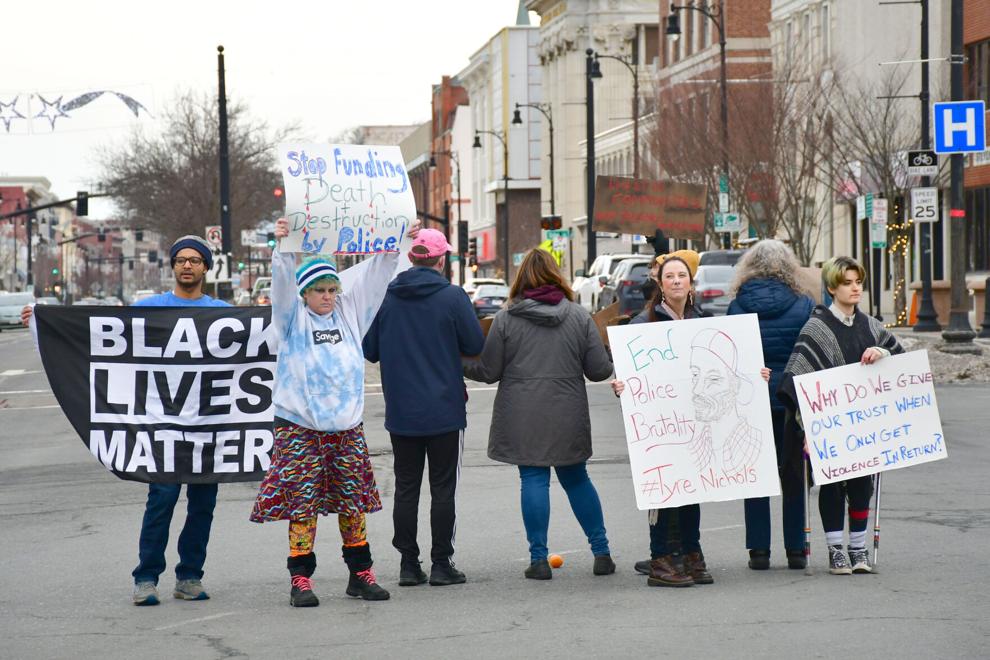 Taliaferro, a community leader, stood, draped in a Black Lives Matter flag, in the center of one of the city's busiest intersections as part of a protest calling for change after the release of a video of the police killing of Tyre Nichols, a 29-year-old Black man in Memphis, Tenn., who was beaten severely by five police officers after fleeing a traffic stop on foot. Nichols died of his injuries in a hospital three days after the stop on Jan. 10.
Taliaferro was surrounded at first by a few protesters, some of which were members of the grassroots organization Roots & Dreams and Mustard Seeds — most of the crowd stood watching, as they listened to speakers from the Berkshire County branch of the NAACP, which organized the standout rally Sunday afternoon.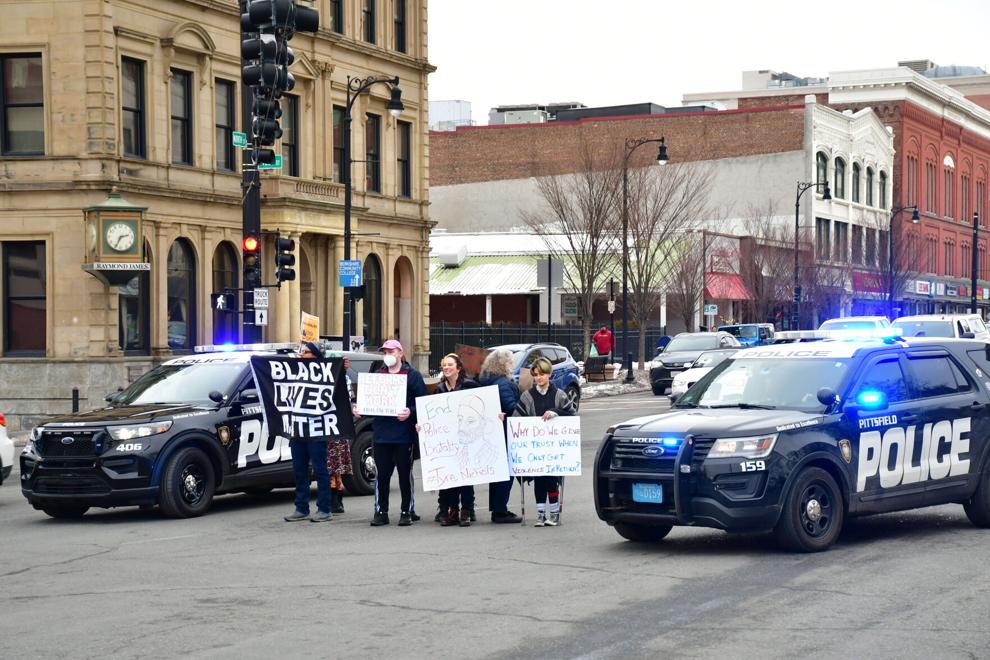 But when Pittsfield Police squad cars arrived at the scene minutes later, even more protesters left the sidewalk to stand in solidarity and shout the names of those killed by police violence. Among them: Tyre Nichols, Breonna Taylor, George Floyd and others.
As the crowd grew larger, Pittsfield Police officers directed the crowd to the traffic lane nearest to the Park Square sidewalk and parked a squad car in the lane to provide them a safe place to continue demonstrating.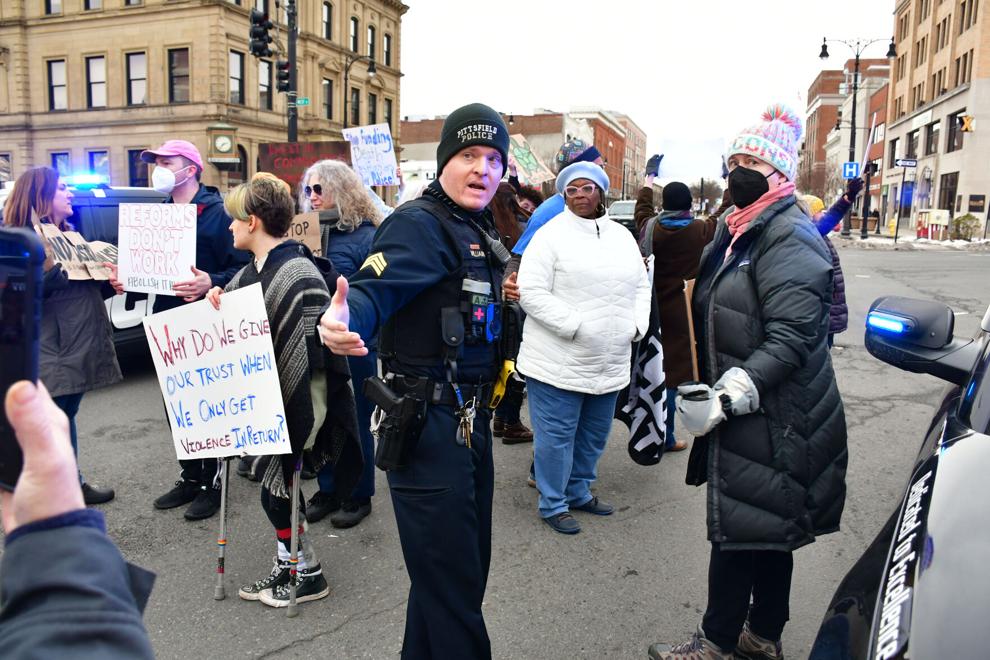 Taliaferro said the choice to stand in the road was to bring more attention to solutions being asked for by the community, including alternative crisis mental health responders and investments in housing, education and youth workforce development.
Those are the very things that Pittsfield residents called for in the aftermath of the police killing of Miguel Estrella in March 2022. Reflecting on the community response to Estrella's shooting, he wishes that there had been more room for expression — and a stronger call for implementing these changes.
"Some of the regret I have is that we censored the emotions of our neighbors," Taliaferro said. "We only made a space that was safe enough for a small range of emotions. People couldn't really bring their anger and their generational frustration and their rage. There are more emotions that come from extrajudicial murders than sadness. But we censored our community and I think that limited our ability to enact the change that we wanted to."
Taliaferro called for more investment into safe housing and legal representation for tenants, health care and jobs. Building up those areas will lead to a safer community than increasing policing, he said, pointing out increases in the Pittsfield Police Department's budget. He feels that money would be better spent elsewhere.
"Police can't solve those problems, but it goes unsaid," Taliaferro said. "And we can't say it from the sidewalk. It's too easy to drive by us."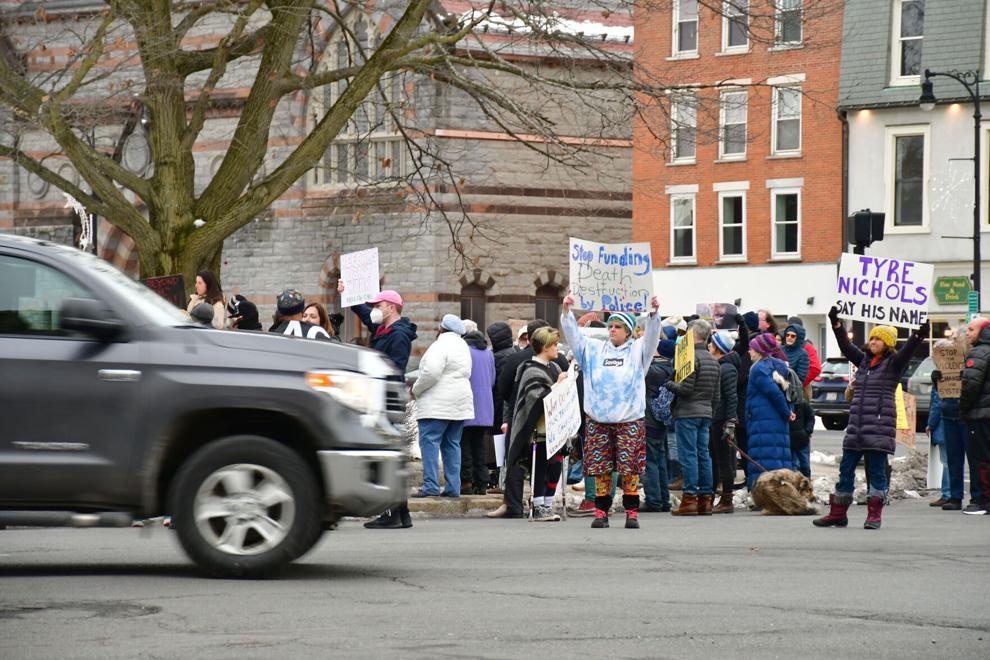 Dennis Powell, president of the Berkshire County branch of the NAACP, delivered remarks and moderated an open microphone for those gathered at the rally. In his speech, Powell called for accountability among officers and a change in police culture. It needs to happen up and down the ladder, he said.
"We've got to change the damn laws," Powell said. "And we've got to start on the local level. We've got to hit our city council. We've got to hit our mayor. We've got to hit our chief of police. And we've got to bring about police reform."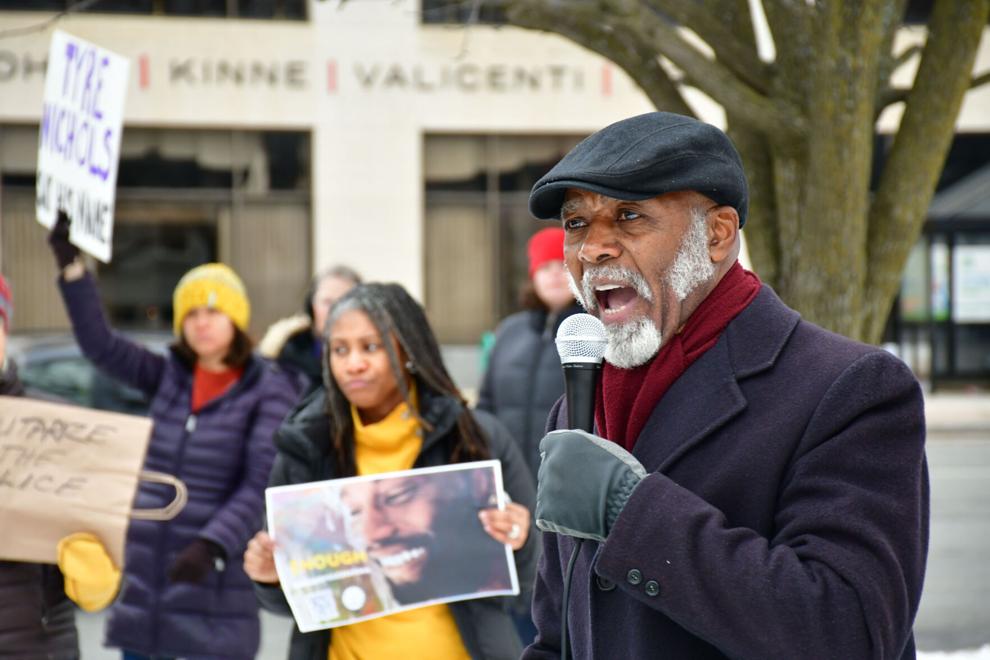 Powell called for a community presence at the next Pittsfield City Council meeting to voice concerns about policing to elected officials.
Powell spoke about the Memphis Police Department's "SCORPION Unit," a recently disbanded task force of 40 officers who patrolled identified hotspots around the city targeting auto thefts, gang and drug-related crimes. Powell criticized Memphis Mayor Jim Strickland, who touted its effectiveness with statistics during a State of the City address.
"At what cost to humanity?" Powell said. "How many citizens received inhumane treatment between that time period, sanctioned by the police chief and the mayor? This culture of policing must be challenged and changed."
Roberta McCulloch-Dews, director of administrative services and public information officer for the mayor's office, repeated emphatically while holding back tears that "we're tired" of seeing Black and brown people being killed on tape.
"But we're not going to be so tired that we're not going to use our voice," McCulloch-Dews said. "We're not going to be so tired that we're going to be intimidated. We're not going to be so tired that we're not going to advocate. As long as have breath in our bodies, for those who no longer stand with us, we're going to use everything in our power to make sure that their deaths were not in vain."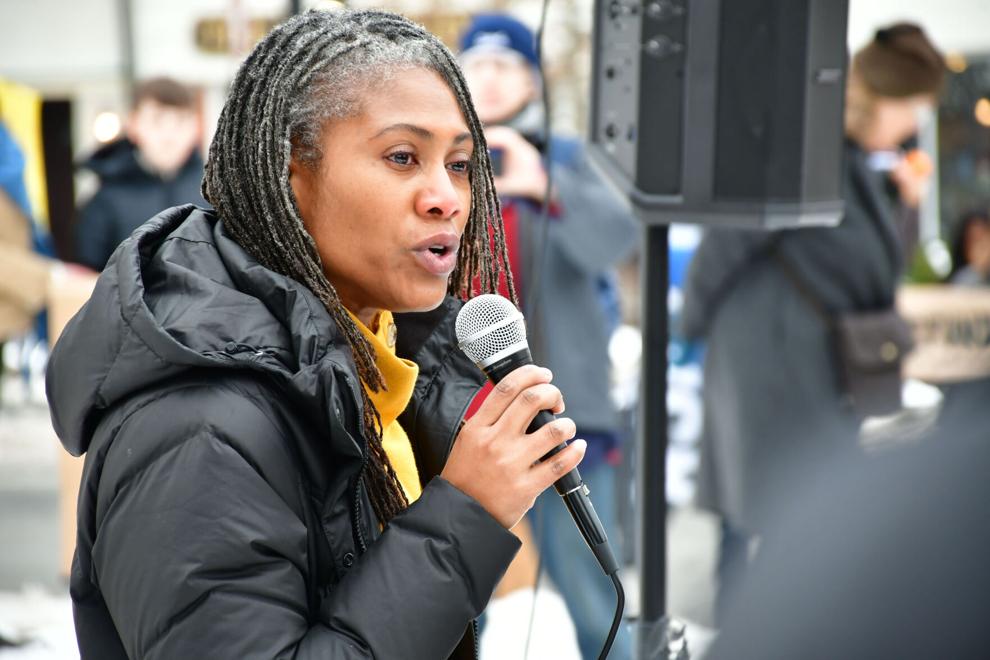 McCulloch-Dews pointed out the importance of change in the way police and people in general see Black youth. She has three children, all in their teens. She needs to know that they'll be safe if they leave their community, she said.
"No one's going to know that my child was a great football player, or excelled in school, or did well in gymnastics," McCulloch-Dews said. "All they will see is a Black face, right? And in that moment, that face might be deemed a threat."
McCulloch-Dews pointed out that this affects people everywhere in the country and called for changes at the federal level.
"We have a modicum of safety where we stand," McCulloch-Dews said. "But what we're talking about is when we go to different states, when we go to different communities, we don't have that luxury. I have to depend on someone seeing my humanity. So right now we're not asking for a change of hearts and minds — we don't want that. We want legislation. We want policy."
Raymond Moore, a community member, spoke at the rally and called for accountability among officers, calling for police to call out poor behavior when they see it and not be afraid of the repercussions. If they do, the community will have their backs, Moore said.
"You see a rogue officer, check that — because you could have saved a life," Moore said.
For Shirley Edgerton, a community leader and youth educator, it was also important for everyone in America to take an inventory of how they judge others based on the color of their skin, their gender identity or their sexual orientation. Edgerton started marching during the civil rights movement in the 1960s and still hasn't stopped.
She wants to know when we're going to stop repeating the same behaviors — until then, she's not sure she can say progress has been made.
"Who are we, as Americans?" Edgerton said. "Do we truly believe in democracy for all, or do we believe in democracy for some? Do we believe in equity and justice for all, or do we believe in equity and justice for some? … We need to check ourselves."