Pittsfield native Patrick Fallon's first act as a freshman congressman was to defend the nation's home to democracy.
During the deadly mob attack on the Capitol in Washington on Jan. 6, Fallon and several other members of the U.S. House of Representatives armed themselves with makeshift weapons as Capitol Police evacuated the House chamber.
"We ripped the sanitizer poles from their bases, using them as big wooden clubs. We didn't know what was on the other side of the locked door of the main entrance," Fallon said during a phone interview with The Eagle from his 4th Congressional District home in Sherman, Texas. The district borders Oklahoma and Arkansas.
Fallon and the other lawmakers-turned-armed-guards were the last to leave before the mob busted through and overtook the chamber.
The representatives' defensive actions were lauded later that night by House Minority Leader Kevin McCarthy, R-Calif., during his speech on the chamber floor before the House certified the presidential election results.
Fallon was appalled by the attack that left five people dead, dozens injured and significant damage to the Capitol.
"Violence in any form should be condemned," said the 1986 Pittsfield High School graduate.
Three weeks later, National Guard members remain on duty assisting Capitol and local police in keeping order and allowing Congress to do its job.
Fallon, 53 and married with two sons, is one of seven Texans serving their first term in the House. He easily defeated his Democratic opponent in November, garnering 75 percent of the vote in the heavily Republican 4th Congressional District.
Fallon's rapid ascent to Washington continues a political career that began in 2009, with his winning a seat on the City Council in Frisco, Texas. Three years later, he ran for a seat in the Texas Legislature's House, where he served until the end of 2018.
That year, in the fall, he won a state Senate seat, first beating the incumbent Republican in the March primary and easily winning the general election in November. He served one term before pursuing the open 4th Congressional District seat vacated by John Ratcliffe last spring.
Ratcliffe left Congress to serve as director of national intelligence from May to Jan. 20, when Joe Biden was sworn in as president.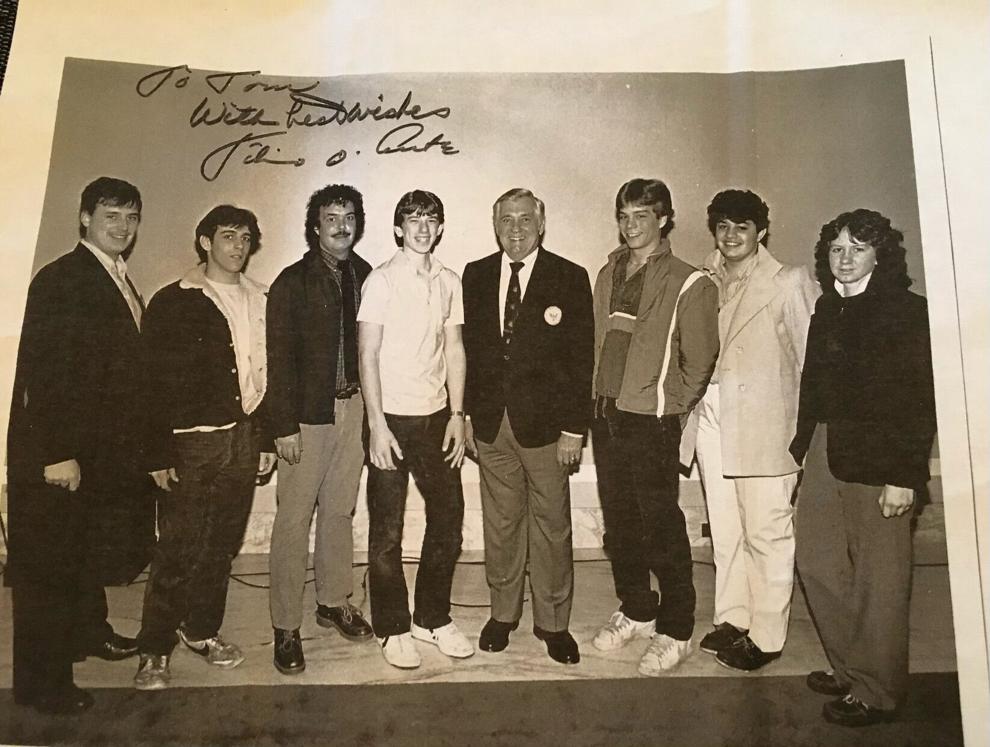 Fallon says he has, in part, the late Republican U.S. Rep. Silvio O. Conte, from Pittsfield, to thank for looking at a public service career.
"I met him in 1984, during a class trip to Washington D.C. He inspired me, and I've stayed in touch with his family, talking with his daughter Michelle Webb and son John Conte," he said.
And like Silvio Conte, Fallon is a staunch believer in bipartisan solutions to many of the nation's problems.
"Texas will surprise a lot of people that 99 percent of the bills passed in our state Legislature had bipartisan support. Yes, Republicans dominate, but we work across the aisle," he said.
Fallon plans to join the congressional Problem Solvers Caucus, which is devoted to bipartisan, respectful dialogue of major issues, according to the caucus' website.
"I may attack your idea, but I won't attack you personally," he said.
Fallon has, though, shown his willingness to challenge the 2020 election — he was among the 139 Republican House members who voted to object to the Electoral College votes in either Arizona or Pennsylvania.
But in an interview with a local TV station in Texas, Fallon drew a distinction between the debate in the House, which he said involved the Constitution and the voting process, and the rioting outside the chamber.
"If we don't have election integrity, and free, honest and open elections, then we're not a republic," he told Spectrum News 1. "We're going to turn into a banana republic. I want all Americans to believe in the results, whether or not we're happy with them."
Fallon recently was nominated to the House Armed Services Committee, himself a Reserve Officers' Training Corps graduate and four-year veteran of the Air Force (1990-94.) He vows to support a strong, well-funded U.S. military.
"If we're not safe, we're not free," he said.
For America to be safe from and free of the coronavirus, Fallon says a stronger, centralized approach is needed. He says Congress must pass and Biden must sign a stand-alone funding measure for the production and distribution of COVID-19 vaccines.
"If we can give 300 million Americans a shot in the arm, we can move forward to [reopen our economy and] make all jobs essential," he said.
As for another challenging issue, the Texan of 30 years wants the borders open to all people who have a right to immigrate to the U.S.
"We have 5 million people across the globe trying to legally enter America. We want to take the world's best and finest. I don't care what you are; I care who you are," he said.
Fallon grew up in Pittsfield, graduating from Pittsfield High in 1986 and, four years later, from the University of Notre Dame, where he earned a bachelor's degree in government and international relations. He played football on the Fighting Irish's 1988 national championship team led by legendary head coach Lou Holtz.
After college, he moved to Northern Texas as a commissioned officer, having graduated as an Air Force second lieutenant in the college-based ROTC program. He served three years of active duty and one year as a reserve, stationed at Sheppard Air Force Base in Wichita Falls, Texas.
Fallon worked a variety of jobs in the private sector before entering politics. He and his wife, Susan, have been married 16 years and have two sons, Thomas, 14, and Mac, 11.