PITTSFIELD — So far, so good. But, time will tell. That was the interim school chief's message Monday about the coronavirus and the resumption of in-person classes.
Interim Superintendent Joseph Curtis debuted a prerecorded Zoom talk on Monday in which he recapped testing numbers for the city of Pittsfield. Curtis said he will provide a video briefing every day through Thursday. A pending decision about students' return to schools before Christmas depends on how cases develop this week in the wake of the Thanksgiving break, Curtis said.
Out of 760 swabs for the virus in a recent "pop-up" testing session, four positive cases were detected, he said. That relatively low number needs to be sustained for schools to resume in-person sessions in Pittsfield.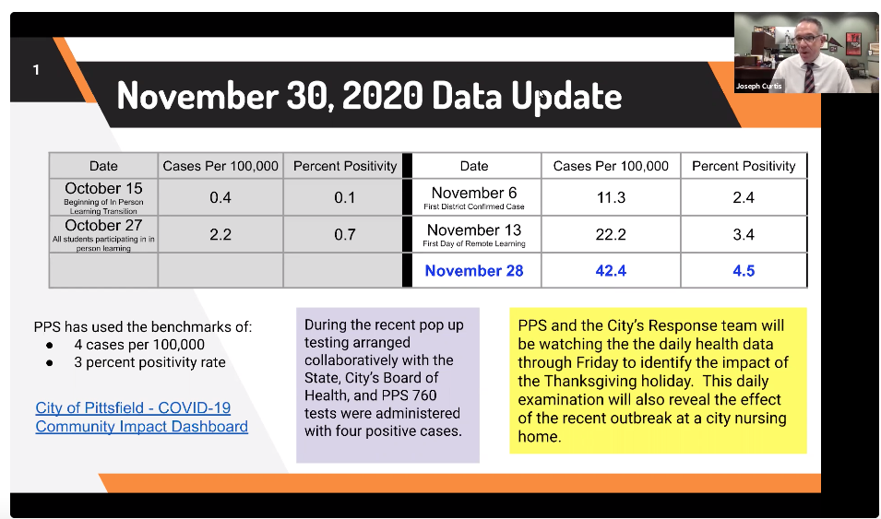 "This very low positivity rate is a tribute to how well our students and staff are following protocols," Curtis said in the message, distributed to school families throughout the city.
The district's shift to all-remote instruction is, so far, scheduled to run only through Friday. But, Curtis said Monday that the break from in-person study depends on hard evidence of the disease's continued spread in Pittsfield, particularly in light of a surge of cases at the Hillcrest Commons Nursing & Rehabilitation Center. As of Nov. 28, tests showed positive cases in 42.4 out of 100,000 people, a rate of 4.5 percent. Curtis noted that on Oct. 27, the day all students returned to in-person learning, the rate was 2.2 positive cases per 100,000 people, for a positivity rate of 0.7 percent.