PITTSFIELD — Pittsfield snowplow driver Thomas Winters knows the city's roads aren't cleared by magic. Ride along with him, and he'll show you how bumpy the ride can be.
When snow falls, blades on city plows drop into position. They brush along streets at about 20 miles per hour, moving salt, heaven and earth along their designated routes. It sounds simple, until you get into the driver's seat.
For 12 hours at a time, that route is their responsibility. When snow is really coming down, it's often a battle to keep roads clear. By the time the plows finish their circuits, another 3 inches could be down in big storms. That means no breaks.
"A lot of people don't realize how exhausting it is to be in that truck for 12 hours," Winters said.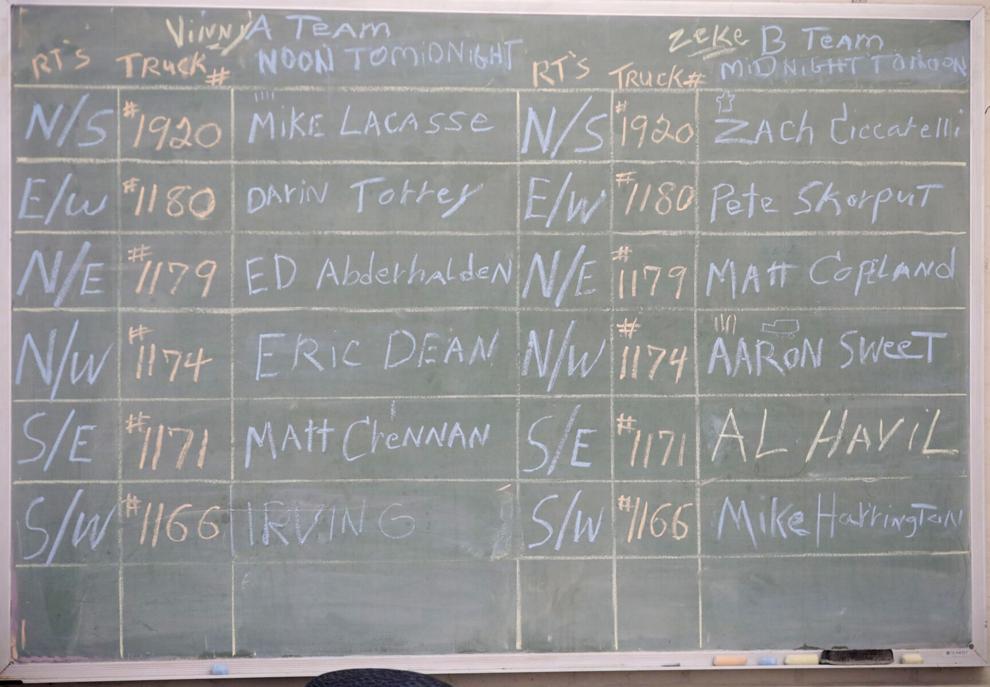 The city's Highway Division, responsible for keeping streets clear, has faced scrutiny over its handling of winter storms over the past month. The road conditions following a snowstorm Dec. 23 has led to City Council debate and petitions to find out more about the department's response. The snowstorm resulted in 69 collisions over the holiday weekend.
Ricardo Morales, commissioner of public services and utilities, presented a report to the council Tuesday, outlining the response to that storm and where improvements could be made. By Wednesday morning, he was monitoring weather to see what would come next.
Morales says drivers aren't looking for sympathy. They just want people to understand there's more to the job than pushing snow around.
"It's tough, but we're not complaining," Morales said. "This is what we signed up for."
Plow drivers contend with plenty of obstacles along their routes. Mailboxes, telephone poles and cars parked in the street all narrow the lanes for drivers, who are already tasked with keeping massive vehicles within the lines.
Cars in motion can present even more of an issue. Peter Skorput, a longtime plow driver in West Stockbridge and Pittsfield, said drivers are impatient, often crossing double yellow lines to pass plows as they push along busier streets. During a storm, 10 to 15 cars will pass a plow, Winters said.
Erratic driving adds to the stress of the plow drivers. Skorput almost accidentally lowered his "wing," the plow blade that extends from the truck's side, into a car that was ill-advisedly passing him.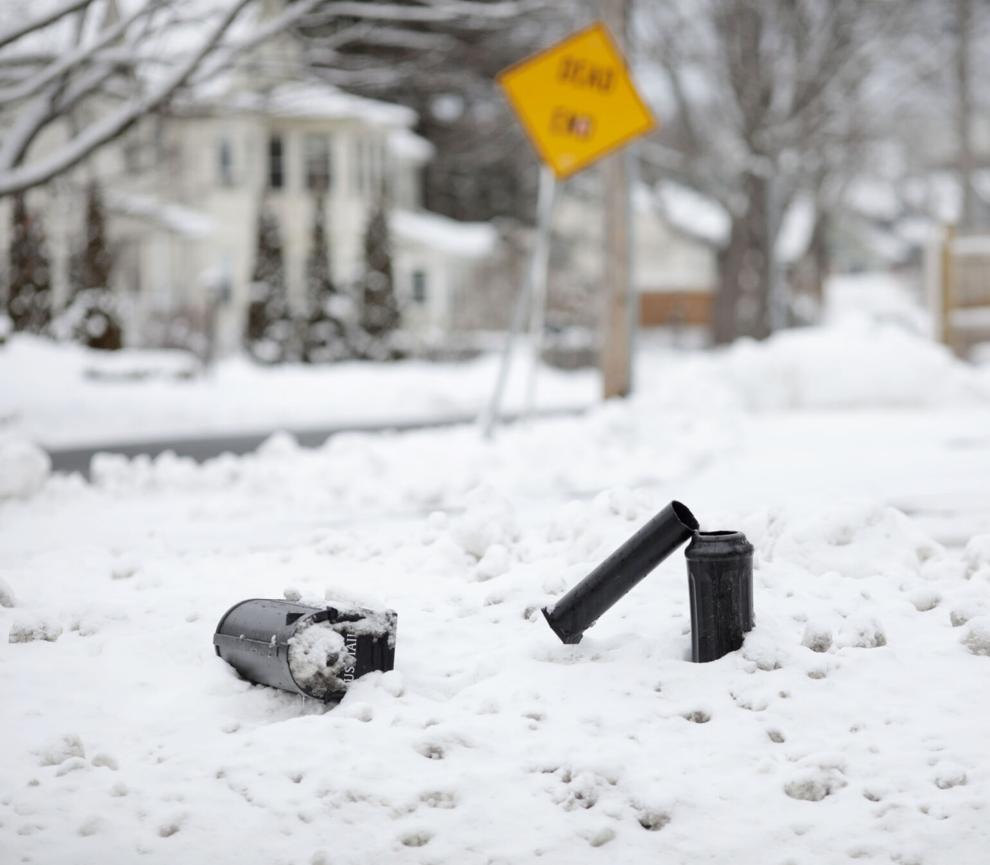 "Sometimes they pass us and they start fishtailing, and we go, 'OK, here we go,'" Skorput said.
They've run into other issues on the road, too – people keeping their high-beams on behind them, for one. That adds to a problem the trucks have: Visibility. As Winters points out, mirrors on the trucks often make it difficult to see the sides and backs of the vehicle.
The entire passenger side of the vehicle is reflected in a small mirror mounted on the front of the truck. The mirrors on the driver's side are mostly focused on the salt bin in the back, making sure it's still full. At night, it gets even harder to see, he said.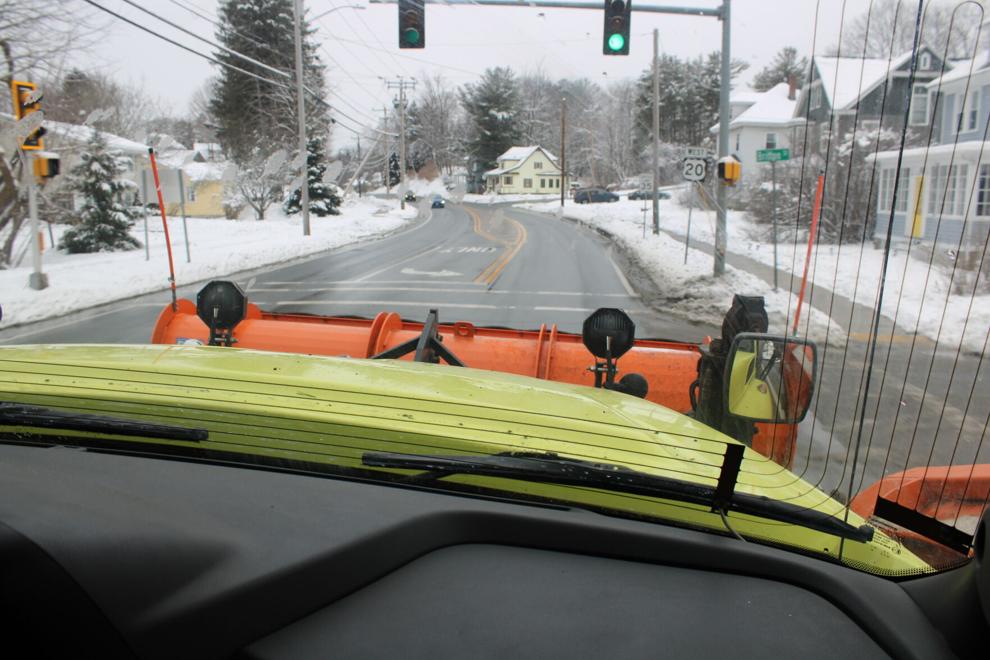 It can be difficult to get the blades into the right position to clear snow effectively, Winters said.
"If you're over too far, you're not scraping the blacktop," Winters said. "If you're not over far enough, you're leaving the center."
Traction can be a challenge. The plows are top-heavy, and only have rear-wheel drive. The plows often have to make use of "curb bumpers" to try to bounce back into the lane.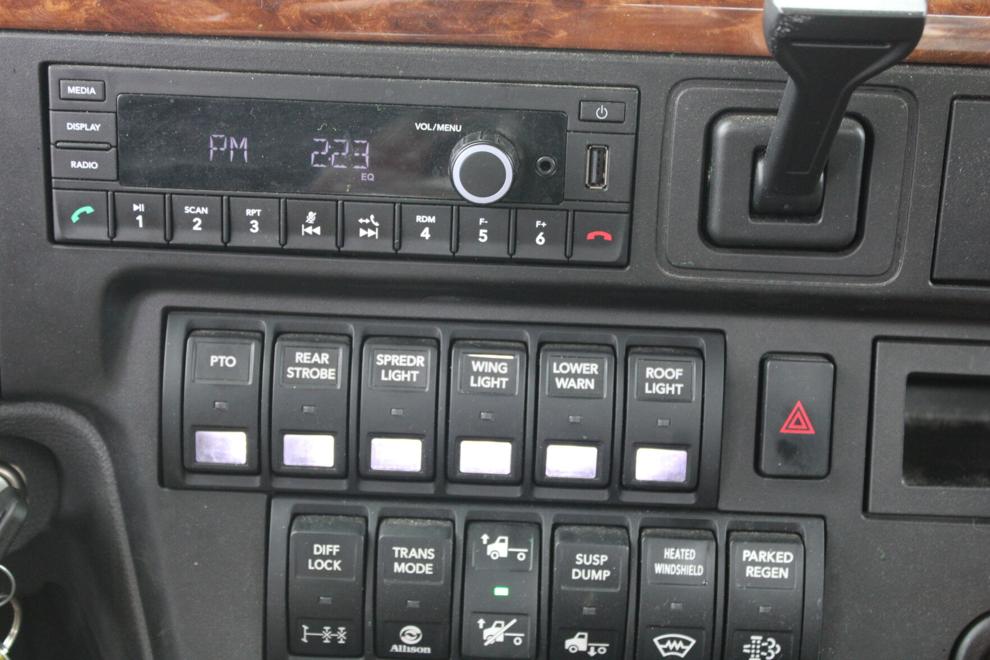 Curb bumpers only work if there's a curb to bump off of. Winters covers more remote areas in Pittsfield, such as Barker and Tamarack roads, where he might be on his own for keeping it on course.
The grading on some roads, like Jason Street on his route, skew toward the guardrails. He's got to clear that part of the road – but it can test nerves, he said.
"When you're in your car, you avoid spots like this," Winters said. "We can't."
'We did that'
The route can be a slog. The rides aren't particularly comfortable – which at least keeps drivers awake, Winters said. Hard-packed snow can be difficult to remove, and the more the snow gets pounded in by tires on the road, the harder it gets to scrape it off.
The only saving grace is that snowfalls can be sporadic. It might be a week or two between each heavy drop. Even still, there's really no work-life balance during the season, Winters said. That Dec. 23 storm saw him called into the line of duty.
"I have a 3-year-old and a 4-year-old," Winters said. "My Christmas with them consisted of getting pictures. My daughters look outside and see snow coming down and they say, 'Daddy, you've gotta leave again, don't you?'"
But Winters chose this. He's been plowing since he could ride shotgun with his uncle and learn the ropes.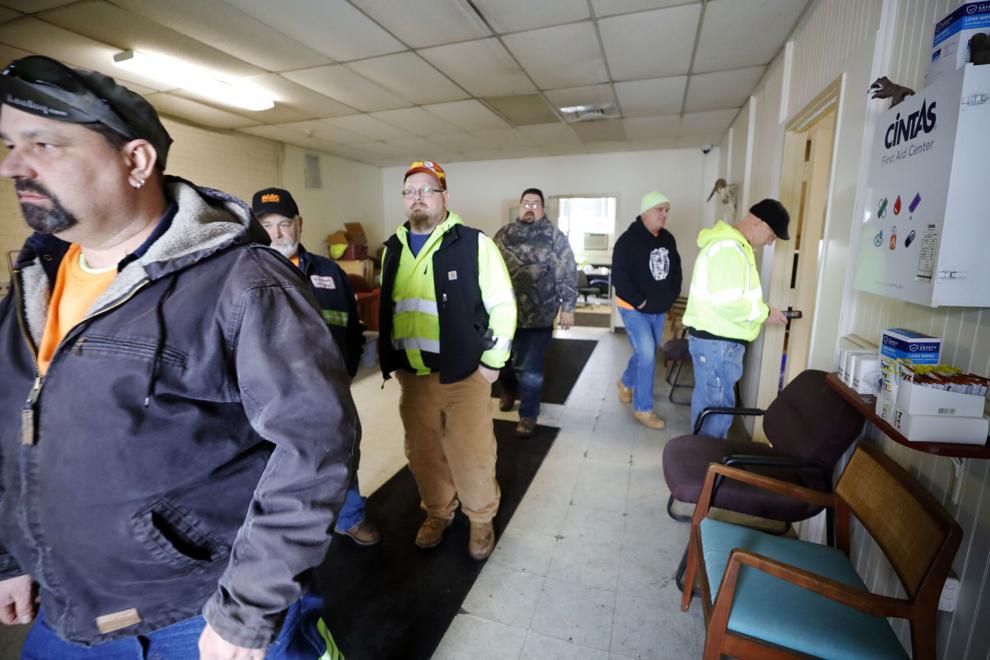 And, as Morales said, drivers are not complaining. It can be discouraging to hear mostly negative feedback, but as Zeke Liebenow, a foreman for the Highway Division put it, the work is essential.
"We're here to keep commerce running," Liebenow said. "You need ambulances, you need food distribution. They don't stop because of the weather. They still move, and we need to be here to take care of that. That's our job – think of it like that. You're an emergency vehicle, just like a fire truck or a police car with your lights on."
As difficult as the work might be, plow drivers tend to like it. Being able to see the effects they have on the road can give a nice sense of progress – and even in hairy conditions, there's a bit of a rush to battling a storm.
"You'll see when you get in the truck," Liebenow said. "There's an excitement with it."
More than that, it's nice to be able to look back at a clean street and say "We did that," he said.