PITTSFIELD — The wreath went into a box. The box went into the mail. And then, it seems, into limbo.
Township Four Floristry & Home, a downtown Pittsfield gift store, paid about $25 to select "Priority" shipping for the wreath it sent Nov. 27 to a customer in Rhode Island. On Saturday, 15 days later, co-owner Jed Thompson checked the U.S. Postal Service's tracking system and found that the box containing that token of holiday warmth was cooling its heels somewhere in southern Connecticut, one of many packages caught in a coronavirus pandemic-driven delivery snarl affecting the whole U.S.
On the U.S. Postal Service website, a message now reads: "ALERT: USPS IS EXPERIENCING UNPRECEDENTED PACKAGE INCREASES AND LIMITED EMPLOYEE AVAILABILITY DUE TO THE IMPACTS OF COVID-19."
The message goes on to ask for patience, adding, "We remain committed to delivering the holidays to you."
Several months ago, the big national news was whether the Postal Service would get mailed ballots to election centers in time. Today, mountains of holiday gifts hang in the balance.
Elsewhere in Pittsfield, volunteers with the Berkshire Democratic Brigades are waiting for 10 big boxes to arrive by mail from Illinois. They contain 15,000 postcards that, when completed with handwritten messages, will urge Georgia voters to go to the polls Jan. 5 and elect two Democratic senators.
Like Thompson at the North Street store, Megan Whilden, a Brigades member, keeps checking the status of the missing boxes, now more than a week overdue.
"It just keeps saying it is in transit. It's hard to believe it isn't here. It's been radio silence for over a week," she said.
A spokeswoman for the Postal Service says staffing problems because of COVID-19 have combined with a historically high mail volume to create delays.
"This is an unprecedented year," said Amy N. Gibbs, a USPS spokeswoman. "Never before have we seen volumes we are seeing. On top of that, employees are working through a global health crisis."
Gibbs said the volume of packages handled by the Postal Service started to climb after the pandemic hit in March, reaching nearly holiday-season levels. Now, two weeks before Christmas, the actual holiday season has hit. To deal with that, the service has hired staff, added vehicles and extended hours of operation.
Postal Service staff increases include new people at the service's 78-acre package-sorting and shipping facility in Springfield, Gibbs said. The Springfield facility, at 190 Fiberloid St. in Indian Orchard, normally has 1,500 employees, not including several hundred more who work during the holiday rush. The center encompasses nearly 1 million square feet, and handles Priority and first class packages from Connecticut and Western Massachusetts, Gibbs said.
First-class mail, such as letters and holiday cards, are processed through a separate Postal Service center in Hartford.
But, at the same time, the service is following workplace COVID-19 safety precautions. Gibbs declined to say to what degree positive COVID-19 cases or employee quarantines have affected staffing. The service is offering what Gibbs termed "liberal leave" policies "to promote the well-being of our workforce."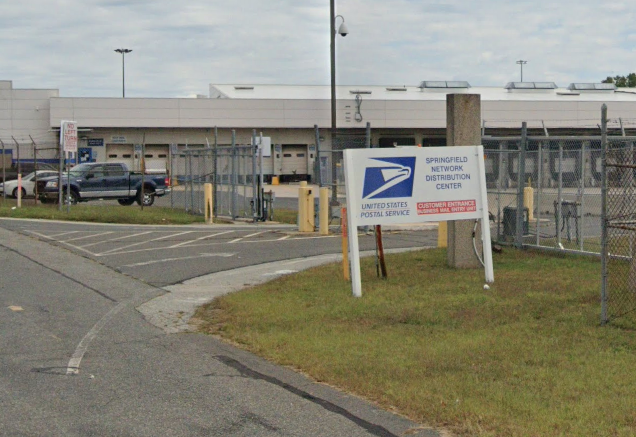 All that is taking place as vehicles make more than 1,000 daily trips in and out of the center. Equipment in the Springfield Network Distribution Center can sort 5,000 to 9,000 packages an hour. Other machines move up to 12,000 flat packages and magazines an hour, Gibbs said, and all are in working order.
Gibbs declined several invitations to be specific about the extent of backlogs at the Springfield center or address reports of "massive backlogs" in undelivered packages.
Still, she termed the demand on the postal system as "unprecedented."
"It's important for your readers to know that every piece of equipment and every truck is being used every single day," Gibbs said, as part of a series of telephone and email exchanges Saturday. "Mail moves into the facility and out of the facility daily. In these unprecedented times, and a year with significant volume increases, we continue to flex our available resources to meet the demand within a finite number of resources available to us."
Legislation lags
Margaret Boyle, a spokesman for U.S. Rep. Richard Neal, D-Springfield, said she is aware of mail delays and noted that efforts in the House of Representatives to provide more resources to the Postal Service stalled in the Senate. One of them, the Delivering for America Act (H.R. 8015), passed in August. The Heroes Act (H.R. 6800), approved in May, also would have steered funding to the USPS.
"These two pieces of legislation are part of the growing list of relief packages that the Senate continues to ignore," Boyle said. "During this time, we need to ensure that services that Americans rely on so strongly, like the USPS, are taken care of, just as we need to ensure that our small businesses have the tools necessary to weather this storm and keep the lights on."
Boyle said the House will be back in session Tuesday. "It is Chairman Neal's hope that the proposed pandemic relief package that leadership in the House and Senate are working on includes provisions to assist all of the above."
Loyal, but wondering
For Township Four, the business of selling and shipping goods is relatively new, Thompson said. One of the first lessons: Things are taking longer than expected, in a pandemic year, to reach customers.
"We are seeing a seven- to 12-day lag in Priority USPS," Thompson said. That includes the wreath on its way to Rhody, which tracking information says has been sidelined in Connecticut on its journey since Dec. 3.
The message for Thompson and his partner, Nathan Hanford, was clear. "We have stopped shipping." One of his last packages out was a box shipped through the mails as an "Express" item, at a cost of $100, five times the price of Priority.
Thompson said he and other retailers can only trust that customers understand that the delays aren't their fault. "There's a little bit of bewilderment and hope that everyone understands and is patient."
Still, Thompson is a fan of the Postal Service. "I really like the post office, because it's easy and goes to everyone. The post office serves every single person in the U.S., and we owe them that."
Whilden, the Berkshire Democratic Brigades member, is a fan as well, despite the fact that she is running up against a deadline to turn over the next batch of 15,000 postcards to the approximately 100 volunteers waiting to add messages — and then get the cards back into the mail. The group already has received 15,000 cards to mail out.
"I don't think people are mad, they're just wondering what is going on," said Whilden, who is executive director of the Osher Lifelong Learning Institute based at Berkshire Community College. "I don't want to beat up on the post office, by any means. I know they are doing the best they can in very challenging circumstances."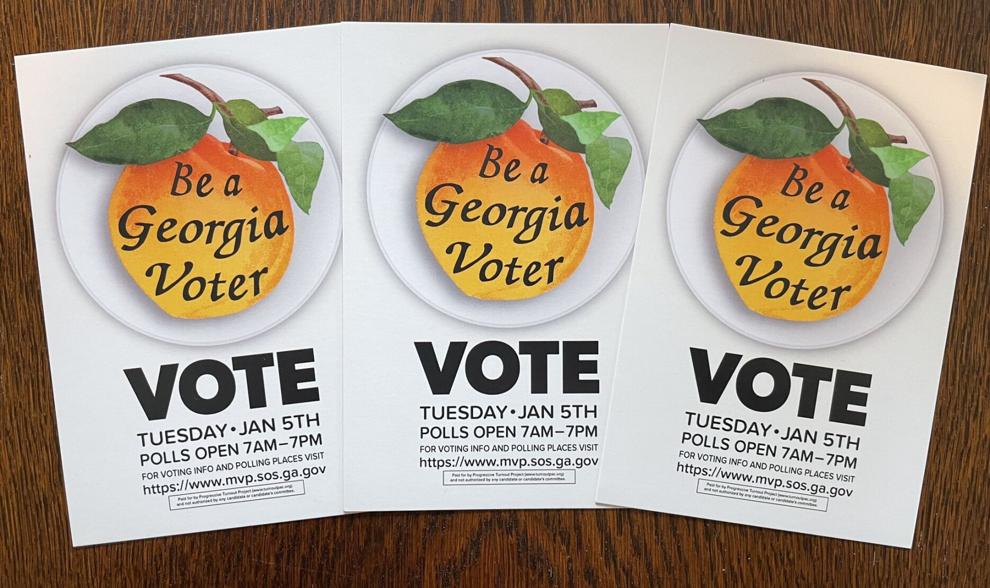 In the meantime, she has had to tell brigade volunteers to bide their time. Since the postcard campaign seeks to have messages arrive just before the Georgia election, the target date to mail cards had been a few days after Christmas.
But, Whilden says volunteers are feeling antsy about allowing enough time for the cards to head to 15,000 households down south — and have suggested moving up the campaign a few days.
"We may do that, if we ever get the cards," Whilden said.