PITTSFIELD — Cultivating and strengthening an existing relationship with Amazon paid off in a big way for Shire City Herbals on Prime Day Monday.
The Pittsfield-based maker of vinegar-based health tonics, including the well known Fire Cider brand, had two of its products featured by Amazon on the first day of the global company's two-day Prime Day event. They both sold out within a matter of hours.
"Not a bad start to post-pandemic life," said CEO Kimberly Allardyce.
Prime Day is Amazon's annual two-day mega-shopping event, a time when the company cuts prices on its most popular products and devices only for Amazon Prime members. Several items are offered only through "flash sales," or "lightning rounds," during which Amazon Prime members can only purchase them during a specific amount of time.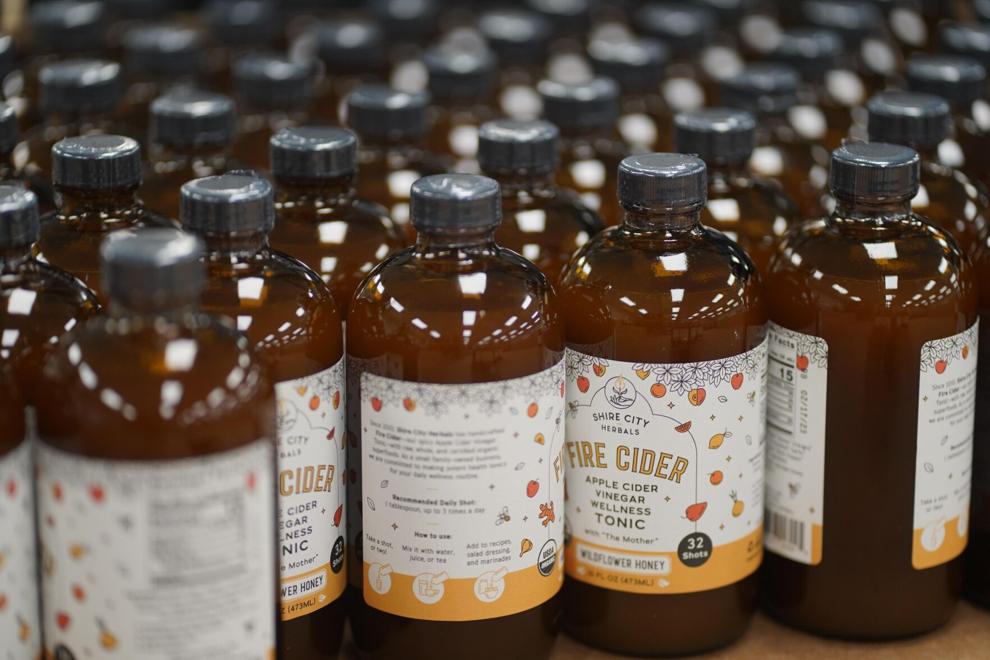 Both of Shire City's products, 16 and 32 ounce bottles of its Wildfire Honey Fire Cider Apple Vinegar wellness tonics, were sold in that manner on Monday, Allardyce said.
"I was actually on live with their live stream talking about the products," she said. "It's a higher exposure for a shorter period of time. We had a three-hour window (for both products), and it all sold out when I was live on the air."
Shire City sold about 100 bottles of each, she said.
"It's a big deal because we're a small business being featured by a national outfit with a global reach," Allardyce said, referring to the exposure Shire City Herbals received for being featured on Prime Day.
Allardyce, who was appointed the company's CEO in February, brought a decade of strategic business scaling and growth experience, and has an understanding of the wellness industry, having previously held leadership roles at Wanderlust and YogaWorks. Since joining the company as vice president of business development in September 2017, Allardyce said, she has worked on strengthening Shire City's existing relationship with Amazon.
"You have to participate with Amazon to manage your brand or the resellers will manage it for you and not manage it well," she said.
While cultivating that relationship, Allardyce said, Amazon chose Shire City to participate in its launch pad program, which the company uses to publicize products from small businesses. That's what led Amazon to feature the company's products on Prime Day, she said.
Shire City Herbals is currently making moves to broaden the company's reach and become more of a presence in the local economy, Allardyce said. Since taking over as CEO, Allardyce has worked on forming an advisory board that includes a diverse group of business leaders and food and beverage experts.
The formation of the 10-member board was formally announced in May. Its purpose is to support Shire City Herbals as it enters its second decade of business, expands beyond its original Fire Cider product line and matures from a family-run business into a more focused major player in the rapidly evolving apple cider vinegar category, according to a news release announcing the board's formation.
"I've assembled this diverse group of advisers to ensure we maintain an inclusive perspective as we aim to lead in the functional beverage category as well as in the growing proactive wellness movement at large," Allardyce said.
Shire City's founding CEO, Dana St. Pierre, started the company with his wife, Amy Heubner, in 2011, selling home made tonics inspired by his grandmother's German folk medicine that the couple originally made in a church kitchen. He became Shire City's president and chief product officer in February when Allardyce was elevated to CEO.
In 2018, Shire City completed a $1.4 million expansion project, which include the construction of its first on-site commercial kitchen in a former warehouse in Pittsfield.