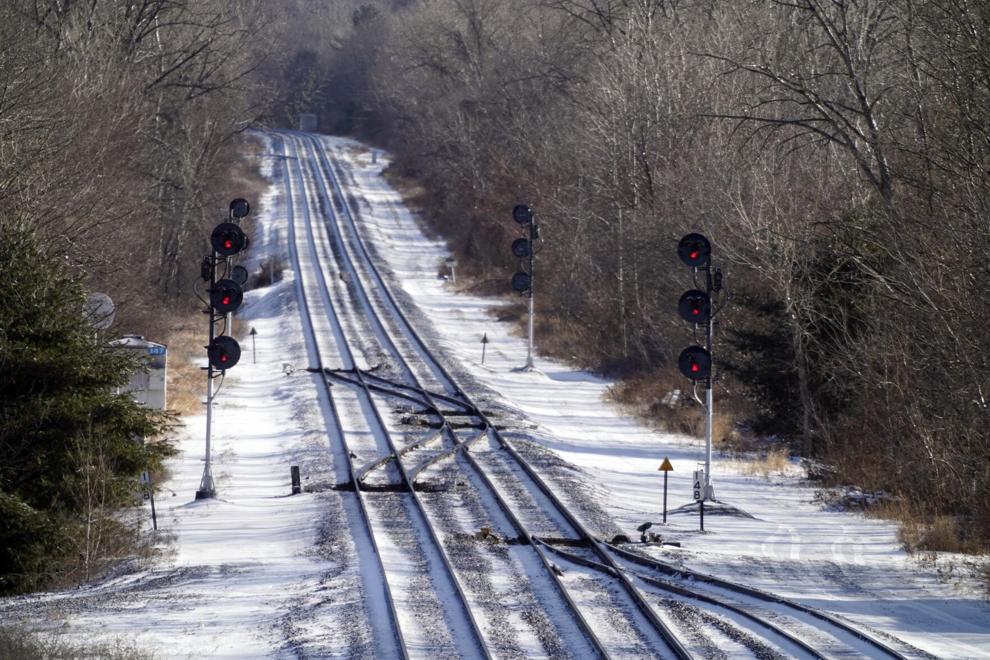 UPDATE: Amtrak notes progress in talks but has yet to reach a final agreement on NYC-Pittsfield passenger service
PITTSFIELD — The railroad that owns tracks on the proposed Berkshire Flyer route has said it will allow Amtrak to operate New York City-to-Pittsfield passenger service this summer, although the parties still need to reach a formal agreement.
CSX Corp. will meet six other conditions that Amtrak requested as part of CSX's proposed acquisition of Pan Am Railways, which co-owns the Hoosac Tunnel.The railroad agreed to the conditions in a Wednesday filing with the federal Surface Transportation Board, a day before the board began a hearing for the transaction. Amtrak had said it would oppose the deal if CSX did not agree to its conditions.
State Sen. Adam Hinds, D-Pittsfield, said it was exciting that CSX expressed commitment to the Berkshire Flyer, which he said is "ready to start" in the summer and will play a part in the regional passenger rail resurgence that lawmakers seek. Hinds said that while he previously was concerned over CSX's "lack of cooperation" in passenger rail discussions, he now supports the deal.
"This is my vision for how CSX can engage positively with the communities that it serves, and I'm grateful that this is what I'm experiencing, this positive interaction and engagement in the most recent period," he said in his testimony Thursday.
Passenger rail service between Berkshire County and New York City could begin in summer 2022, as long as the company that owns part of the tracks agrees to allow Amtrak to operate service on those tracks.
Amtrak already runs daily passenger service between the Albany-Rensselaer Station and New York's Penn Station.
The Berkshire Flyer adds Friday and Sunday continuations between Albany-Rensselaer and Pittsfield's Joseph Scelsi Intermodal Transportation Center.
"As discussed in a call last Friday between CSX, Amtrak and Senator Hinds of the Commonwealth of Massachusetts, CSX agrees to the operation of the Berkshire Flyer from Memorial Day to Columbus Day 2022 on the schedule that was provided to CSX," CSX President and CEO James Foote said in a letter attached in the filing, although he added that CSX "will need to have a commitment on a 1000 foot station track to mitigate freight interference."
While the 2022 pilot aims to bring summer tourists for weekend trips — "incredibly limited in scope," in Hinds' words — Hinds has said he would like to see the project evolve into daily and year-round service.
CSX also agreed to Amtrak's request that it "fully cooperate in good faith with Amtrak and third-party public agencies for addition, expansion or modification of existing intercity passenger rail service" on Pan Am routes or CSX's Albany-to-Worcester tracks. The CSX tracks between Pittsfield and Worcester are needed for proposed "east-west" passenger service between Pittsfield and Boston through Springfield.
Other Amtrak conditions require that CSX cooperate with Amtrak and other parties to identify and work to make improvements for accelerated speeds, and that CSX avoid making changes that negatively would impact Amtrak's ability to run passenger service on Pan Am and the Albany-Worcester stretch.
The Massachusetts Department of Transportation and the Massachusetts Bay Transportation Authority still have conditions they would like CSX to meet, including that the company "explore, study, and allow additional expanded passenger service in Western Massachusetts," including "multiple round-trip service" between Springfield and Worcester and up to two daily round trips between Albany and Worcester.
At a hearing Thursday before the Surface Transportation Board, regulators expressed approval of CSX's agreement with Amtrak, although its vice chairman questioned CSX's commitment to passenger rail.
"I know you said you're ready and willing to address passenger rail, but again, from the conversations we've had, I don't know how much you're looking at expanding passenger rail," Surface Transportation Board Vice Chairman Robert Primus said to Foote, the CSX president and CEO. "And that's what these states want to do, expanding potential Amtrak service.
"How are you going to come to terms with a growing freight line that you want — again, you've got to answer to your stakeholders — but also a growing passenger rail network, who are not your stakeholders?" Primus asked.
Canadian Pacific Railway, which, like CSX, is a Class I railroad, also requested conditions that it said would preserve competition.
The hearing is expected to continue into Friday and can be accessed at tinyurl.com/2p8zay3p.
Barrett's concerns
State Rep. John Barrett III, D-North Adams, said that what he heard from CSX and Norfolk Southern Railway officials Thursday raised concerns for him. Norfolk Southern co-owns the line that includes the "northern tier" route — it runs between North Adams and Boston through Greenfield — with Pan Am. He questions their commitment to passenger rail along the northern tier and whether they would conduct prompt repairs to the Hoosac Tunnel.
While Barrett said that Pan Am, in his experience, never had been open to northern tier passenger service, he wants CSX to fulfill commitments that he said the company made to him, including that it "would take a serious look" at northern tier passenger service.
"I was very direct in letting them know that they better be serious in honoring their commitment to explore commuter service on the northern tier," he said. "I also told them if they didn't follow through on their commitment, I would become their worst nightmare."
Although Barrett said that his concerns with the Hoosac Tunnel would exist regardless of whether the transaction goes through, he said he wants an assurance that maintenance will be "addressed immediately."
"I don't know what's inside that tunnel, but from what I'm told, it's in a dangerous situation," he said, referencing a two-month closure in 2020 from a "partial wall collapse."
Editor's note: This story has been updated to clarify that while CSX said it would allow Amtrak to operate Berkshire Flyer service, the two parties have yet to finalize terms in a formal agreement.