PITTSFIELD — Survivors, caregivers, friends and people mourning the loss of their loved ones joined together Friday at the Guardian Life building for the annual Relay for Life, the first large-scale version of the event since the coronavirus pandemic began. They walked laps around the parking lot, following a makeshift track outlined by candles, to raise money for the American Cancer Society. As the evening grew chilly, The Eagle joined a few survivors on their laps, to hear what the night meant to them.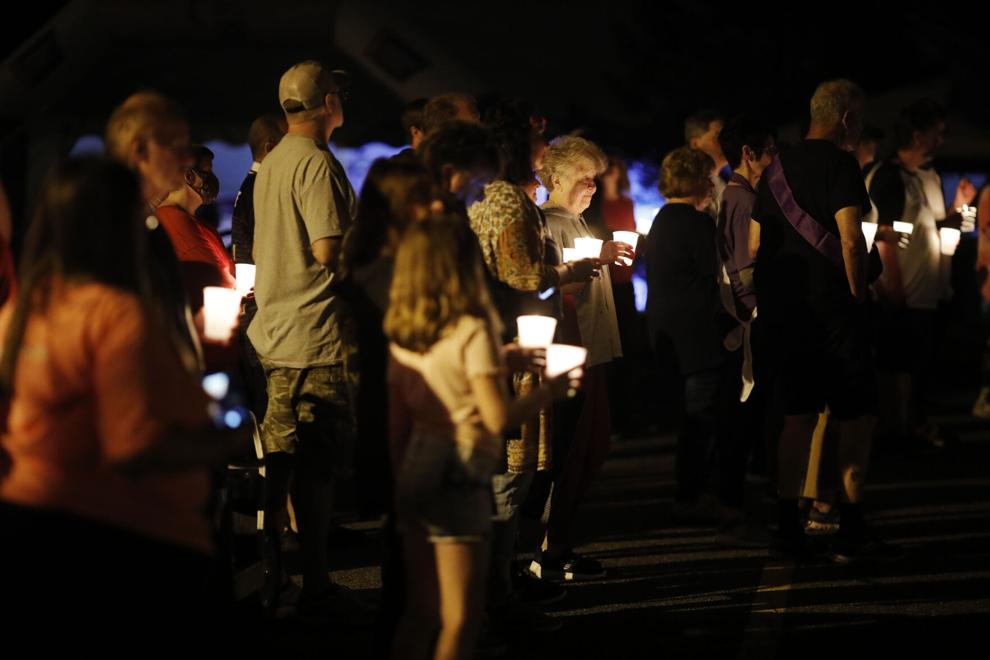 Lap 1: Target dog saves woman's life
Laura Dalzell and her dad, Ed Mertzlufft, were two spots of purple on the track, surrounded by a close-knit pod of family in cheery tie-dye, an homage to the night's theme of peace and love.
They first had come to the event in the early 1990s, when Dalzell was a kid watching her dad fight and beat Hodgkin lymphoma.
"They did radiation and chemotherapy," Mertzlufft said. "Then the doctor said I was cured. Not in remission. Cured."
Years later, in 2009, Mertzlufft was diagnosed with prostate cancer.
"I'm a two-time winner," he said, jokingly.
About the same time, Dalzell was 23 and working with animals — it was her dream job — when a "beautiful bull terrier" kicked her in the stomach. Dalzell went to a hospital with a sharp pain, and the doctors found a mass.
They removed the mass and performed a biopsy. Dalzell had ovarian cancer. She remembers she was told that the situation could have been much more dire if the dog's well-placed kick hadn't sent her to the hospital early in the illness.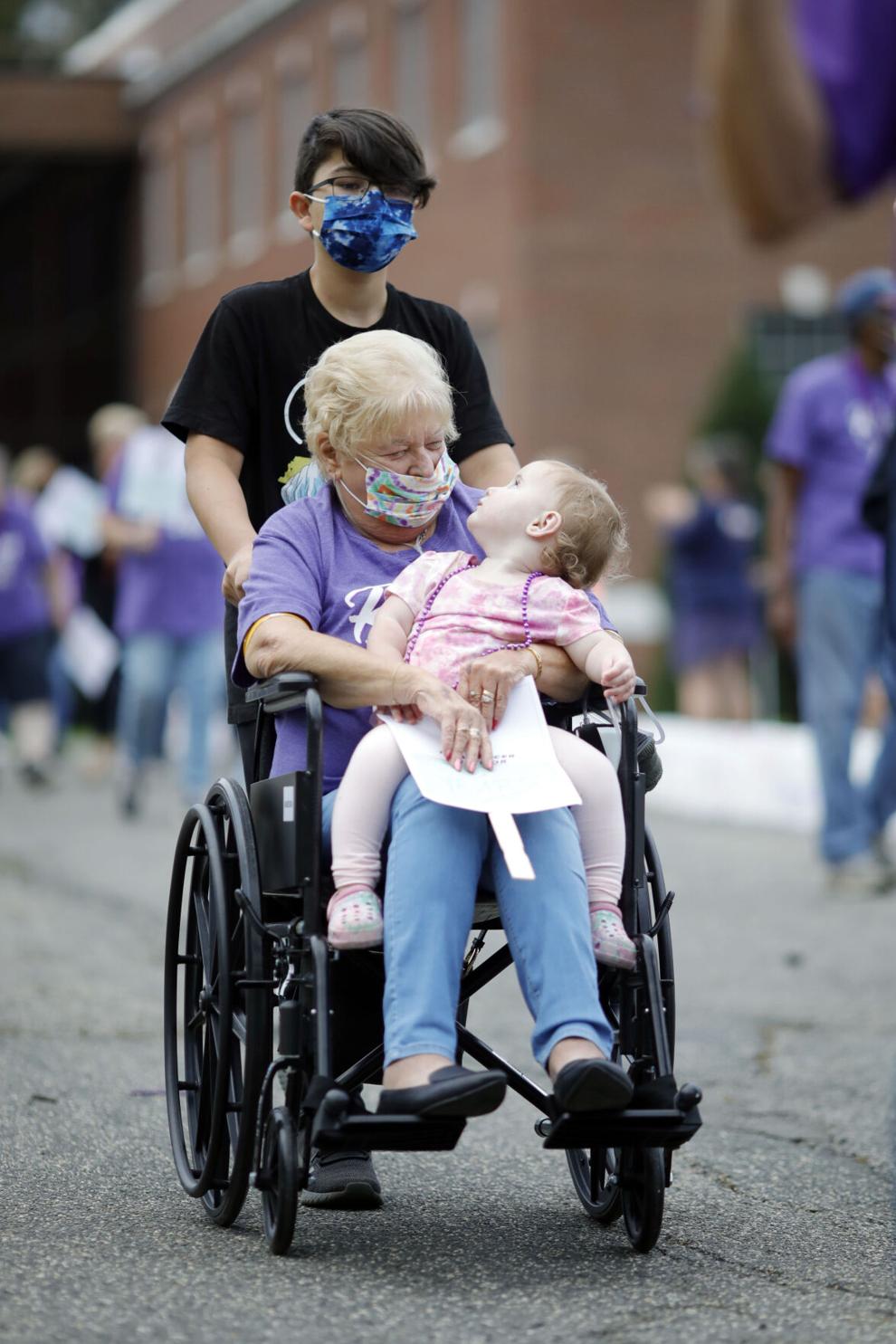 "I had zero symptoms," she said. "The whole story is pretty amazing."
When Dalzell got the call that she had cancer, she cried. But, when her parents got home, they knew what to say — because they already had been through it.
"Both my mom and my dad, they said, 'It's going to be OK. It's going to be rough, but we're going to do everything we can.'"
Her mom, Joyce Mertzlufft, remembers buying bandannas each week for Dalzell when her hair fell out — "retail therapy" — and watching her husband and daughter get through treatment together.
"They were really good at helping each other," she said. "They would always laugh with each other."
They still were laughing more than a decade later, on the track in Pittsfield. Dalzell pointed out that the bull terrier, a short white dog, is Target's mascot.
"My story should be titled 'Target dog saves woman's life,'" Dalzell said.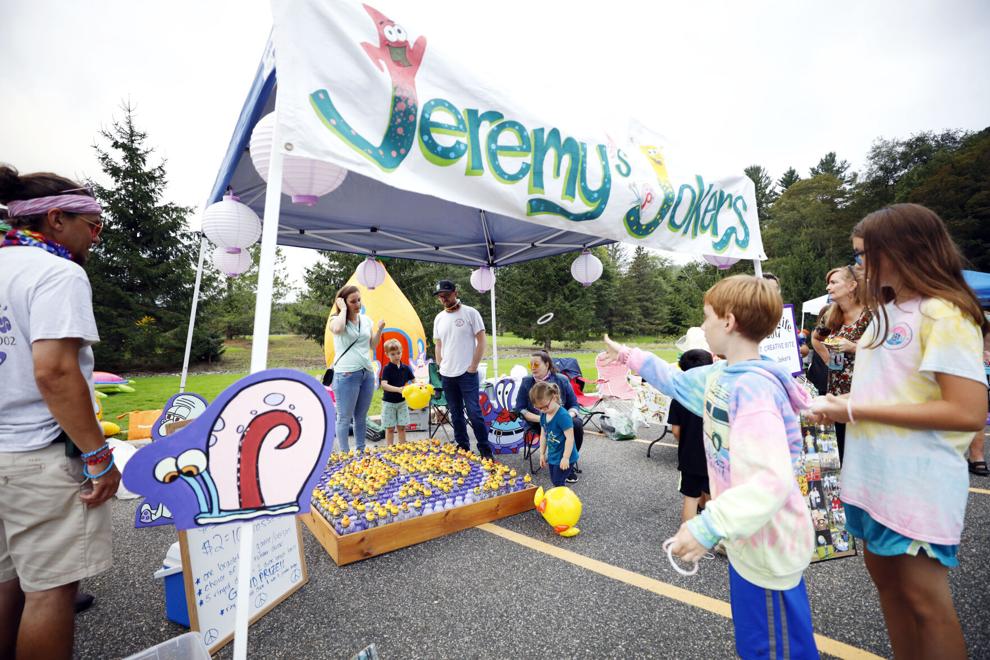 Lap 2: Walking — again
After surgery last year, Tim Cripps couldn't even make it to the mailbox.
On Friday night, he walked swift laps around the track outside the Guardian Life building, with his significant other, Tracy Eastwood, by his side.
Doctors diagnosed Cripps with tongue cancer two years ago. When they screened him for other cancers, they found that he also had a tumor on his esophagus.
At first, the doctors said they could cut out just the tumor.
"Then they changed their plans and took the esophagus out," Cripps said. "Now, I have a tube for a stomach."
Cripps had the operation during the pandemic, and Eastwood waited anxiously at home for news during the 13-hour surgery. Cripps then spent a month recovering in a hospital, on a feeding tube. That was when his surgeon started to push him with what Cripps describes, rather fondly, as terrible bedside manner.
"My surgeon said I couldn't sit on the couch and be a potato," Cripps recalled. "He made me so mad that I started walking a mile, 2 miles."
In those early months of recovery back home, Eastwood helped him, including handling the feeding tube when the visiting nurses weren't around.
"You did really good," he told her Friday night, as they crossed the far side of the track again, almost out of range of the music that played over loudspeakers.
"I did what I had to do," she said, but with a grin.
"You did better than some of the nurses," he replied. "I'm so lucky to have you."
Cripps said it was such a joy to be able to eat absolutely anything solid again that he couldn't even pick a favorite. By the time of the relay — it was his first — he still was getting used to eating many small meals a day, but he was happy to be getting stronger again.
"I feel good," he said. "I'm on the right side of the dirt."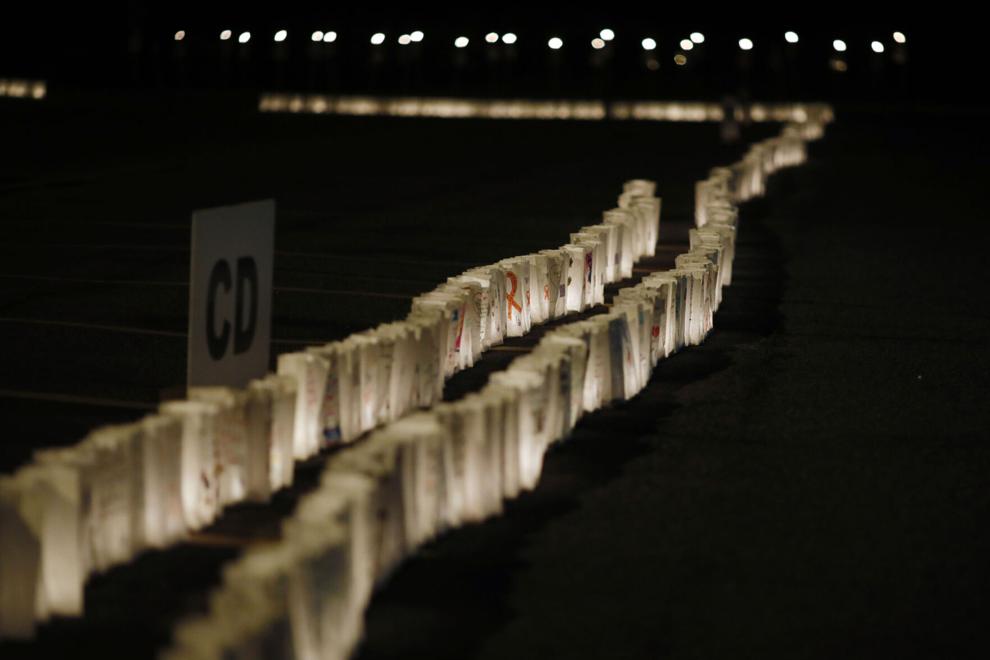 Lap 3: 'Dig down into yourself'
As Cripps and Eastwood passed, Mary Ann Bassi stopped along the track, beside one bag.
The white paper bags were simple, each lit from the inside by a candle and decorated with the name of someone fighting cancer or someone lost to the disease.
Bassi teared up as she looked at one that read "August 17." Her friend had died a month before, to the day.
"It's overwhelming to see all this," she said, gesturing to the many bags lined up across the parking lot. "All the people who lost their fights, and the ones who are still fighting. That's the thing people need to remember. There are people who are still fighting."
Two years ago, Bassi was diagnosed with ovarian cancer. For her and her husband, baseball coach Pat Bassi, the diagnosis was like a door into another world, one they barely had recognized before.
"You don't realize all the people you know who might have cancer," Bassi said. "Then you get diagnosed, and they tell you their stories."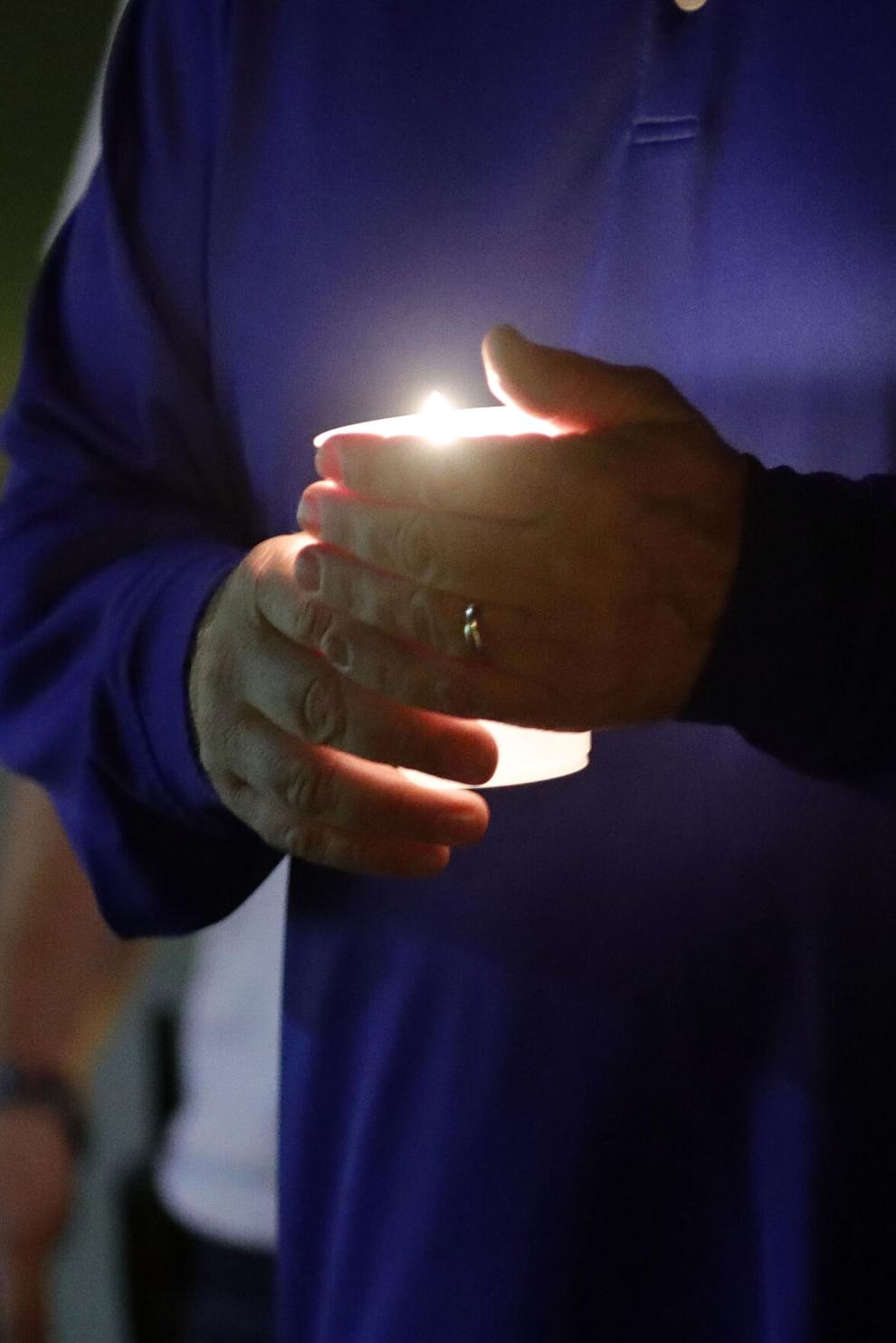 Even as she mourned one friend, she also was thinking that night of another friend, still alive, still the toughest person she ever had met. That friend simply refused to go to hospice, Bassi said.
"Cancer is not for the faint of heart," Pat added.
For Bassi, the strength she found after her diagnosis — in herself and in her friends — surprised her.
"I would've expected myself to fall apart," she said. "And I did. But, then this calm came over me. You dig down into yourself and, at some point, it just comes naturally. You tell yourself, 'I've got this. It's gonna be fine.'"