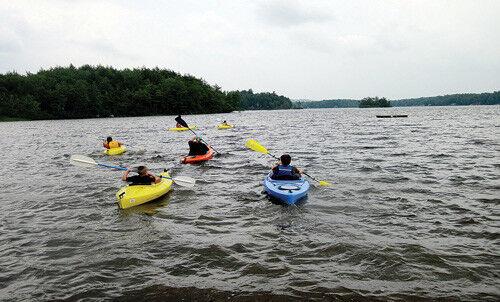 OTIS — People who live around Big Pond in Otis are organizing in an attempt to prevent the town from contracting to build a cellular telephone tower in their neighborhood.
The town's top board has requested proposals for a tower on public land near the pond, with submissions due Thursday.
Residents say they plan to join an online session of the Board of Selectmen at 7 p.m. Tuesday, when the panel's agenda includes discussion of the tower project.
Big Pond, located between Algerie Road and Route 23 in East Otis, has about 125 cottages and homes around its shores.
Frank Rizzo, a longtime property owner at the pond, said he and others feel that the project will lower property values and mar the landscape.
"There is vehement opposition to it," Rizzo said. "Nobody wants it."
Otis held an online information session about the tower project Jan. 12 that drew nearly 100 residents.
Residents have hired Andrew J. Campanelli, of the New York law firm Campanelli & Associates, to represent them. The firm specializes in legal issues involving cell towers. They also have created a website, stopthebigpondcelltower.org, and a GoFundMe campaign to raise money for legal expenses. As of late Monday, 62 donors to the campaign had raised $15,230 of its $50,000 goal.
A representative of the town could not be reached Monday for comment on the tower plan. Officials told residents at the Jan. 12 session that a new cellular installation would fill a gap in available service, improving the ability of public safety crews to respond to emergencies.
Residents say they have asked Otis officials for hard evidence of a gap in cellular communication availability.
Rizzo said Campanelli is preparing a brief in opposition to the tower project, which Rizzo sees as a misstep for the community.
"That's not acting in the best interests of the homeowners on the lake," he said of the town's plans.
Opponents have solicited nine letters from local real estate experts about the proposal. Rizzo said those letters estimate that the tower that has been proposed could result in an 18 to 30 percent drop in property values. Neighbors also have mounted a letter-writing campaign against the project.
The town has told residents that Otis stands to receive about $1,000 a month in revenue from leasing land for the tower. The project's basics are outlined in a request for proposals on the town's website.
Katy Nash, another pond resident, said she questions why Otis officials would risk seeing property values fall for a relatively small financial benefit.
"It's bizarre they would make this an issue when they would lose more in property values than they'd make," she said.
Nash said tower opponents have delivered a petition with more than 200 signatures to town officials. The leaders of the anti-tower campaign include Tim Massucco, a third-generation property owner at the pond, and Lauren Harrison, who has owned a home on East Shore Road at Big Pond since 1997.
As many as 90 residents joined the Jan. 12 information session.
"The only plus of a pandemic is that these people are summer residents and wouldn't [normally] be going to a meeting in winter," Nash said. "I think they were caught off guard that so many people had shown up for this."
In its request for proposals, due Thursday at 2 p.m., the town seeks a company to lease town-owned land for a tower.
"The Board of Selectmen is the awarding authority and reserves the right to reject any or all proposals, to waive minor informalities or irregularities in any proposal and to make any award in any manner consistent with the law and deemed to be in the best interests of the Town of Otis," the RFP says.