Acclaimed artist Carrie Mae Weems wants you to "Take 6!"
That's the 6 feet of social distance recommended by the Centers for Disease Control and Prevention in the battle against COVID-19.
Weems' grassroots public awareness campaign, Resist COVID Take 6!, first launched in April 2020 and recently rolled out in the Berkshires and southern Vermont, uses art-focused messages distributed on billboards, posters, tote bags, buttons, bus shelters, lawns signs, reusable shopping bags and more to raise awareness of the deadly virus, the measures necessary to prevent its spread and, now, the importance of being vaccinated.
The arts-driven campaign first was launched in Black, Latino and Native American communities, which have been impacted disproportionately by COVID-19.
The campaign aims to highlight the high death rates within those communities while providing timely, factual information through creative messaging and public art projects. Messages included as part of the arts-driven campaign focus on "dispelling the myth of false cures, encouraging public discussion, and thanking frontline workers."
The Berkshires and southern Vermont initiative quietly was launched over the past few months under the auspices of ArtCountry — a collaboration of The Clark Art Institute, Massachusetts Museum of Contemporary Art, Williamstown Theatre Festival, Williams College Museum of Art and the Bennington Museum in Bennington, Vt. ArtCountry's campaign is in partnership with the Usdan Gallery at Bennington College, the Berkshire Cultural Resource Center at the Massachusetts College of Liberal Arts, the town of Williamstown and the '62 Center for Theatre and Dance.
"I think for all partners involved, we were thinking, 'Why not?' COVID-19 and the related mental health crisis it has created, with the anxiety around contracting it and sustaining a livelihood, it's clear that COVID-19 doesn't discriminate; it affects all of us," said Erica Wall, director of the Berkshire Cultural Resource Center. "With Carrie Mae Weems' campaign, it was an additional opportunity to really illuminate the disparity in terms of who has been most impacted by the pandemic — Black and brown communities.
"Given that our own little microcosm is just a reflection of the larger world around us, it made a lot of sense for us all to participate and use this as an opportunity for us to look critically at how we can better respond to our local issues and better address them as well."
In North Adams, the first of a series of billboards planned for the city and Pittsfield went up as part of the River Street Billboard Project at Mass MoCA. Billboards at the intersection of River, Marshall and Houghton streets featuring Weems' photos declare, "Don't worry, we'll hold hands again," and "Life is Beautiful. Stay Safe / If Possible / Stay Home / Wash Your Hands / Cover Your Face."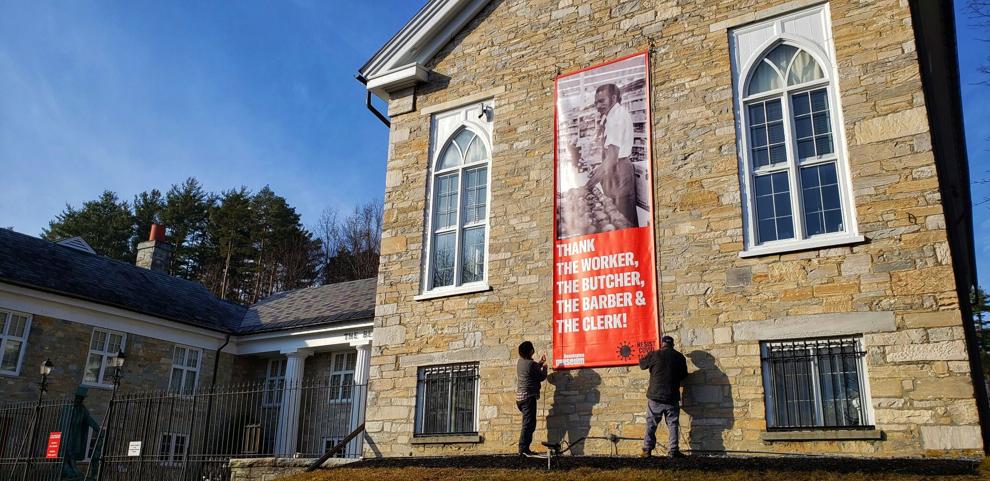 A large-scale banner thanking frontline workers was installed on the facade of the Bennington Museum in January. Banners and branded messaging also were installed at Bennington College, the Williams College Museum of Art and in downtown Bennington.
Over the next six months, additional awareness efforts will be rolled out by the museums and colleges. In addition to launching a Resist COVID Take 6! billboard campaign in North Adams and Pittsfield in mid-March, MCLA is launching several related on-campus programs.
Collaborations between the Berkshire Cultural Resource Center and MCLA faculty will have students creating a campuswide campaign modeled after Weems' work. Intermediate design students, led by Melanie Mowinski, professor of fine and performing arts, will use Weems' design elements and fonts to create a line of posters, billboards, lawn signs and banners addressing "the mental health issues and needs of our own BIPOC (Black, Indigenous and people of color) community on campus," she said.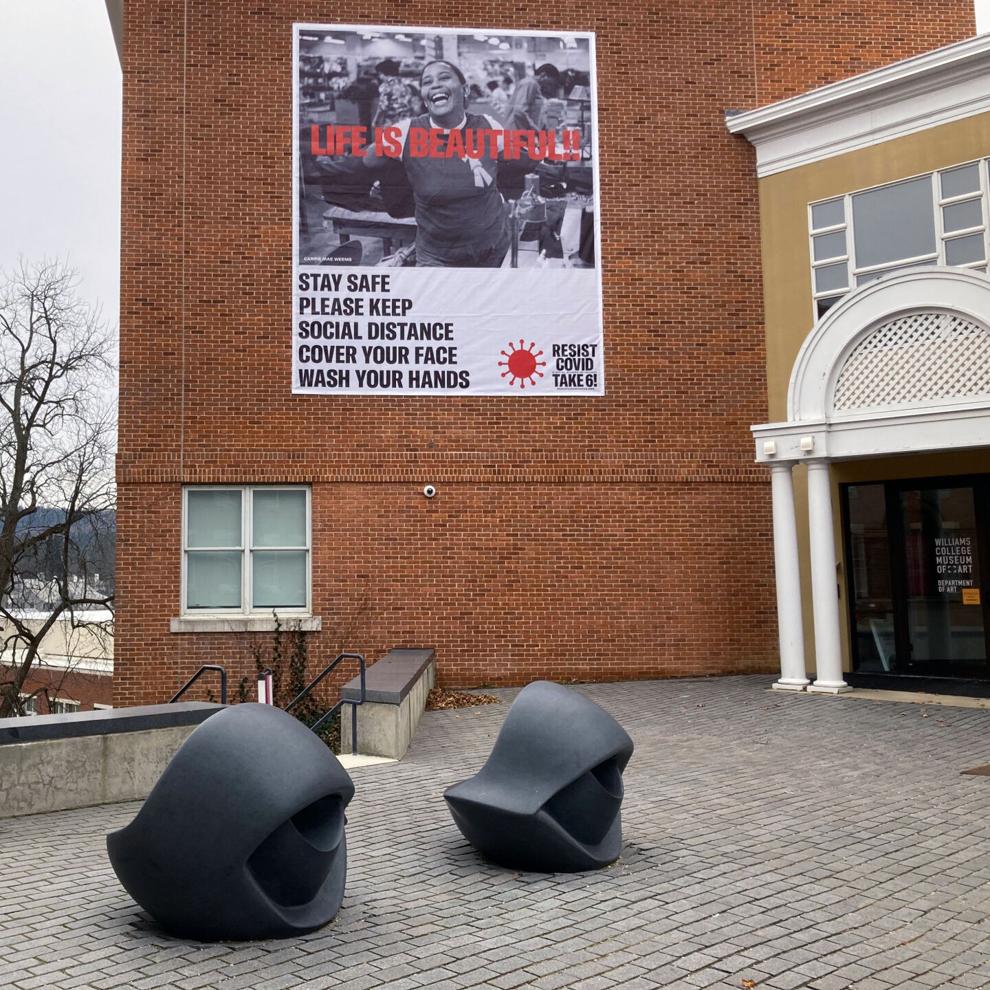 Additional programming will include sessions "on understanding the COVID-19 vaccine and demystifying any concerns about it, especially within BIPOC communities" and an open mic event, organized by the English Department.
"This project, with its visual reminders, is yet another opportunity that we are seizing to continually embed the work, that we as an institution are committed to doing daily," Wall said. "We are using the arts as a vehicle and a language for us to continue conversations and discourse around creating a culture committed to diversity, equity, inclusion and access for all. It's about art and culture."