"Long ago it must be
I have a photograph
Preserve your memories
They're all that's left you."
— "Bookends," Simon & Garfunkel
PITTSFIELD — I have trouble throwing anything away. I hold on to ticket stubs, old magazines, college football programs from the 1960s, worn out T-shirts. I collected paper cups when I was a kid.
Being a pack rat, however, helps when you're a newspaper reporter. Our stories often involve information that comes from written material like news releases, meeting agendas, deeds or court documents. I often save these types of items in case I might need them again.
This story is about a photograph that sat stashed away in a reporter's desk for almost 18 years and helped a young woman reconnect with a deceased dad she barely knew.
Let's start at the beginning: Many years ago, Glenn Allison, a young U.S. Army sergeant from Pittsfield, died while stationed in Iraq. I was assigned to write a story about him and to see if I could obtain a photograph to run with the story. I don't remember how this all happened, but somehow I got in touch with Allison's sister, who agreed to bring a photo of her brother over to The Eagle. It was one of those standard-issue photos taken by the military — a soldier in uniform standing in front of an American flag.
I interviewed Allison's sister on the phone for the story, but I never met her. She left the photo for me in a big envelope at The Eagle's front desk. I told her I would return it after I wrote the story and that she could pick it up at the front desk.
I thought she would come back, but one day became three days became five days ... and no one from the family ever claimed the photo. With all the information reporters get, it's very easy for a treasured item like Allison's photo to get misplaced in a newsroom. I decided to hold on to the photo myself.
So, I put Allison's photo in one of my desk drawers to ensure it wouldn't get lost. "Someone from the family might come back to get it someday," I thought. That was in December 2003.
A lot of things have happened since then, and I've cleaned out my desk several times. I've often come across Allison's photo during these cleansing operations, including the latest foray a couple of months ago, but I never tossed it. I could still see the value in it. And maybe, someday, someone in Glenn Allison's family might want it.
So, it has remained in the bottom of one of my desk drawers — still in the original envelope that had Allison's sister's name written on it.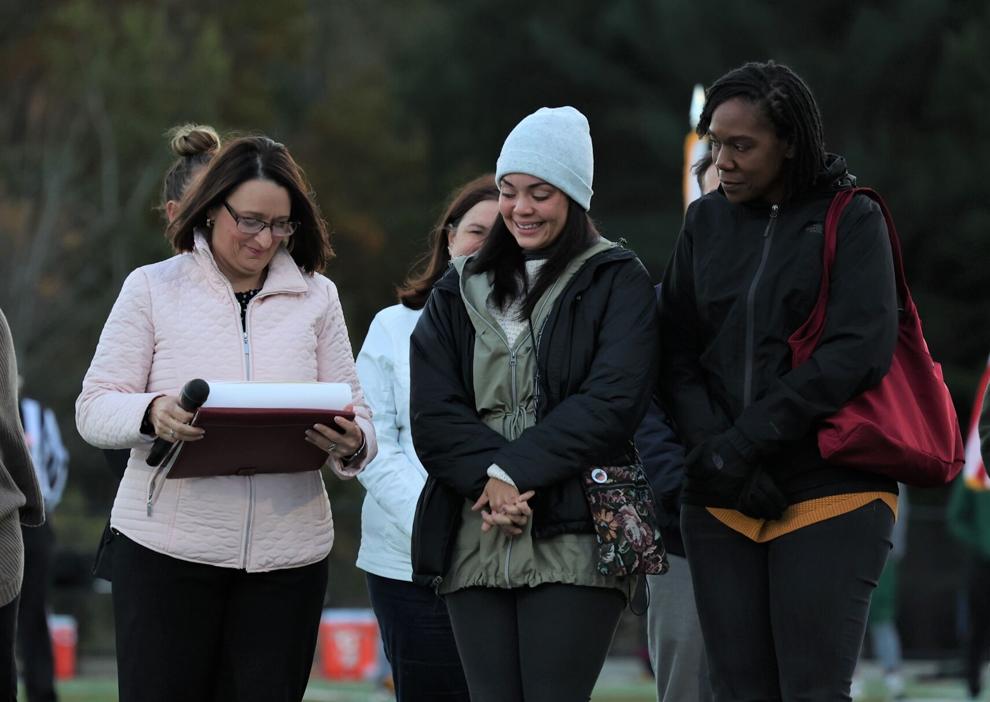 Then, on Oct. 26, something finally changed. While reading The Eagle's sports page, I came across an item that mentioned a ceremony that had taken place before the Pittsfield-Taconic high school football game Oct. 22, to recognize two alumni who had served in the armed forces.
One of the honorees was Glenn Allison.
The ceremony and football game coincided with a fundraiser to support Allison's candidacy to the Monday Morning Quarterback Club's Hall of Fame, a group that includes outstanding high school football players who played at Pittsfield schools (Allison played football at Pittsfield High School before entering the military).
That caught my attention. Then I read further. Allison's daughter, Kaleigh Hayes, performed the coin toss before the game. Finally, a connection to Allison's family had emerged. Maybe she'd want the photo of her dad that I'd been holding on to for all these years.
So, I reached out to Kaleigh's boss at the Boys & Girls Club of the Berkshires, who connected us. Kaleigh called me that afternoon. She came over to The Eagle, and I gave her the photo of her father the next day.
We spoke only briefly. Kaleigh told me that her aunt, Allison's sister, had moved out of Pittsfield. She didn't remember a lot about her dad because she was only 7 when he died. We shook hands and she left.
I hope Kaleigh enjoys having the photo. I'm glad I hung on to it.