HATFIELD — Expecting a continued rise in hunger through the pandemic-induced recession, the Food Bank of Western Massachusetts made the plea Saturday to visiting lawmakers that public dollars go a long way in allowing people to eat.
U.S. Sen. Elizabeth Warren joined U.S. Rep. Jim McGovern, state Rep. Lindsay Sabadosa and Food Bank employees for a Saturday tour of the food bank's headquarters in Hatfield.
The nonprofit, which covers Berkshire, Hampshire, Franklin and Hampden counties, has served about 106,000 people each month during the coronavirus pandemic, a 17 percent increase from the previous year. In just Berkshire County, it served an average of 17,954 people each month — that's about one-seventh of the county's population — from October 2019 through September 2020.
But, the food bank needs help, it says.
Executive Director Andrew Morehouse asked lawmakers to "put in a good word" for the food bank with Gov. Charlie Baker, who will have discretion over about $5 billion from the latest federal relief plan.
"I will," said Warren, a Cambridge Democrat. "Because I believe in this."
The food bank is anticipating a 40 percent decrease in the amount of food it receives federally through The Emergency Food Assistance Program, said Laura Sylvester, its legislative and community partnership coordinator.
It's joining the national nonprofit Feeding America in asking that program to receive an additional $900 million to support food banks across the U.S. through 2022.
McGovern, a Worcester Democrat and a leading national voice on hunger, said that beyond supporting food banks, tackling hunger will require getting to its economic roots.
"We have to support our food banks — that's important — but we have to solve this problem," he said. "And it includes things like the things that Sen. Warren is championing: an increase in wages for people, an increase in the minimum wage."
Warren recently clashed with retail giant Amazon on social media over her support for closing corporate tax loopholes and opposition to the company's tactics as it faces a unionization effort at a Bessemer, Ala., warehouse.
While corporations such as Walmart, Stop & Shop and Amazon often involve themselves in philanthropic efforts to alleviate hunger, their employees account for the fourth-most, fifth-most and 14th-most recipients of Supplemental Nutrition Assistance Program benefits in Massachusetts, respectively, according to February 2020 numbers compiled by the Government Accountability Office.
McGovern also has called for creating a "hunger czar" to coordinate national efforts to fight hunger, and he has asked President Joe Biden to hold a White House conference on hunger in the vein of a 1969 event that McGovern said resulted in "major improvements."
"Hunger is a solvable problem," he said. "It's a political condition. We have the money, we have the food, we have the infrastructure, we know what to do — we have everything but the political will."
Local communities' food needs have grown to the point that the food bank has run out of storage space at the Hatfield site — it's now planning to move to a larger space in Chicopee.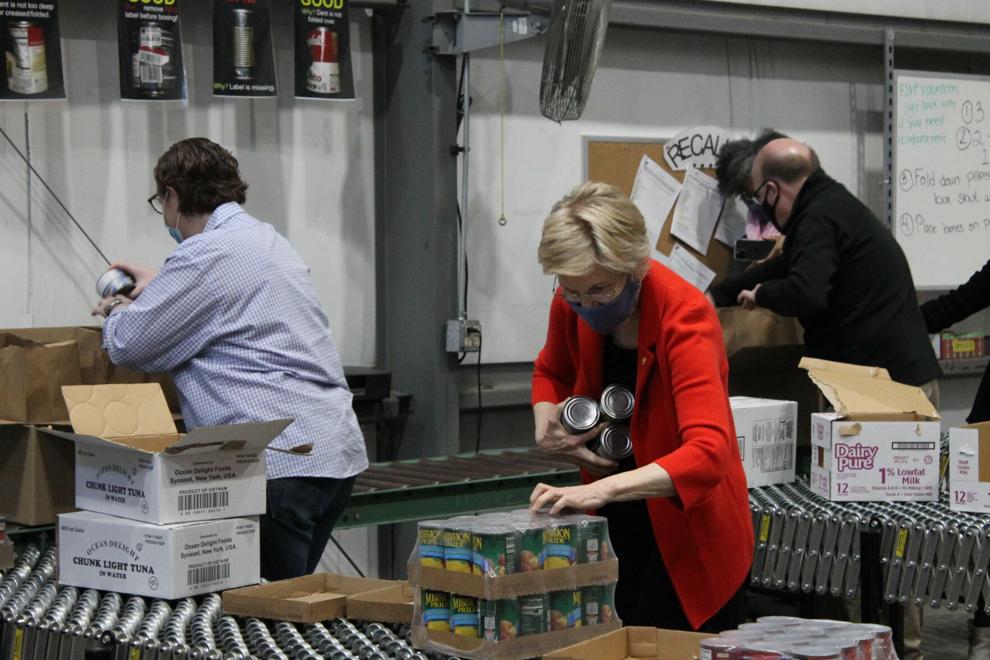 The food bank also supports legislation at the state and federal levels seeking to provide free meals to every student at K-12 public schools and to eliminate hunger on college campuses.
Morehouse said he hopes the pandemic will lead to a "heightened awareness" of a growing reality: People sometimes need a hand for meals.
"Anybody and everybody could be in this situation, and it's OK to ask for food assistance," he said. "In fact, that's what communities are all about.
"That's what state government's about, that's what local government's about, that's what federal government's about — we're here to help each other."