PITTSFIELD — After City Councilor Helen Moon last week revealed the circumstances around her firing by Berkshire District Attorney Andrea Harrington, a number of sources close to the DA's Office and former employees, including Moon, say Moon is just one of a slew of politically motivated firings and unhappy departures since the DA took office.
Apart from numerous employees across departments, at least seven assistant DAs have departed since Harrington was sworn in to office in January 2018, and another will leave in June, according to sources.
Assistant DAs handle the prosecution of the office's criminal cases.
Also, two of Harrington's chief of appeals — their work includes responding to public records requests — resigned a little more than a year apart.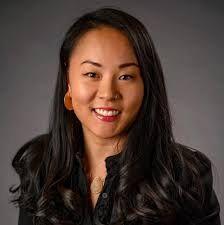 Moon, who was the DA's director of special projects, said Monday that the roughly $4,200 to $4,300 that Harrington had offered her in a nondisclosure agreement was "framed as a severance package" and a "continuation of my salary" that would have involved public funds.
Jeanne Kempthorne, Harrington's first chief of appeals, resigned from the office in 2020, over Harrington's attempt to prevent the release of public records about a politically fraught investigation and what Kempthorne called a "campaign culture" in the office. Kempthorne said she believes that the offer of money to Moon is a violation of state ethics law.
"If it isn't illegal, then it should be," said Kempthorne, a former federal prosecutor and commissioner with the State Ethics Commission who Harrington hired when she was elected. "I see it as unwarranted privilege. What is the state getting back for that? What is the quid pro quo?"
Andrew McKeever, the DA's public information officer, said in an email that Moon had asked Harrington for "'mutual non-disparagement' agreements in exchange for $150,000."
"The district attorney refused to engage in any discussions regarding this request," McKeever wrote. "Rather the district attorney and the first assistant proposed that Helen Moon remain employed for a month in order to ensure a smooth transition of the ongoing projects she was working on."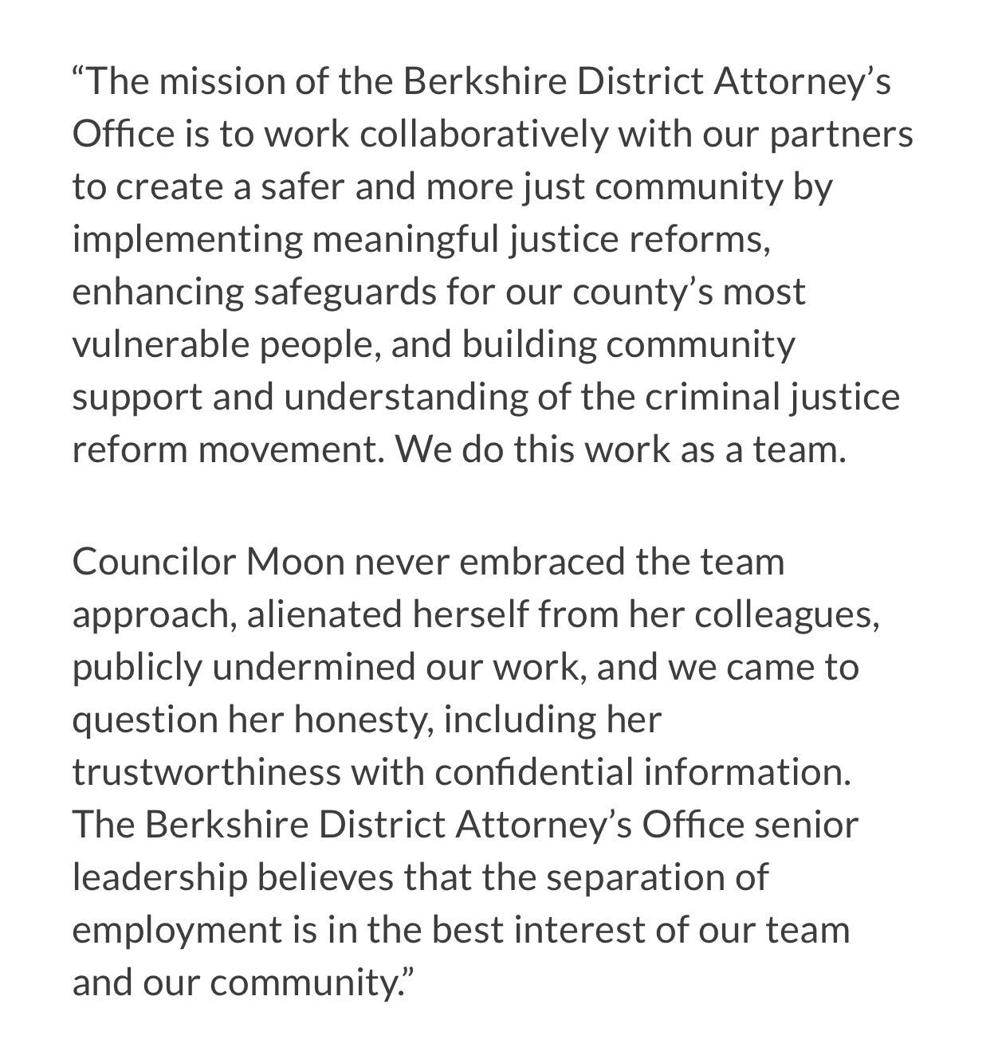 McKeever also said that Moon was fired in a meeting "when it was clear that Councilor Moon was not interested in a smooth transition."
In response to McKeever's comments, Moon said that during the time after she was told she needed to find another job, she consulted with her attorney, who said she needed to negotiate from a high starting number, especially since she was being fired during the coronavirus pandemic.
Moon gave her initial account during a radio broadcast Friday, in which she told WAMC's Josh Landes that a split between she and Harrington last summer began with a clash between the two regarding police spending, as the council debated the issue during budget talks.
Moon, who said she was concerned about transparency in the Pittsfield Police Department's budget in the wake of George Floyd's death, said Harrington told her she needed to look for another job. She officially was fired a month later, and as the terms of her departure were hammered out, Moon says, Harrington offered payment in exchange for a nondisclosure agreement.
"And I said no, you don't get to buy my silence for this amount of money," Moon told WAMC. "This is really inappropriate. And then [Harrington] said, 'Well, you can consider yourself fired, effective immediately.' And that was it."
'It was a constant thing'
Moon told The Eagle that, during her own tenure, she had watched the dismissals unfold even after the transition from the administration of Paul Caccaviello to that of Harrington's.
"She's fired a whole lot of people," Moon said. "It was a constant thing."
But, Moon said she had no knowledge of a pattern of Harrington offering money in exchange for nondisclosure agreements.
Yet, Moon and Kempthorne describe an office in which disagreement results in elimination.
"From the very beginning, it was [Harrington's] plan to get rid of the Community Outreach Department" from which the DA's Office ran programs, including substance abuse education in the county's public schools, Moon said. She noted that Harrington framed this as freeing up money for diversion programs and other initiatives. "The majority of people in that department were strong supporters of her opponent. So, they were phased out."
Kempthorne said that Harrington would undermine attorneys and others who "just want to do their jobs."
"Everything was about, 'How does it look?'" she said. "Andrea wants to work outside public view."
Other sources did not want to be named for fear of retaliation or other consequences as working professionals.
Tara Ganguly, who replaced Kempthorne 10 months ago as Harrington's chief of appeals, announced her own resignation last month and posted the news to her LinkedIn page.
"I am the second person to leave this position in just over a year," she wrote.
One source close to the DA's Office says Harrington's political campaign on promises of progressive reform was exciting and well-executed. The actual job, though, requires the attitude of a "skilled tradesman," not a politician, the person said.
"Everything is designed to tee her up for reelection," the person added.