PITTSFIELD — The verdict holds, for now, in one of the most heinous murder cases in recent Berkshire County history.
The state Supreme Judicial Court declined Tuesday to overturn David T. Chalue's 2014 conviction for the murders of David Glasser, Edward Frampton and Robert Chadwell.
"We conclude that the verdicts of murder in the first degree are consonant with justice, and we decline to exercise our authority," the court said, "to order a new trial or direct the entry of verdicts of a lesser degree of guilt."
The SJC decision on Chalue means that state appeals have been exhausted for all three men convicted in the murders, including Adam Lee Hall and Caius Veiovis. The men took their victims to a remote place in the Berkshires, as Tropical Storm Irene drenched the region Aug. 28, 2011, and killed, beheaded and dismembered them.
Though their state appeals failed, the men, all of whom were sentenced to life in prison without the possibility of parole, have other legal options.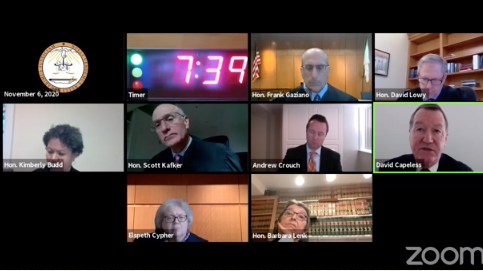 Veiovis has taken his case to federal court.
And Hall has filed a motion for a new Superior Court trial, in which he claims, among other things, that former Berkshire District Attorney David Capeless, who prosecuted the cases, was in league with the Hell's Angels.
Capeless and fellow prosecutor Joseph Pieropan have been named special assistant attorneys general to handle Veiovis' case in federal court.
"This is important to us. Professionally, we have a personal stake in this," Capeless said Tuesday night. "The important thing is that we have stayed with this. This doesn't end it.
"These were odious crimes that struck at the heart of our system of justice," Capeless said.
Veiovis' attorney has filed a brief in federal court, and Capeless and Pieropan, both working without pay, have responded to that.
It isn't known whether the case will progress to oral arguments or be rejected.
Hall's motion for a new trial, a different legal route than the automatic appeal to the SJC, is pending.
Capeless praised Pieropan's commitment to seeing that the punishments hold, for the sake of the victims' families, friends and the entire community.
"Joe has been with me through this," Capeless said. "He's done an incredible job."
On Tuesday, the SJC rejected Chalue's claim that the judge who presided at his trial erred in the way he spoke with a juror — a claim that Capeless picked apart in a brief and in a November appearance before the justices.