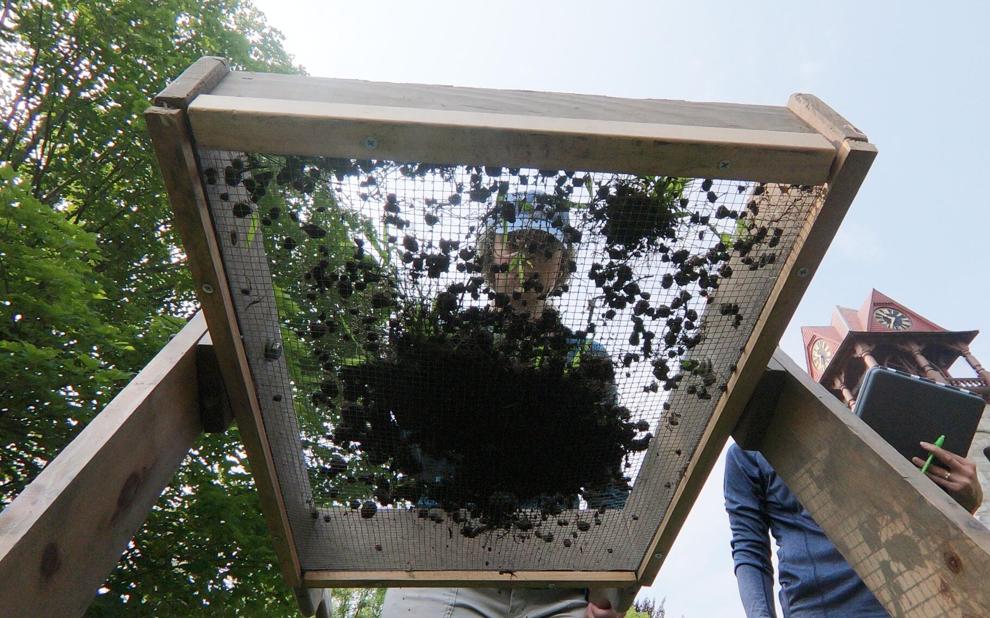 STOCKBRIDGE — Volunteers in hiking boots and long pants dig holes marked by little orange flags among the 20th century war memorials on Main Street.
Bending over these rectangular holes, called "units," archaeologists search the soil for evidence of the 1739 meetinghouse, an essential piece of Stockbridge's history, which is neither publicly acknowledged in this field — aside from a small plaque on the chime tower — nor anywhere else in town.
"It's been a longtime goal to document sites important to Stockbridge-Munsee Mohican Nation and raise visibility of our history here, which has largely been erased in the town," said Bonney Hartley, tribal historic preservation manager for the nation. "The town was founded for our tribe, but you don't see that anywhere when you're here."
The archaeological excavation, which began Tuesday and continues this week, aims to prove the existence of the meetinghouse, and ultimately include it in the National Register of Historic Places. As of Thursday, Ann Morton, the primary investigator, said they the team had found promising, but not definitive, evidence of the meetinghouse. This evidence includes subtle soil discolorations that suggest a building's foundations from the right time period — but not the meetinghouse itself — and wrought-iron nails.
Unlike most of the Tribal Historic Preservation Office's projects, this one is mostly educational. It's not to save a cultural site under imminent threat, but a proactive effort to teach locals about what actually happened, and establish a more nuanced understanding of Stockbridge's history.
Funded by a grant from the Town of Stockbridge and another from the National Park Service, the Stockbridge-Munsee Community hired Morton Archaeological Research Services to investigate the site of the meetinghouse, which marks the founding of "Indiantown" — now Stockbridge — and the site of the storied 1783 Ox Roast, at which George Washington thanked the Mohicans for their service in the Revolutionary War. The Ox Roast is also the homesite of Mohican "King" Solomon Uhhaunaunauwaunmut, and both areas have been Mohican homelands for thousands of years.
"Even if we don't find the meetinghouse or the ox roast, if the community's engaged and informed and becomes energized and wanting to know more about this, we just took a huge step forward," said Morton, who leads volunteers from the local community and Williams College with her team.
Hartley said she wants to make visible a disappearing history.
"We feel like that ends up honoring our ancestors and what they went through instead of just leaving this invisible and lost," she said. "It's telling the truth."
'A huge disruption'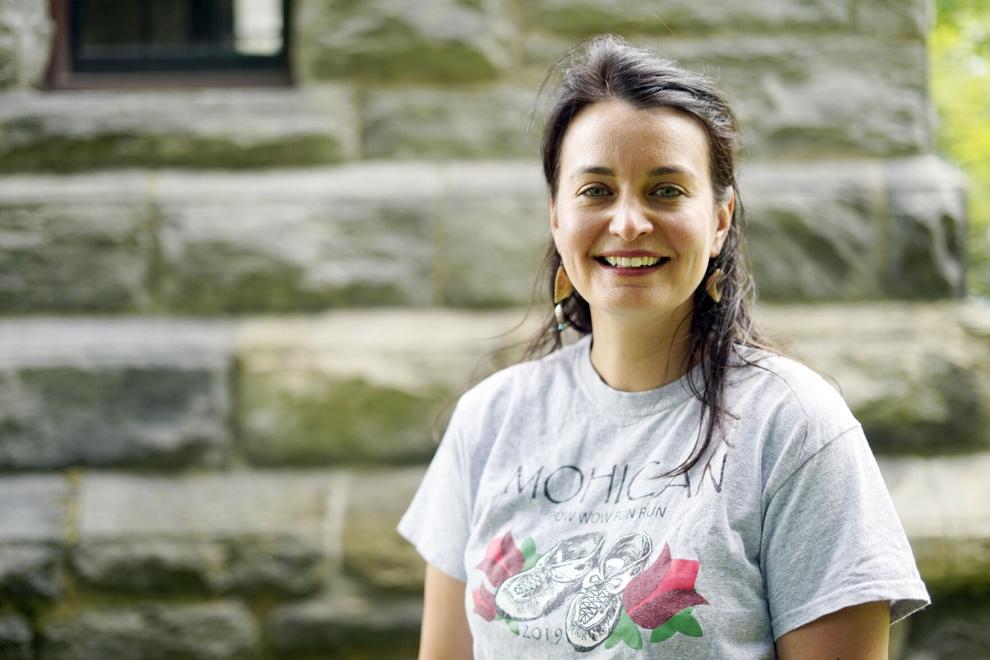 Hartley, who is an enrolled member of Mohican Nation, said the two sites are "bookends" to her people's time in Stockbridge. For only a 50-year period in a history that spans thousands, it had a seismic impact.
Indiantown was founded in 1737, according to Rick Wilcox, a local researcher and former Stockbridge police chief who assisted with the project. It was an experiment in assimilation, a community in which native people and settlers would co-govern. The Mohicans had accepted the offer in an attempt to survive.
"For us it was a huge disruption at that time in every way," Hartley said.
Their land shrank and religion changed. Women were removed from positions of authority. They had to adopt a foreign economic system, which included debt and private land ownership. And they had to learn English.
"We've come a long way since then, and retained a lot of our cultural values and traditions even though that was imposed on us and we lived through that," she said.
Just two months after the 1783 Ox Roast, the leaders of the Stockbridge Mohicans signed a document saying they had been forced to leave, according to Hartley. By 1790, they had been dispossessed of almost all of their land, and had begun a long and winding path to Wisconsin, where they live on a reservation today.
History that informs the present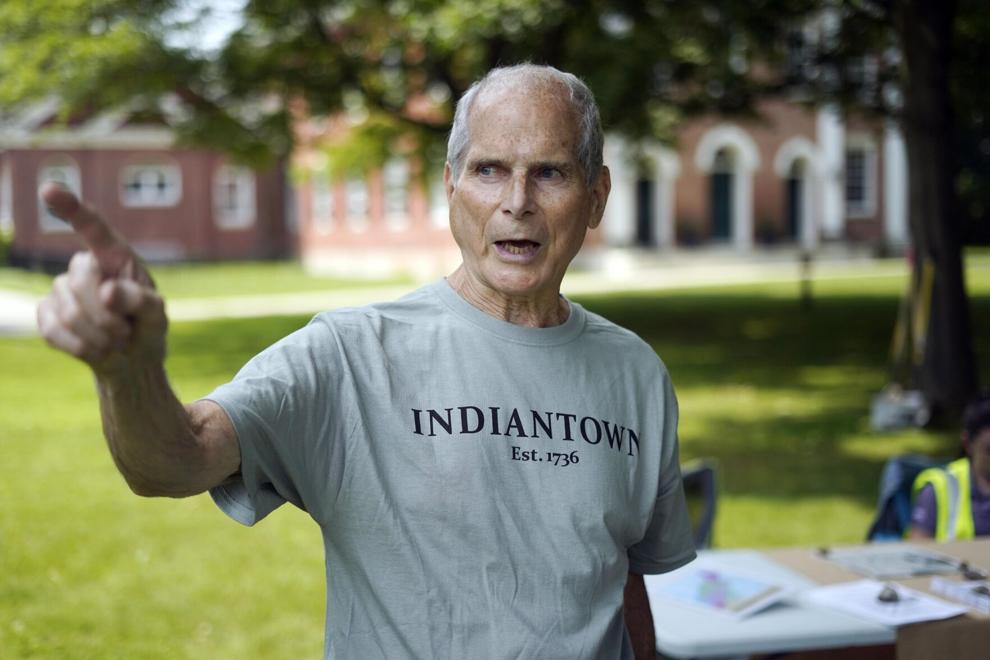 For Wilcox and Hartley, this history is personal. Wilcox can follow his roots back to a settler who bought land from someone related to Hartley. When asked whether Wilcox's ancestor "dispossessed" Hartley's family of their land, Wilcox hesitated for a moment, then launched into a story. He explained that his ancestor, Isaac Ball, purchased land from Hartley's ancestors, who were in tribal leadership at the time.
"When I first saw the deed, I thought, 'Oh, that looks like a pretty good price.' And then a little later on, doing more research, I got a death-inventory for Isaac Ball and it was like three years later, and the value of the land increased quite a bit," he said, "so that told me that probably he didn't give a fair price."
Hartley's answer was a little more to the point. "Yes" — with some qualifications.
She said that, though every 18th century English family living in Stockbridge was in some way complicit in the dispossession of the native inhabitants, nothing came close to that of the family of Ephraim Williams Sr., which committed "an outright, very clear, very bold amount of theft."
Ephraim Williams Jr. went on to found Williams College. Hundreds of years later, the college has helped make the excavations of the meetinghouse and Ox Roast possible. Currently, the Tribal Historic Preservation Office is located on Spring Street in a college-owned building.
The Williams community is also involved. Hikaru Hayakawa, a student at the college, interns for the office. He said he found 80 people who expressed interest in volunteering, which means the project can involve around eight volunteers each day.
Hartley said she appreciates that the college is going beyond land acknowledgements, and making tangible efforts "that are actually beneficial for restoring our cultural heritage."
Wilcox said he does not feel responsible for the actions of his ancestors,
"It's history and I had nothing to do with it and I couldn't do anything about it," he said. But he wants to do the right thing now, and he finds the work interesting.
The Mohicans — who had been forced out — entrusted their burial ground in 1809 to Wilcox's ancestor, Dr. Oliver Partridge, when it was threatened by a road project. Hartley pointed out that the sorts of preservation projects her office does have a long history, starting right after her people were forced out.
Wilcox still tends to the burial ground today, and leads tours for Mohicans whose ancestors lived in Stockbridge.
Romanticization and erasure
Aside from a bust of Chief Konkaput on the town hall and the town seal's stereotypical representation of a native man, Hartley said, the burial ground monument is the only acknowledgment of the native presence in the town. This is problematic, she said, because it perpetuates the myth that the Mohicans are not a living people.
This gives the impression that "we're all dead and gone," she said. "That this is just a burial site. Like, 'This was the past,' it doesn't say something about what happened, why we were forced from here, where we are today."
Though Hartley said she's been hearing less of it since she started in her position six years ago, another damaging interpretation of the past includes that the Mohicans just chose to leave.
"Who would want to leave here? This is one of the most beautiful places in the world. It's abundant. We have the river right here," Hartley said. "This would be a land you want to stay on."
Wilcox said that, even 10 years ago, a much more romanticized version of the history was widely understood.
That view goes something like this. "John Sergeant came here as a missionary, gathered the Stockbridge Mohicans, Christianized them, and everybody loved each other, and blah, blah, blah," he said. "The reality is, maybe Sergeant did that — I think he was probably an OK guy — but everybody else that was here was into getting land, and so the history is really a history of dispossession of land here. Whatever the Mohicans had, they ended up losing over a 50-year period."
A recent change in attitudes
Hartley said she has received a lot of supportive emails, particularly over the past 16 months.
"People are saying, with the pandemic and reevaluating priorities … for the first time in their life, they're thinking about where they live, whose lands those are," she said.
People have been supportive of her current project, Hartley said. But this isn't how it usually goes. She mostly does preservation work — making sure a new gas station or highway doesn't disturb an important cultural site. And with that work comes a lot of pushback.
"We're often seen as inconvenient, and a nuisance," she said.
And they also encounter a lot of racism.
"There's so much casual racism and bigotry that [Mohicans are] exposed to all the time, just all the time, that you don't even see until you're sitting in a meeting with Bonney and you're negotiating across a table with a bunch of engineers and they just say super insensitive things," said Morton, who is not a tribal member.
Though Hartley said she feels a powerful connection to the land here — because they are her ancestral homelands — it can still be quite isolating. The closest enrolled member of Mohican Nation is in Albany.
"I don't have all my extended family, and all the things that come with our close-knit community," she said.