Berkshire County is getting a new freezer to help feed hungry local families.
A small part of $4.7 million in grants issued by the administration of Gov. Charlie Baker to address urgent food insecurity as a result of the coronavirus pandemic — or about $96,000 — is going to the Berkshire Community Action Council for a walk-in freezer and a walk-in refrigerator. Along with that, it will buy a refrigerated delivery truck.
The council serves as the local hub for the distribution of food supplied by the Food Bank of Western Massachusetts once weekly, but because there is no refrigeration, only nonperishable goods can be stored there, according to Deborah Leonczyk, executive director of the BCAC. Anything perishable, like frozen meats or fresh produce, has to be distributed on the day it is delivered or it will spoil.
So, on the weekly delivery day, food pantry volunteers head to the BCAC in Pittsfield to pick up their food allotment, and if they have no refrigeration at their pantries, they need to distribute the perishables on the same day, Leonczyk noted.
In October, the council applied for a grant from the fifth round of the $36 million Food Security Infrastructure Grant Program, created following recommendations from the Baker administration's COVID-19 Command Center's Food Security Task Force.
Last month, the council appeared on the list of grant recipients with the money earmarked for a walk-in freezer, a walk-in refrigerator and a refrigerated delivery truck.
When the council makes the change, not only will it be able to store the perishables, but it will be able to deliver it to the pantries on the day that clients pick up their weekly food supply.
"Best of all, now we can accept donations of perishable food," Leonczyk said. "And if a pantry doesn't have refrigeration, we can store it here until the day they need it, and we can deliver it then."
As a result, the council hopes to be able to increase the amount of food it distributes, which is about 1 million pounds every year. It knows for sure that more of the food it will distribute during the coming year will be fresher and healthier.
The truck will cost $60,000, and the walk-ins and installation work come to $37,000.
"I'm hoping we'll be able to distribute more and healthier foods, and a wider variety, to people who are facing hunger issues," Leonczyk said. "I'm delighted they came up with this. I want to be sure it's used to maximum capacity, so we're working to see how we can partner with others to make the most of the vehicle and the walk-ins."
Several local farms also were awarded grants. Caretaker Farm in Williamstown will receive $29,000 to install a wash station for increased efficiency in providing fresh-grown produce.
Full Well Farm in Adams will receive $1,128 for a point-of-sale computerized card reader so it can sell food to people using Supplemental Nutrition Assistance Program cards.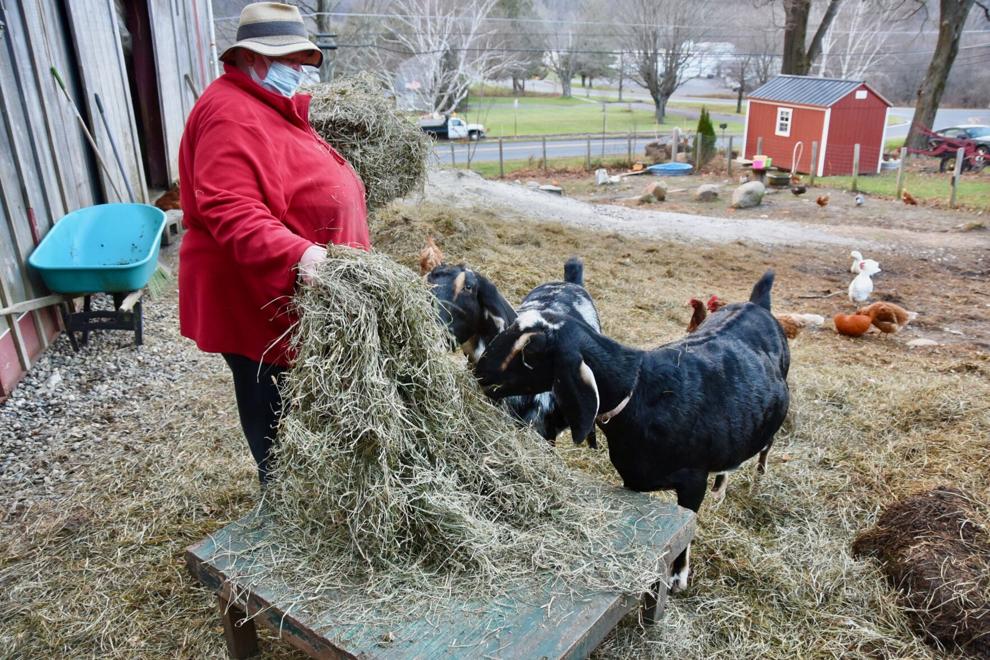 Mountain Girl Farm in North Adams was awarded $35,600 for a delivery truck, which will come in handy, since most farmers markets have closed or have been greatly reduced because of the pandemic. The vehicle will allow food deliveries, including to those who use the SNAP cards.
"I was literally shocked when I saw the news," said Jenn Barbeau, co-owner of Mountain Girl Farm.
She said she applied for the grant over the summer because she noticed that, during the pandemic, people's access to fresh foods had become a challenge without the farmers markets from before the pandemic.
"We're in an area with a large low-income population," Barbeau said. "When the downtown farmers market was canceled, a lot of people lost access to this kind of food. So, this is going to allow us to help meet that need."
The goal of the Food Security Infrastructure Grant Program is to ensure that Bay Staters have equitable access to food — especially local food — and that local food producers are better connected to a resilient food system to mitigate future disruption of food distribution.
"We recognize that food insecurity remains a significant challenge for many families throughout the commonwealth, making our efforts to secure a resilient, diverse local food supply chain even more critical," Baker said. "Through a $56 million investment through our Food Security Task Force, our administration is committed to investing in our local food infrastructure."
According to information provided by the Baker administration, the fifth round of the grant program includes 54 awards for a total of $4.7 million to fund crucial local food producers, especially in the distribution of food to insecure communities.
When evaluating the applications, considerations included equity, economic impact and need, sustainability and scalability of efforts, and ability to support producer readiness to accept SNAP benefits.