SHEFFIELD — If you asked someone in Sheffield on Sunday who Elizabeth Freeman was, you'd likely get some varied responses: "the grandmother of the civil rights movement," "a heroine" and "a true inspiration" to name a few.
Immortalized in bronze, a statue of Freeman now stands beside the First Congregational Church at 125 Main Street, facing the historic Sedgwick House. Theodore Sedgwick was the lawyer who represented Freeman and another enslaved man named Brom in court as she sued for her freedom. She would spend the rest of her life in his employ.
Freeman was the first enslaved woman to use the Massachusetts Constitution to sue for her freedom after she heard it being discussed: namely, a passage stating that "All men are born free and equal" and have unalienable rights was one of the reasons she walked four miles from the residence of John Ashley to the Sedgwick House seeking representation.
Historians credit her case, Brom & Bett v. John Ashley, Esq. as a landmark decision that affected the Massachusetts Supreme Judicial Court's decision to outlaw slavery in the state in 1783. Freeman was also known as "Mum Bett" before she took the name "Freeman" after winning her freedom.
The statue stands about eight feet tall. In one hand, she holds a small shovel, the same tool that one of her enslavers used in an attack against her — in another, the judgment that gave her freedom from slavery 241 years ago to the day.
The scar from the wound on her arm, one she chose to display prominently to showcase her mistreatment, is also visible on the statue.
It was unveiled on Sunday.
The statue is the result of a yearlong project by the Sheffield Historical Society with the support of many partners and donors. Among them were the Elizabeth Freeman Host Committee, which included State Rep. Smitty Pignatelli, NAACP Berkshire County branch president Dennis Powell and Frances Jones-Sneed, who is professor emeritus of history and political science at the Massachusetts College of Liberal Arts in North Adams.
The unveiling's master of ceremonies was Diane Patrick, former first lady of Massachusetts.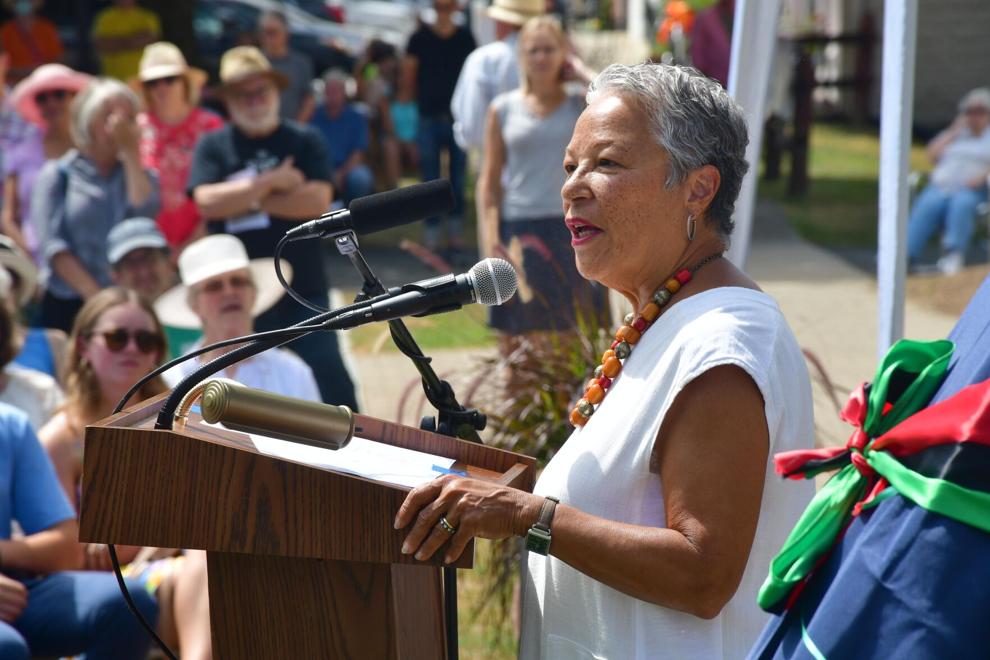 Among the speakers at the unveiling were Paul O'Brien, president of the Sheffield Historical Society, the Rev. Jill Graham of Old Parish Church, Theodore Sedgwick representing his family and sculptor Brian Hanlon.
Members of the Sheffield Select Board also came forward to decree Aug. 21 as Elizabeth Freeman Day in the town.
Gwendolyn VanSant, CEO and founding director of Multicultural BRIDGE, a grassroots organization dedicated to promoting equity and justice through education and support for people of color in Berkshire County, spoke about Freeman's legacy and importance and how it is being taught in the community through the organization's programs.
VanSant spoke about some of her group's efforts, including educational programs, scholarships and an essay contest about Freeman's legacy. The winning essay writer, Anouk Bizalion, spoke at the event as well.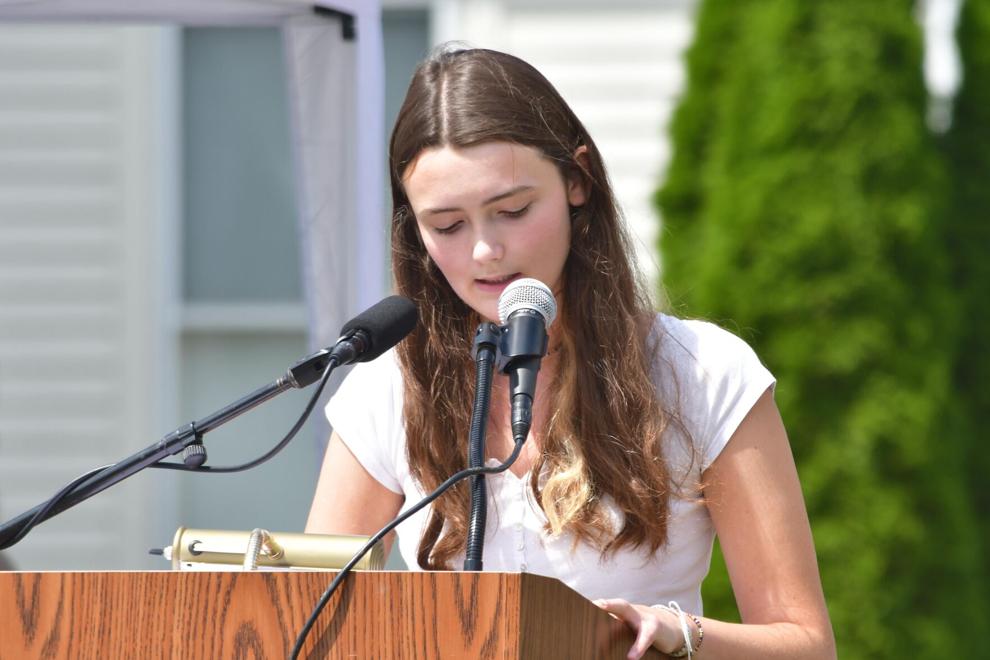 VanSant also spoke to the importance of the statue itself, quoting Freeman:
"If one minute's freedom had been offered to me, and I had been told I must die at the end of that minute, I would have taken it—just to stand one minute on God's earth a free woman."
VanSant concluded:
"She'll stand here longer than the minute she asked for," VanSant said.
Former Massachusetts Gov. Deval Patrick provided closing remarks for the statue's unveiling, speaking to the importance of the history being shared. He thanked the event's organizers and attendees for "lifting up [the] Berkshires' Black side."
"It turns out Black people have always been here," Patrick said. "What a shame that so few of us truly appreciate that … that so little of our history is taught. Black people have always been part of the American story."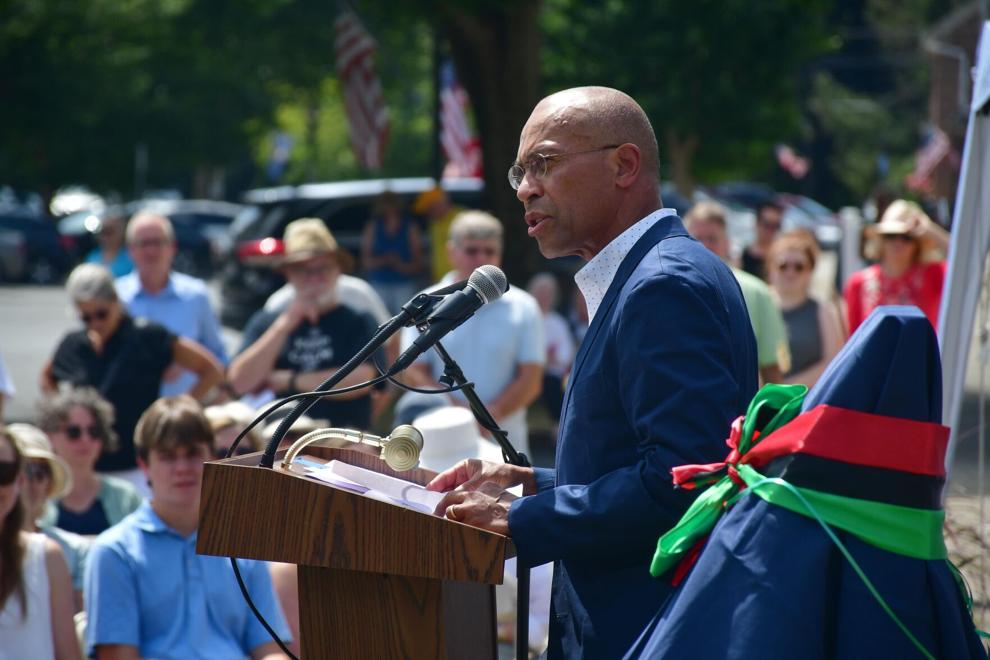 Patrick went on to acknowledge Freeman's case as an example of our courts lifting up truly positive ideals, which we need more of in the present day. He commented on her bravery, too.
"None of our ideals mean a thing unless someone, somewhere stands up and gives them meaning," Patrick said.
Patrick went on to read a letter written and signed by former U.S. President Barack Obama and former First Lady Michelle Obama, who recognized Freeman as "an American hero whose story has not been told enough."
For Great Barrington resident Luci Leonard, the statue recognizing Freeman's contributions was long overdue. Leonard said she was also glad to see a full statue in her honor … one that's hard to miss.
"I'm glad she's in the center of town," Leonard said. "That alone is going to cause folks to stop and see who she is."
Joe and Carmen Baker, both Sheffield residents, said the statue was an important expression of equality.
"It's important to lift up her voice and her story and make it a part of the fabric of the town," said Joe Baker.
He went on to say that he thinks it will inspire more people to learn the history of Freeman and her story.
"I'm just in awe of her," said Carmen Baker. "She turned a horrible event into freedom."
For two women with a very close connection to the story, the event was impossible to miss. Jana Laiz is one of the co-authors of "A Free Woman on God's Earth", a children's book that told Freeman's story.
She was also one of the first organizers for the Elizabeth Freeman Walk To Freedom, a trek that took people from the residence of John Ashley to the Sedgwick House to literally walk a mile in her shoes. When the walk first started 13 years ago, she said it was to commemorate an extraordinary woman and tell a story that needed to be told.
She's "worked tirelessly to remedy" Freeman's story being largely forgotten in the years since. Now, a statue in her honor stands in Sheffield.
"When you think about what she did by herself [and] the fortitude that it must have taken," Laiz said. "She's my hero."
Wanda L. Houston was the star of Meet Elizabeth Freeman, a play that was performed at the First Congregational Church. She played the titular role of the one-actor play, written by Teresa Miller.
Houston, who portrayed Freeman on stage just one night prior, said she hoped the statue would help tell the full story of Freeman and make more people aware of her impact. One of the most important things to take from the story, she said, was self-advocacy.
"I tell people to speak up," Houston said. "Tell your truth. She represents that."
Yvonne Powell-Brown traveled an hour and a half from Connecticut to be at the statue unveiling, but was born and raised in Pittsfield. The statue was an important step in recognizing the history of all people in the county, she said, and was a "proud display" of Freeman's impact.
"For as long as there are people on this earth, hopefully Mum Bett will be too," she said.