LENOX — In ordinary times, who has got Alexis Brown Kennedy's back? Well, just look at her in her natural environment, which happens to be a library.
The authorities of the ages, they all have her back. The masters of art, music and architecture, the champions of common sense and the authors of the literary canon, too.
Kennedy, the librarian for Lenox Memorial Middle and High School, serves as her students' field guide to most of the known facts and observations of the universe. The collective wisdom of the world at your back helps, yes, but these days, it's going to take a little more than that.
Simply, for starters, Kennedy needs a day with her peers, her peeps, to commiserate, console, commend and vent, because too many things about teaching in the year 2021 are evidently broken.
She got a full day of it Tuesday.
The most popular theme
When a school district releases its calendar for the year, parents and educators have learned to scan to find the days labelled "PD."
PD stands for "professional development." That means parents have to reshuffle schedules and educators are required to get more educated.
Where do they go? What do they do? On Tuesday, more than 1,100 public school educators chose from a list of about 60 workshops held in locations throughout the county in a professional development day planned by the Berkshire County Superintendents' Roundtable.
When Kennedy, weeks ago, scanned the list of workshops, she homed in on those whose themes involved the difficulties of teaching during the coronavirus pandemic (and everything else going on in the world). Turns out, that theme, explored in various formats, proved the most popular choice for the county's educators, said William Ballen, executive secretary for the roundtable.
That theme even underscored the keynote address delivered at Lenox Memorial Middle and High School that was broadcast to educators in locations throughout the county.
Indeed, while Tuesday's professional development day included such disparate topics as how to teach climate change (held at Taconic High School), teaching strategies for students with visual impairments (at Pittsfield High School), and cybersecurity and digital hygiene (at the Berkshire Innovation Center in Pittsfield), Kennedy stayed put in Lenox and was joined by nearly 200 others from around the county.
In her keynote address, Pam Garramone, an author and trainer on happiness and positive psychology, got everyone revved up with practical tips for achieving more gladness and gratitude, two things crucial to a healthy life, an effective teaching career and an invigorated classroom.
"The number one happiness booster is people," Garramone said, squeezing a yellow stress ball painted in the likeness of an emoji smiley face. "We need each other."
Things 'are not OK'
After Garramone's presentation, for Kennedy and others, the PowerPoint bullet points would get longer, the font smaller, the visual aids more labyrinthine and the professional jargon thicker.
Kennedy had signed up for the six-hour seminar "Supporting and Modeling Our Own Social Emotional Competency and Wellbeing," presented by Anne Thidemann French, a service-learning coordinator and team leader for school adjustment counselors at North Adams Public Schools.
French's main point underscored Garramone's. The pandemic vastly has added to an already mammoth challenge in public education. Helpful tips and tools were shared.
For Kennedy and others Tuesday, the most helpful part of the day simply was having the opportunity to talk with peers — in the hallway, during breaks and during lunch.
Sarah Burdsall, a health and wellness instructor at Lenox, spoke during a break about how students and staff expected that the return to school in fall would mark a return to normal, albeit with masks.
"It was sort of depressing," she said, "because we realized we had to sort of put the stop to that and say, 'All right, people are not OK. Staff members are not OK. We've gone through a lot of trauma and had a lot of loss of some skills,' and so I feel like that's a big push right now: to try to support staff members and our own self-care and wellness as well as the wellness and self-care for the kids."
"The skills, both socially and physically, are just not there," said Audra O'Brien, a health and physical education teacher at Drury High School in North Adams, referring to some of her students.
"They have forgotten how to listen to instructions sometimes, treat each other nicely, play by the rules," Burdsall said. "They've lost some of those things."
"My second graders aren't 'second graders,'" said Jenna Daley, a physical education teacher in the Farmington River Regional School District in Otis. "They're at the kindergarten-emotional level, because that's where they were before all of this kind of hit us."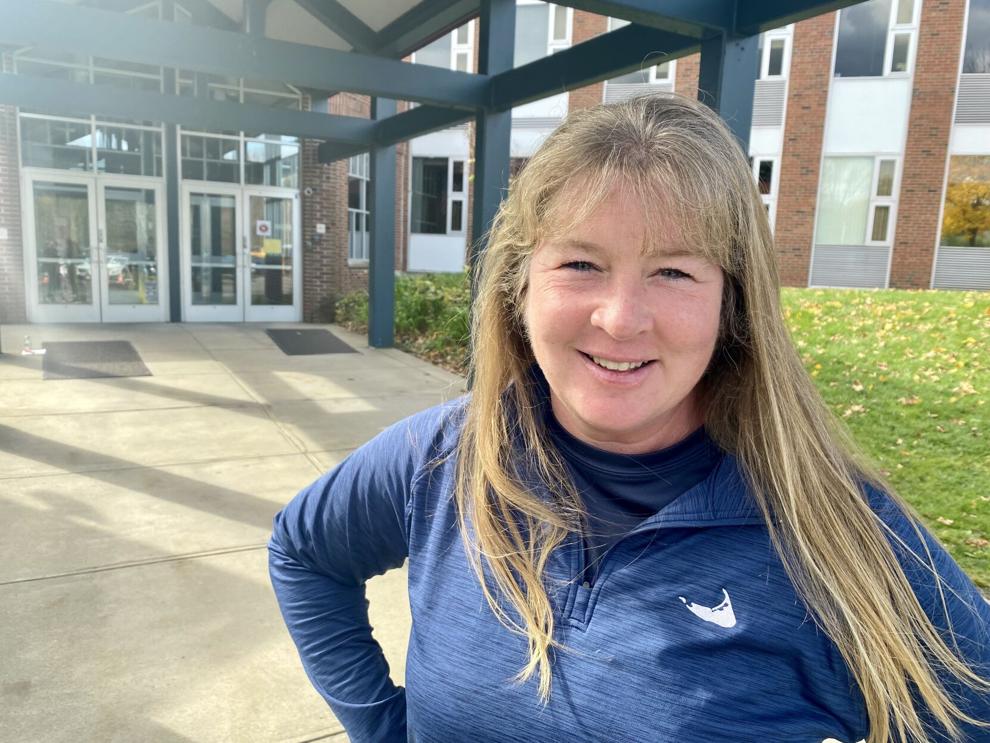 Kennedy ran into her friend Louise Brogan, who teaches physical education for Pittsfield Public Schools. Brogan gave Kennedy a quick state of things: the good, the bad.
Brogan was proud and impressed with how educators pooled resources during the pandemic to provide online learning. When in-person classes returned in the spring, she was distraught that her gymnasium was repurposed as a cafeteria to enable social distancing.
"Outside all spring," she said of her classes. "Whatever weather, every day, all day, from, like, six classes a day, and teaching with a mask, projecting your voice, trying to come up with new and exciting things you could do outside with no equipment, because, at the time, you still couldn't share equipment."
The week before school started this fall, she learned that the gym would be used for other purposes.
"When you take 15 kindergartners outside, it's a free-for-all," she said.
But, she's grateful for Tuesday.
"I have learned new games that we are excited to go and bring back to the kids in Pittsfield and share them," she said. "Even with everything, we still have these great moments with the kids. That's what we hang on to and hope for every day."
The pandemic 'broke everything'
Kennedy never has been a librarian who engages in a whole lot of shush-ing. But, a library needs norms. No running. No swearing. No shouting. After all, this is where kids, ages 10 to 18, come to do research, study and gather themselves when they need a moment.
Maintaining norms has been difficult this year, she said. A good day is when she gets to the do the job she was hired to do, rather than police. The pandemic — 19 months of it by the time school started this fall — "broke everything," said Kennedy, Lenox's librarian for 11 years.
"Kids at every age level have missed out on major, identity-forming moments of their lives," she said. "And so now we're business as usual. 'Math test on Friday.' But, developmentally, these kids are exhibiting young skill sets. They've reverted to where they were before all this happened."
Yes, a pause, a day for educators to gather: "It's cathartic," she said.
"The countywide PD offers us a moment to step away from this frenetic pace, to pause and reflect with colleagues," she said. "Honestly, this doesn't happen nearly enough, and this pause and reflection is necessary for us to continue to serve our students well — pandemic or no pandemic."
Her favorite part of the day was having the good fortune of eating lunch with her colleagues in the Art Department. That rarely happens anymore, she said.
They laughed and they listened to each other. And Kennedy, with the keynote talk still ringing in her mind, was filled with happiness and gratitude because she had packed tuna fish and her colleagues didn't complain about the stink.
They have her back.