Hancock — Don Tallman happily settles into his monoski and checks his balance on a frigid, busy Saturday at Jiminy Peak.
After five years of learning — beginning with an instructor holding a tether — this Army veteran knows what he's doing, but his teacher jokingly tells him not to break the contraption. With Tallman on it, it once lost a piston on the mountain.
Tallman, 49, was never interested in skiing before suffering severe nerve damage at the start of his tour of duty in Afghanistan that he says is linked to breathing smoke from the military's practice of using open burn pits..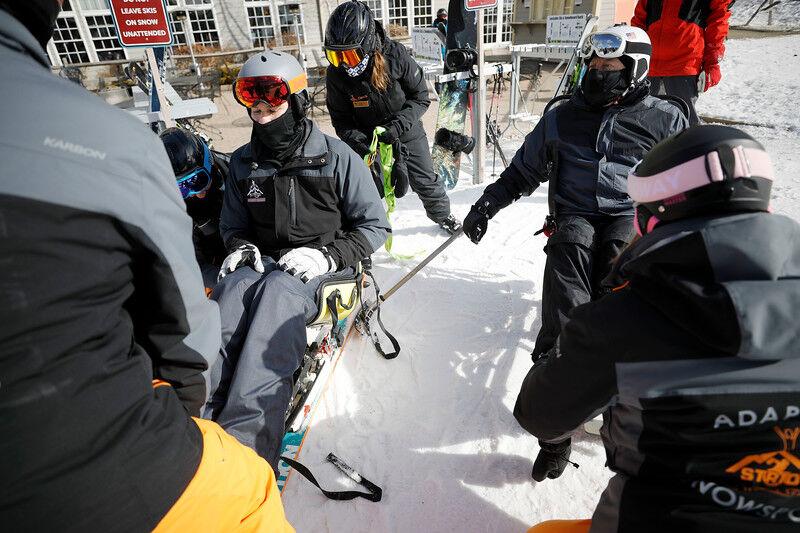 But, Tallman's condition helped change this former marathoner's mind and an adaptive sports program at Jiminy made it possible for him to find a new way to have fun with his family.
"It was nice to be able to do that again," said Tallman, of Glenville, N.Y. "I hate the cold, and I hate snow, and it took them three years to convince me to do it. But I fell in love with it on the first day."
The ones who convinced him were the volunteers and staff who run STRIDE Adaptive Sports Wounded Warriors Programs. STRIDE is a nonprofit that helps combat veterans with adaptive sports during winter and summer.
The group has satellite winter programs at Ski Sundown in New Hartford, Conn., and Catamount Mountain Resort in Hillsdale, N.Y., and teaches 18 different sports.
Through private donations, grants and fundraising, the group buys the skiing equipment and covers all costs, said founder and CEO Mary Ellen Whitney, an adaptive sports expert for more than three decades.
"They can come [ski] anytime," she said. "We pay."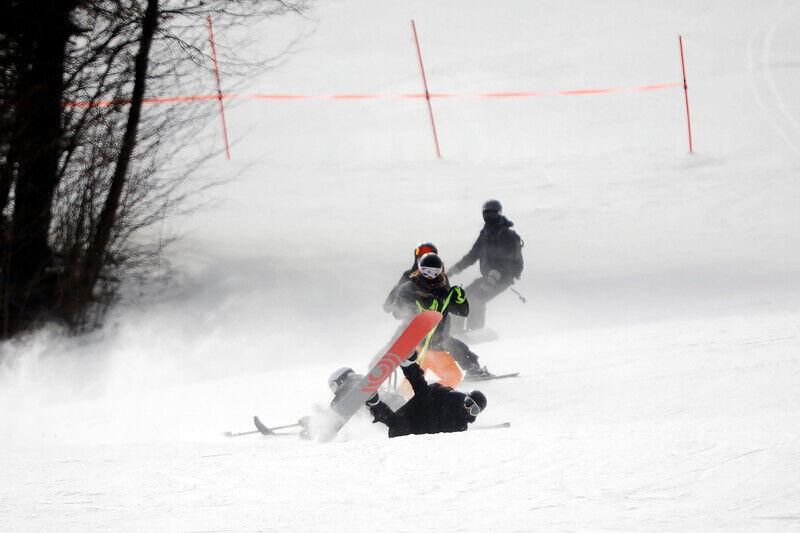 The veterans' injuries can range from the more "invisible" like post-traumatic stress disorder, to the physical, Whitney said.
"In the majority, you don't see it, but they live it everyday," she added.
Over the weekend, a group of 10 veterans and their families came to stay for the annual Wounded Warriors Snowfest, typically a large affair with a big party, but whittled down this year due to COVID-19.
Every year, they're greeted by veterans at the entrance to the ski area hotel; this year was no different.
Many of the volunteers are wounded warriors themselves and, in turn, they help other veterans as well as children and adults with special needs.
"After I got out of the military, I was struggling, thinking, 'So what's my purpose in life now?,'" said Kevin Binkley, 41, of Pittsfield, a longtime snowboarder who skull was fractured on one of his tours to Iraq and Afghanistan when his head "got slammed between two objects."
Binkley, who said Pittsfield-based nonprofit Soldier On helped him deal with emotional suffering, is now volunteering for the STRIDE adaptive ski program, and says it is immensely healing for him to teach those with disabilities.
"It's given me re-found purpose," he said. "This is a family for me."
It was ski instructor Kevin Woodbury who told Binkley about the program when they first met by chance at the supermarket.
Woodbury, who is joking with Tallman about the time the piston came loose off the monoski, says that the group is truly like family in more ways than one. Woodbury's son, Tyler, 15, is out skiing with the veterans so he can begin instructing next year.
As Tallman and the others get ready to ski and ride, Whitney appeared with two American flags to take on the slopes.
Everyone is beaming, and volunteer instructor Jonathan Baum, 67, of Great Barrington, is one. He found out about the group years ago when his son raced at Jiminy. He's been on board with STRIDE for two years, and says this is "a great group of people."
Baum is getting ready to instruct Roman Goddeau, 37, of Gansevoort, N.Y., who suffers from PTSD and other trauma from multiple blasts on his tour as a machine gunner with the Marines in Iraq.
Goddeau said he's always loved to ski, but it's the camaraderie of the group and shared experiences that helps him heal.
Baum notes adaptive instructing requires a "very high skill set," and equipment that will take him years to master.
Yet, it appears the work might be healing for Baum, also.
"It does my heart good," he said.