Warning: This story contains audio recordings and information that may be disturbing for some readers.
GREAT BARRINGTON — It was the morning of Feb. 14 when Meg Baden, a mother of four school-age children, was listening to a news report about a deadly school shooting five years earlier to the day in Parkland, Fla.
Two hours later, Baden was at Berkshire Meadows School, where she works as a pediatric physical therapist, when she got a message. All three Great Barrington public schools her four children attend were on lockdown — meaning a threat had forced students to stay locked in their classrooms.
Someone who called himself "Nelson" had phoned a threat in to Berkshire sheriff's dispatchers.
"I'm about to go into Monument Mountain Regional High School with an AR-15 and ... bombs ... I'm right now outside and I'm about to get in ... I'm going to shoot everybody," the caller said, according to a transcript obtained by The Eagle.
That was followed soon after by the sound of gunshots.
Baden works about 10 minutes away from Monument Mountain Regional High School. Her oldest, Stella, 15, texted with her parents from a dark, locked down classroom at the school, where she and the other students were huddled in the corner.
Her teacher was calm and reassuring. Every 30 seconds or so, Stella's parents would hear from their daughter by text. Stella's messages said things like this:
"We are locked down."
"We are not allowed to move."
"We are not allowed to talk to each other."
"We are on the ground."
"I'm hearing it's a bomb threat. I don't know. They're not telling us anything."
The call turned out to be a hoax. It was one of many hoax calls made to schools throughout the state that day. The practice is known as "swatting," because it turns out a large law enforcement response up to and including SWAT teams.
Baden still weeps when she talks about the terror of that day.
The hoaxes happened again to three Berkshire County high schools last Tuesday — the day after a deadly school shooting in Nashville — though this time it was quickly dispensed with by police. The schools did not lock down. People cleared the halls and "held in place" until police deemed it safe.
At Monument, that took 19 minutes from the time the call came in.
But that first swatting call in February, and the subsequent one on Tuesday, left a community already aghast and grieving the Nashville carnage with more anxiety — not just about school violence but also about the nature and reason for the calls themselves.
They aren't easy to trace.
"To play games with it is just awful," said Berkshire County Sheriff Thomas Bowler, whose office provided a recording of Tuesday's call. "This is just outrageous."
"It's stressful for the whole community," said Great Barrington Police Chief Paul Storti, who provided audio from the Feb. 14 call. "It stinks."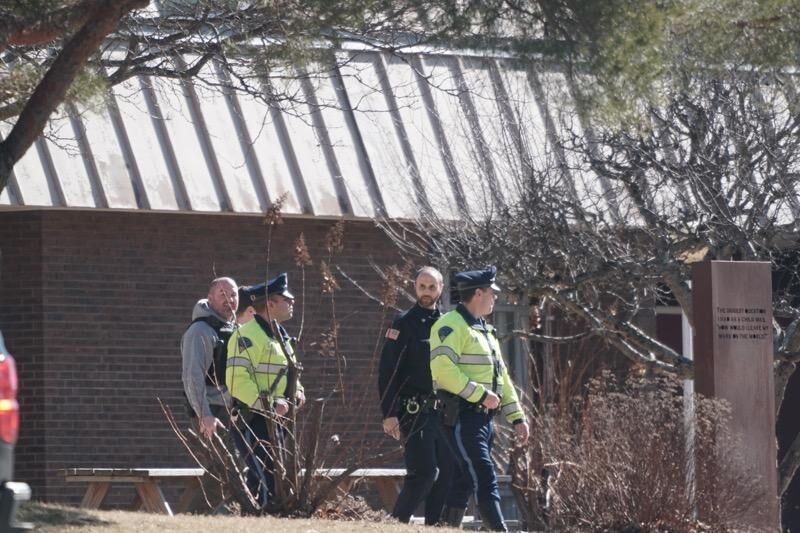 It's also becoming just another day in the life of young students. On Tuesday, schools didn't lock down. The incident was a blip in an otherwise normal day — a normalization that also worries parents like Meg Baden, and child/adolescent therapists.
It also worries Stella Baden, who said she wished the school had locked down on Tuesday as an extra precaution.
In separate phone interviews Meg and Stella Baden spoke about the swatting incidents and shared their thoughts during those experiences with The Eagle.
Meg: I was just thinking about this child who's just in fear, and they're having these experiences that I never had growing up.
Stella: We had the announcement that said, 'Excuse the interruption we're now going into a lockdown.' So we turned off the lights, shut the blinds, locked the door, the usual procedure and we all kind of huddled in the corner with the lights off.
Meg: My mind directly went to picturing my child in the classroom having a shooter in the building.
Stella: I was definitely pretty worried, but I have to say that I didn't become fully concerned until I heard that the elementary and middle schools were locked down. I have a brother in the middle school and two sisters in the elementary school. So that's when it kind of became real for me. I also had a friend who was struggling a lot.
Meg: I think she was surprised that yesterday (Tuesday) was so casual. It occurred to me that, 'Oh we just went through this huge trauma and now basically the same thing happened again and it feels so different.' And is that progress or is that normalizing this awful experience.
Stella: I do have to say that every time I hear Mr. Falkowski, who is the vice principal, say over the loudspeaker, 'Please excuse the interruption,' my heart stops a little bit. And I've talked to friends and they have a similar experience.
Meg: I was a numb and nonfunctional human for days [after the Feb. 14 incident].
Stella: In February, the majority of the kids were messing around, making jokes out of it. There were some people that were like, "Oh, if a shooter comes in, I'm just running out the window."
Meg: I think Stella worried more about me.
Stella: I was like, "We live in such a bubble in the Berkshires, there is no way this is happening." It took me maybe 40 minutes of standing in a corner of the dark classroom to actually start being afraid.
Meg: I took the rest of the day [Feb. 14] to be outside and go for walks and decompress and be together. I just had to be with [my family].
Stella: This is something that I go to school every day thinking about and this is something that, as teenagers and as kids, it's something that's always on our mind, and we're always hearing new stories about it.
Stella: It's pretty scary, but it just feels like reality right now, which is awful. I mean, yesterday [Tuesday], class proceeded as normal — there was nothing weird about it.