PITTSFIELD — Donald Tanner is up on a ladder on North Street, wrangling holiday lights around a tree on a cold November morning. For the Taconic High School junior, this is the classroom for the day.
Just like in the classroom, his electrical teacher, Bill DeMarco, is never too far away. He's moving up and down the street, seeing where Tanner and the other three Taconic students might need help, tossing electrical tape and making sure the juniors have their ladders planted firmly.
Tanner poses a question to see how he can get lights strung on the higher branches of a tree. DeMarco is there to answer it.
"What do you need me to do, big guy?" DeMarco said.
The answer, in this case, was to move the bus the students arrived in to set the ladder on the other side of the tree. From morning to early afternoon on Monday, DeMarco will be troubleshooting and working to get the trees lit.
It's good to get the students out of the shop and have them do work that lasts longer than a class period, he said.
"Any time they get to do something that's going to be permanent, they take a little more pride in it," DeMarco said. "They can come down the streets with their families later and just be able to show people 'this is what I did.'"
The Career and Technical Education, or CTE, classes at Taconic High School, are meant to get students at the school real-world experience in the field of their choosing. The school offers 13 CTE tracks, including the carpentry and electrical fields. Monday's project is part of that real-world vision.
It's more than just stringing up lights, though. Organizers hope to have the Taconic students participate in a number of city projects in the near future — including electrical and carpentry work to help rebuild the city garage on West Housatonic Street, according to City Councilor Patrick Kavey.
Kavey said the plans to rebuild the garage, which was razed after a fire in 2013, were still being developed but he hoped they'd be ready to move forward by the start of the next school year. The space would house city vehicles that are currently being kept outside.
Kavey was present to assist with the efforts on Monday morning and has been instrumental in working with Tammy Gage, assistant superintendent for college and career readiness with Pittsfield Public Schools, in developing these partnerships with the city. Other efforts in the CTE programs have had students install Ring doorbells at Habitat for Humanity properties.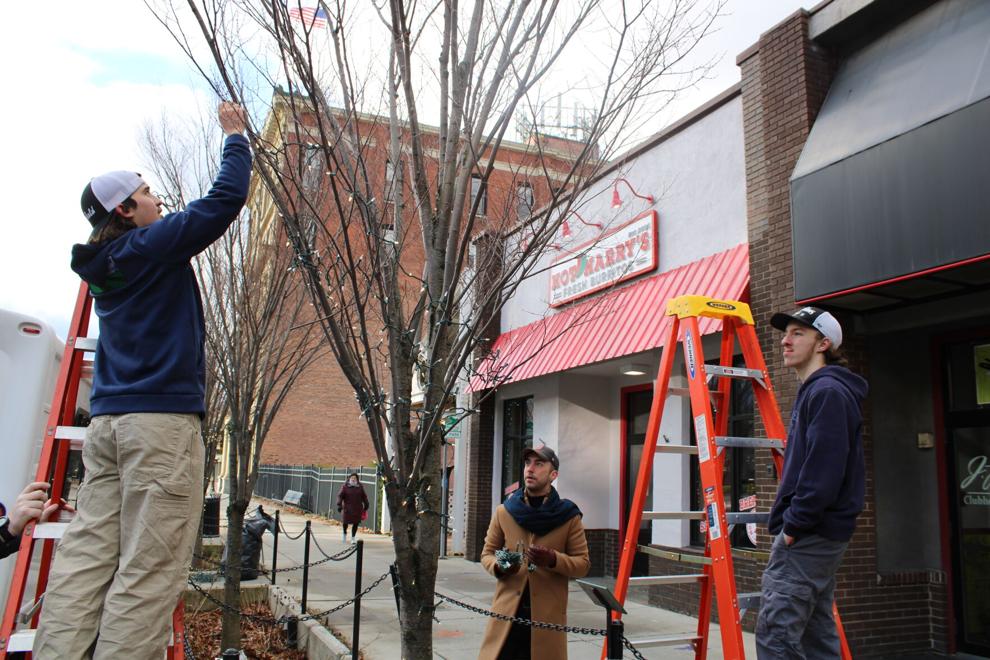 For Gage, the ability for students to participate in "authentic projects" around the city was worth it not just to give them real-world experience, but also to increase their connection to the place they call home.
"It's important for our students to see themselves in the community," Gage said.
'It's just fun'
For DeMarco, it's an opportunity to get students to adapt to the obstacles in their environment: setting ladders on uneven ground and working to string lights on tall trees, to be specific. The chance to teach ladder safety skills and have students work test outlets on the street that aren't working is paramount, he said.
"Once you're up on the ladder, you start to get complacent," DeMarco said. "You start leaning a bit too much one way or another, it can be risky."
As the students warmed up on the bus in between work periods, they were happy to have the opportunity.
"It's just fun," Tanner said. "We're out here helping out, the lights are gonna look great … being out of the shop is nice."
Tanner entered the electrical track in part because of his grandfather, who worked for Eversource. Training for the electrical field would give them a number of employment options after graduation, and skills such as running wire were good to have in life anyway.
All four of the juniors participating voiced something to that effect, and all had their reasons for pursuing electrical training.
Jacob Massey, another junior in the program, said he enjoyed learning the trade because of a sense of progression in what he was learning.
"Doing these projects, you get to build off what you already know," Massey said.
Gavin Barnes, another junior in the program, enjoyed the creativity that electrical work afforded to him.
"It's just a good time," Barnes said. "And it's a good job to have. If you have any idea that you want to build with electrical, you can do it, and that's the best part."
Zach Farina, another student in the program, said that more and more things are becoming electrical and will require repair and maintenance in the future. Plus, he wanted to learn a trade that would let him work on bigger projects in a team.
"Working with more people makes it fun," Farina said.
In terms of what they'd be getting out of this experience, they were content to lend the city a hand.
"We'll be pretty good at wrapping Christmas trees after this," Barnes said.
Farina chimes in, saying he's already gotten his Christmas lights up around the house, sparking a debate among the students about the appropriate time to begin decorating after Thanksgiving. As Tanner suggested, you can't do it if you still have leftovers from the meal in the fridge. Opinions vary among the group.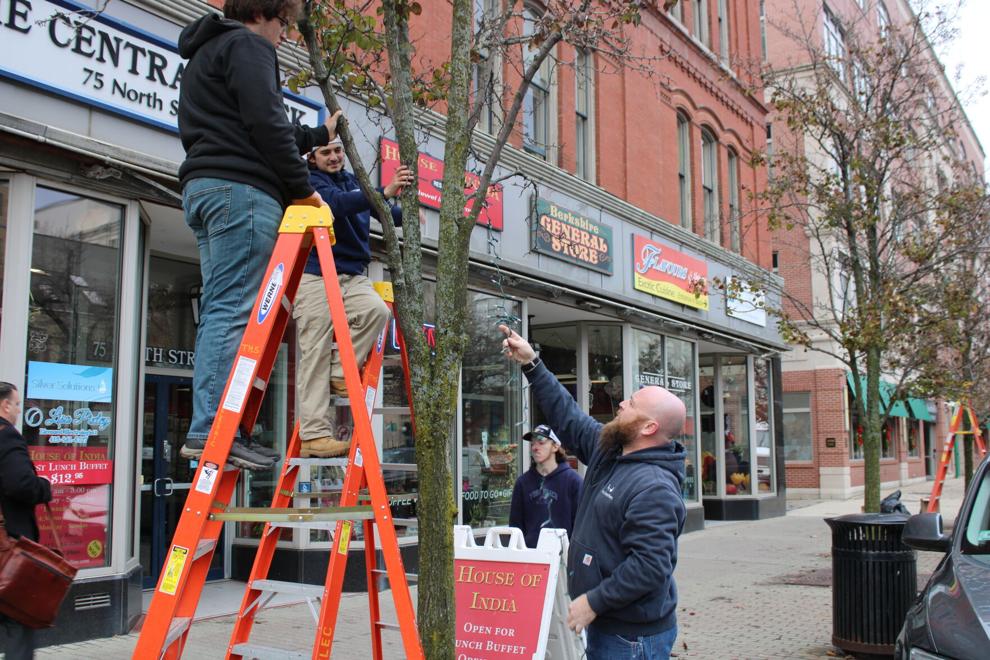 The students strung lights from 8 a.m. to 1:30 p.m. Monday, and more will be downtown tomorrow to continue the work. DeMarco said the project would likely require between 400 and 500 strings of lights, spanning North Street from Dottie's to Park Square.
For DeMarco, the experiential learning is important, but pales in comparison to the life lesson that the students can learn from the work.
"There's not enough people helping out these days," DeMarco said. "If you can increase that, it's a good thing."