PITTSFIELD — Virginia O'Leary has been a social activist for decades. She was on the floor at the infamous Democratic National Convention in Chicago in 1968. She once managed a campaign for a candidate in Michigan.
This year, the retired social psychologist did her part as one of several Berkshire County volunteers who participated in a nationwide initiative called "The Big Send," organized nationally by the nonpartisan Vote Forward to send letters encouraging voters who live in swing states to cast ballots in the November elections.
The Pittsfield resident took her task seriously. So seriously that she wrote 1,000 letters.
"One thousand exactly," she said.
Saturday was the official mailing date for the national letter-writing initiative. Accompanied by her poodle, O'Leary was among about 50 participants who brought their letters to the Pittsfield Post Office on Fenn Street for mailing Saturday morning.
Megan Whilden, the acting chair of the Berkshire Democratic Brigades, which sponsored the local letter-writing initiative with the Greylock Together organization, didn't know how many total letters were mailed from the Berkshires on Saturday, although she believed that 7,000 were sent from Williamstown alone.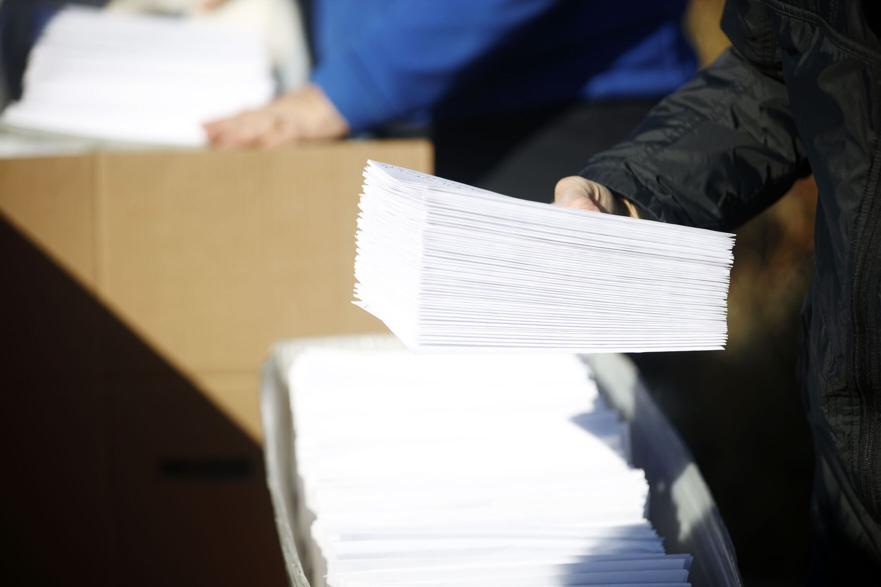 Whilden also didn't know if any of the other letter writers were as prolific as O'Leary, who is a member of the Berkshire Democratic Brigades.
"Gosh, I don't know," she said. "I heard there was someone else who wrote a similar amount, but some people did it on their own."
Over 150,000 volunteers nationwide participated in the national initiative, which planned to send 15 million letters to encourage swing-state voters to cast ballots this year. O' Leary said her letters were sent to voters in Florida, South Carolina and Texas.
"I am committed to seeing our democracy not be eroded," O'Leary said when asked why she decided to write so many letters. She said volunteers were provided with form letters that included a space where they could write a personal message encouraging each recipient to vote.
Her message? "I am passionate about voting because I believe in democracy!"
"I hand-addressed every one," she said, "by hand, in script."
Participants were allowed to fill out 20 letters at a time on Voteforward.org, O'Leary said.
"You can only download 20 at a time," she said.
It originally took O'Leary about 40 minutes to fill out 20 letters, "but over time I could do 20 in about 20 minutes."
She said she completed about 140 letters per week. When she got to 320 letters, she said, she received a message from Voteforward.org that she needed to contact the organization in order to keep participating. The organization sends out such warnings to prevent hacking, she said.
So, O'Leary emailed the organization a picture from her cellphone of the work that she already had completed.
"I got a message back that 'You are a super volunteer,' " O'Leary said.
O'Leary announced that she had reached 400 letters during a virtual meeting with other members of the Brigades.
"I immediately thought I'd challenge the other folks," she said. But, there were no takers. They all said, 'You're too far ahead.' "
O'Leary is glad that she participated.
"I made a commitment to myself," she said. "If you want your voice to be heard, you have to act on that.
"We didn't tell anybody how to vote," she said, "we just told them to vote."