With this daily feature, The Eagle runs down breaking local developments in the coronavirus crisis.
THE NUMBERS: Berkshire County saw a dramatic one-day increase in COVID-19 cases Tuesday, with the confirmed count rising 42, the biggest jump in months.
Berkshire Medical Center, meantime, reported Tuesday that it has, to date, logged 833 positive test results, an increase of 75 over the number reported Monday. And the hospital still was waiting for results from an additional 533 tests, out of the 33,951 tests it has conducted since the pandemic began.
The county's death toll was unchanged Tuesday, at 52, with the confirmed COVID-19 case count at 903, up from 861 on Monday, the state Department of Public Health said.

The DPH said 21 new deaths were reported in Massachusetts, pushing the statewide total to 9,957. Deaths including those listed as probably caused by COVID-19 are 10,184. Confirmed cases rose 2,047, to 169,976. According to data provided by Johns Hopkins University, 131,646 people in Massachusetts with COVID-19 have recovered.
PITTSFIELD RESTAURANTS BOW OUT TEMPORARILY DUE TO COVID-19: The owners of two Pittsfield restaurants expect to keep their eateries closed for up to two weeks after positive COVID-19 tests of employees. And another restaurant has announced it is closing out of caution, citing 88 active cases of the disease in the city.
Zucchini's Restaurant & Catering, at 1331 North St., and The Roasted Garlic, at 483 West Housatonic St., closed Saturday, after one employee at each received a positive test for the coronavirus. Mickey and Lynne Soldato, who own both restaurants, notified customers Monday that anyone who ate at either location over the past week should monitor their health for signs of the illness.
In a statement sent by email, the owners said they decided to close both due to the general rise of cases in Pittsfield — 46 cases in the previous two weeks as of Friday, according to Mayor Linda Tyer — and because of the positive employee tests. They said that neither employee had been symptomatic during their last work shift.
"For the health and safety of our staff, guests, and the community, we are asking our entire staff to quarantine at home for 14 days and we will remain closed during that time," the owners said in the email. "We have also thoroughly cleaned and sanitized the restaurants according to recommendations by our local health department."
The Soldatos said they will reopen "when we can do so safely."
Patrick's Pub in Pittsfield said Tuesday that due to an increase in cases, it plans to close for in-person dining for 48 hours; it remains open for takeout. In a Facebook post, the restaurant circled a graphic on the city's website about the number of active cases. "We're not going to lie, this number is scaring us. Due to the recent spike in COVID-19 cases in the city and around the Berkshires we have decided to pause on site dining for the next 48 hours." No staff member has tested positive, the post said.
"Restaurants are the only place where people can sit inside maskless in public, which puts our staff at risk. This is not a risk we are willing to take," the statement said. The restaurant continues to offer takeout.
The closings follow similar moves by the Olde Heritage Tavern in Lenox, the Methuselah Bar and Lounge on North Street in Pittsfield and Frankie's Ristorante in Lenox. Guido's Fresh Marketplace also has taken steps to avoid COVID-19 transmission after two employees tested positive for the virus. Those actions include limiting the number of shoppers inside and, due to diminished staffing, reducing deli and kitchen offerings, the owners said over the weekend.
NUMBER OF ACTIVE CASES: 10,184 statewide.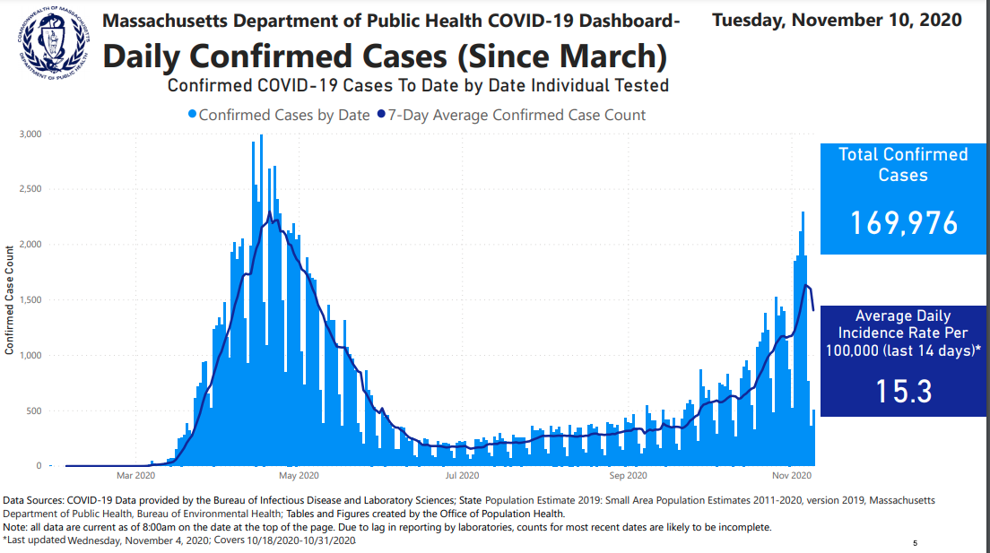 WESTERN MASS. PICTURE: The case totals (and death counts) in neighboring counties: Franklin, up four, to 517 (74); Hampshire, up 19, to 1,693 (158); Hampden, up 167, to 11,727 (up three, to 842).
LONG-TERM CARE WATCH: As of Tuesday, 26,039 cases have been confirmed among residents and staff of long-term care facilities, a one-day increase of 54. In all, 393 facilities have had at least one confirmed case and have seen 6,501 deaths linked to COVID-19, up seven.
HOSPITAL CHECK: As of Tuesday, Berkshire Medical Center reported caring for three COVID-19 patients. Fairview Hospital in Great Barrington had no cases. Statewide, 618 people are hospitalized. Of those hospitalized, 150 are in ICU and 68 are on ventilators.
To date, 6,767,987 tests for the virus have been conducted in Massachusetts, according to Johns Hopkins.
WIDER WORLD OF COVID: Global cases top 51,292,597, with 1,269,199 deaths, according to data provided by Johns Hopkins. The U.S. has seen 10,217,789 cases and 239,374 deaths.
LEADING INDICATORS: The DPH provides the following statistics as indicators in the fight against coronavirus infection. Each provides a number and then a change in either the count or "lowest observed value." Tuesday's figures:
• Seven-day average of new confirmed cases: 1,407, up 796 percent;
• Seven-day weighted average of positive test rate: 2.6, up 240 percent;
• Seven-day average of number of COVID-19 patients in hospitals: 546, up 252 percent;
• Seven-day average of COVID-19 deaths: 18, up 70 percent.
This story has been updated to clarify that Patrick's Pub remains open for takeout orders