With this daily feature, The Eagle runs down breaking local developments in the coronavirus crisis.
THE NUMBERS: Berkshire County's COVID-19 death toll rose by one on Tuesday to 64, with the confirmed case count up 43 to 1,645, the state Department of Public Health said.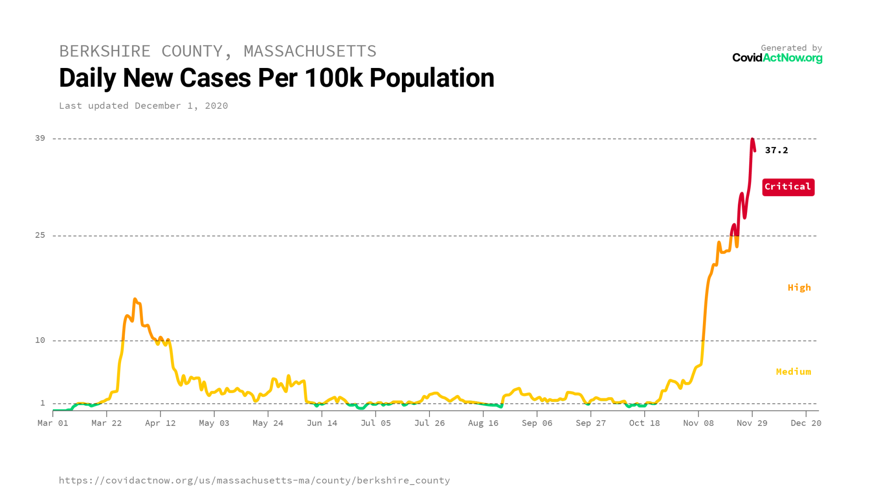 WHAT THOSE NUMBERS MEAN: If the recent rise in confirmed cases continues at the same pace, here's the long-term picture, according to Covid Act Now: "Over the last week, Berkshire County … has averaged 46 new confirmed cases per day (37.2 for every 100,000 residents). Over the next year, this translates to around 17,000 cases and an estimated 85,000 infections (67.8% of the population)."
The DPH said 30 new deaths were reported in Massachusetts, pushing the statewide total to 10,542. Deaths including those listed as probably caused by COVID-19 is 10,778. Confirmed cases rose 2,845 to 221,174. According to data provided by Johns Hopkins University, 155,473 people in Massachusetts with COVID-19 have recovered.
NUMBER OF ACTIVE CASES: 43,601 statewide
WESTERN MASS. PICTURE: The case totals (and death counts) in neighboring counties: Franklin, up 13 to 658 (76); Hampshire, up 23 to 2,345 (163); Hampden, up 314 to 16,457 (up 2 to 913).
LONG-TERM CARE WATCH: As of Tuesday, 27,323 cases have been confirmed among residents and staff of long-term care facilities. In all, 401 facilities have had at least one confirmed case and have seen 6,797 deaths linked to COVID-19, up 9 in a day.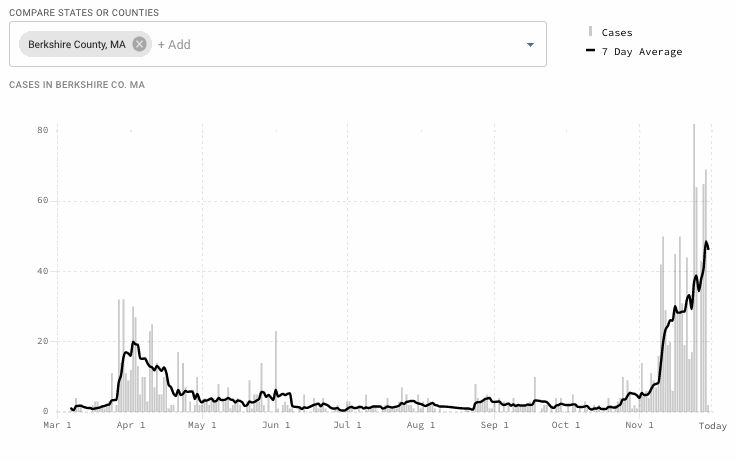 HOSPITAL CHECK: As of Tuesday, Berkshire Medical Center reported caring for 28 COVID-19 patients, up from 21 on Monday. Fairview Hospital in Great Barrington had no cases. Meantime, BMC reported having tested 38,680 people, with 1,292 positive results, since the pandemic began. There were 715 pending test results.
Statewide, 1,191 people are hospitalized. Of those hospitalized, 239 are in ICU and 130 are on ventilators.
To date, 8,400,584 tests for the virus have been conducted in Massachusetts, according to Johns Hopkins.
WIDER WORLD OF COVID: Global cases top 63,650,135, with 1,476,396 deaths, according to data provided by Johns Hopkins University. The U.S. has seen 13,672,217 cases and 270,003 deaths.
LEADING INDICATORS: The DPH provides the following statistics as indicators in the fight against coronavirus infection. Each provides a number and then a change in either the count or "lowest observed value." Tuesday's figures:
– Seven-day average of new confirmed cases: 1,636, up 944 percent
– Seven-day weighted average of positive test rate: 4.6, up 495 percent
– Seven-day average of number of COVID-19 patients in hospitals: 1,055, up 579 percent
– Seven-day average of COVID-19 deaths: 27, up 154 percent
A CALL FOR ADDITIONAL FREE TESTING SITES: Though the state operates 18 free testing sites for COVID-19, just two are in western Massachusetts, and both in Hampden County. A state representative is calling on Gov. Charlie Baker to tap the National Guard, if needed, to increase access to tests and reduce waits.
State Rep. Mindy Domb, D-Amherst, says she went to check waits at the Holyoke testing center last week. With two hours to go, hundreds of cars held people waiting for tests. The state's Stop-the-Spread testing sites can be used by any Massachusetts resident, even though without COVID-19 symptoms. Domb said the test sites that exist could be run more efficiently.
"Heated outdoor tents in parking lots would allow a site to double its testing capacity," Domb said, according to a report from the State House News Service. "Providers are stretched thin across the state. We need the National Guard to provide us with the testing resources we need."
To contribute news to The Checkup, please email lparnass@berkshireeagle.com or call 413-588-8341.