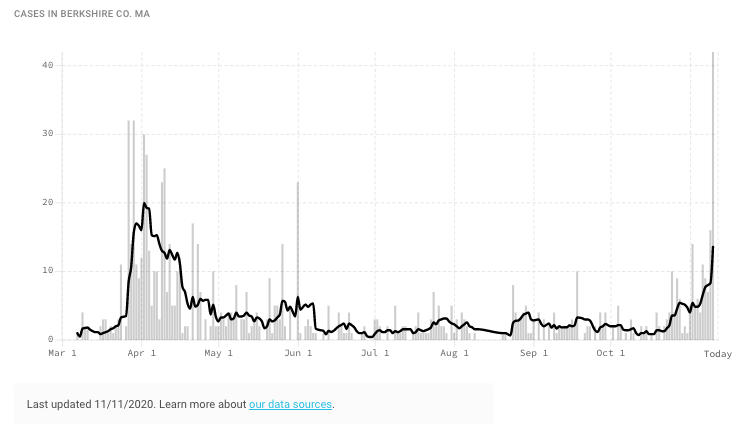 With this daily feature, The Eagle runs down breaking local developments in the coronavirus crisis.
THE NUMBERS: Wednesday brought word of 50 new daily cases of COVID-19 in Berkshire County, a figure that pushed a two-day total nearly to 100, as new infections continue to mount across the state (2,495) and country (more than 140,000).
The death toll in the county was unchanged at 52. The new cases pushed the confirmed COVID-19 case count to 953, the state Department of Public Health said.
The DPH said 37 new deaths were reported in Massachusetts, pushing the statewide total to 9,994. Deaths including those listed as probably caused by COVID-19 is 10,222. Confirmed cases rose 2,495 to 172,471. According to data provided by Johns Hopkins University, 131,646 people in Massachusetts with COVID-19 have recovered.
NUMBER OF ACTIVE CASES: 25,055 statewide
WESTERN MASS. PICTURE: The case totals (and death counts) in neighboring counties: Franklin, up four to 521 (74); Hampshire, up 37 to 1,730 (158), Hampden, up 236 to 11,963 (842).
LONG-TERM CARE WATCH: As of Wednesday, 26,074 cases have been confirmed to date among residents and staff of long-term care facilities, a one-day increase of 35. In all, 392 facilities have had at least one confirmed case (a number revised downward by one on Wednesday) and have seen 6,523 deaths linked to COVID-19, an increase of 22.
HOSPITAL CHECK: As of Wednesday, Berkshire Medical Center reported caring for two COVID-19 patients. Fairview Hospital in Great Barrington had no cases. Meantime, BMC reported having tested 33,742 people to date, with 857 positive results, an increase of 33 since Tuesday. There were 475 pending test results.
Statewide, 659 people are hospitalized. Of those hospitalized, 152 are in ICU and 72 are on ventilators.
To date, 6,826,328 tests for the virus have been conducted in Massachusetts, according to Johns Hopkins.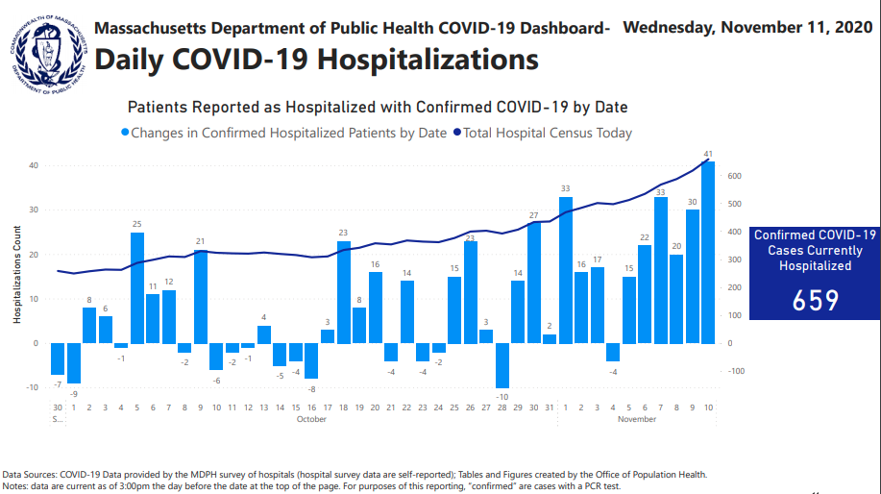 WIDER WORLD OF COVID: Global cases top 51,926,961, with 1,280,599 deaths, according to data provided by Johns Hopkins University. The U.S. has seen 10,361,918 cases and 240,782 deaths.
PITTSFIELD RESTAURANT JOINS CLOSING LIST: Mission Restaurant on North Street in Pittsfield announced Wednesday that will close temporarily, after an employee tested positive for COVID-19. The restaurant said on social media that a worker received results Wednesday. The post said the employee had not been in the restaurants for more than a week. While other staff works to arrange testing, without showing symptoms, the restaurant opted to close, adding, "We hope to be back with you as soon as it's safe!" The move follows decisions by Patrick's Pub to close for in-person dining — take out remains available — due to increasing case numbers in Pittsfield. Zucchini's Restaurant & Catering and its sister eatery, The Roasted Garlic, are also closed.
LEADING INDICATORS: The DPH provides the following statistics as indicators in the fight against coronavirus infection. Each provides a number and then a change in either the count or "lowest observed value." Wednesday's figures:
• Seven-day average of new confirmed cases: 1,490, up 849 percent
• Seven-day weighted average of positive test rate: 2.9, up 273 percent
• Seven-day average of number of COVID-19 patients in hospitals: 568, up 266 percent
• Seven-day average of COVID-19 deaths: 20, up 86 percent
AT THE COLLEGES: The Williams College daily dashboard said the campus had administered 37,474 tests for COVID-19 since Aug. 17 and those produced seven positive results. Those include 3,753 tests in the last seven days that produced no positive results.
This story has been updated to clarify that Patrick's Pub remains open for take out orders.