With this daily feature, The Eagle runs down breaking local developments in the coronavirus crisis.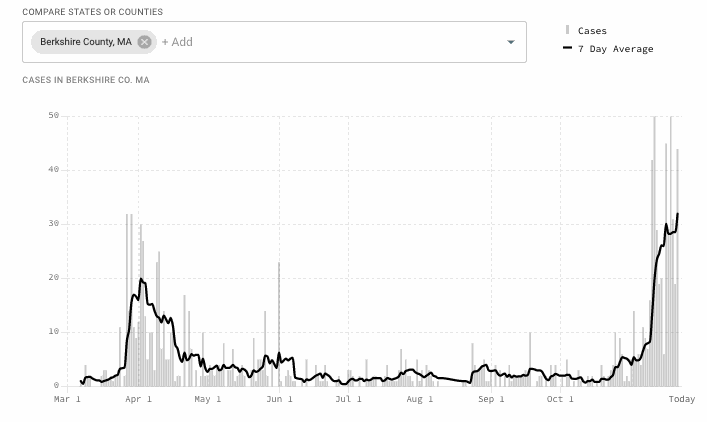 THE NUMBERS: The number of COVID-19 infections in Berkshire County jumped over the weekend, rising 44 on Saturday and 15 on Sunday. Including Friday's new cases, the number of new infections in the county rose 78 in three days.
According to the group CovidActNow, over the last week, Berkshire County averaged 32 new confirmed cases per day. The group notes that if sustained over the next year, that rate would bring 12,000 cases. The county's confirmed case count is now 1,260. Meantime, the county's death toll was unchanged over the weekend at 52, the state Department of Public Health said.
The DPH said 24 new deaths were reported Sunday in Massachusetts, pushing the statewide total to 10,281. Deaths including those listed as probably caused by COVID-19 is 10,512. Confirmed cases rose 2,721 to a new 200,050, breaking the 200,000 milestone. According to data provided by Johns Hopkins University, 145,682 people in Massachusetts with COVID-19 have recovered.
NUMBER OF ACTIVE CASES: 39,073 statewide
COVID TOWN HALL: The Public Health Institute of Western Massachusetts will join with Focus Springfield Community Television for a virtual town hall at 4 p.m. Tuesday. The point, the groups say, is to "encourage vigilance in the face of pandemic fatigue as the holidays approach." The panel will include Jessica Collins, executive director of the Public Health Institute of Western Massachusetts; Magdalene Eboso of Mercy Medical Center & Providence Behavioral Health, an infection prevention and control coordinator; and Dr. Esteban DelPilar-Morales, an infectious disease expert at Baystate Health. Registration is required but the event is free. To register, visit publichealthwm.org.
WESTERN MASS. PICTURE: The case totals (and death counts) in neighboring counties: Franklin, up nine to 588 (75); Hampshire, up 31 to 2,105 (up one to 161); Hampden, up 237 to 14,404 (up three to 883).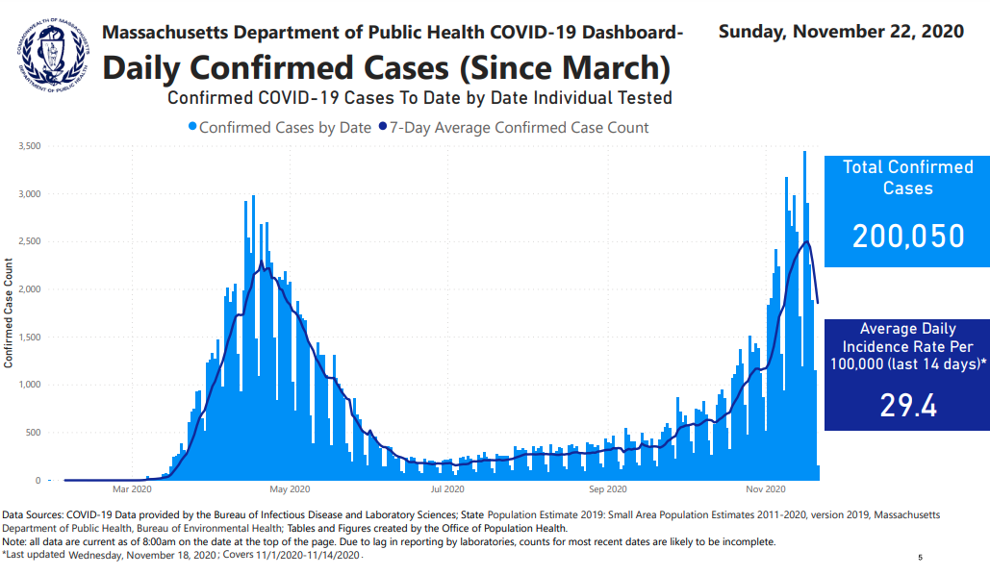 LONG-TERM CARE WATCH: As of Sunday, 26,799 cases have been confirmed among residents and staff of long-term care facilities. In all, 398 facilities have had at least one confirmed case and have seen 6,675 deaths linked to COVID-19.
HOSPITAL CHECK: Saturday's column included an incorrect tally on the number of COVID-19 patients at Fairview Hospital in Great Barrington. The hospital has no cases.
Statewide, 893 people are hospitalized. Of those hospitalized, 192 are in ICU and 88 are on ventilators.
To date, 7,757,482 tests for the virus have been conducted in Massachusetts, according to Johns Hopkins.
WIDER WORLD OF COVID: As of Monday at 9 a.m., global cases top 58,778,834, with 1,390,262 deaths, according to data provided by Johns Hopkins University. The U.S. has seen 12,249,674 cases and 256,800 deaths. [An earlier version of this section mistakenly reversed the numbers of global deaths and U.S. cases.]
LEADING INDICATORS: The DPH provides the following statistics as indicators in the fight against coronavirus infection. Each provides a number and then a change in either the count or "lowest observed value." Sunday's figures:
– Seven-day average of new confirmed cases: 1,858, up 1,085 percent
– Seven-day weighted average of positive test rate: 3, up 290 percent
– Seven-day average of number of COVID-19 patients in hospitals: 872, up 462 percent
– Seven-day average of COVID-19 deaths: 24, up 130 percent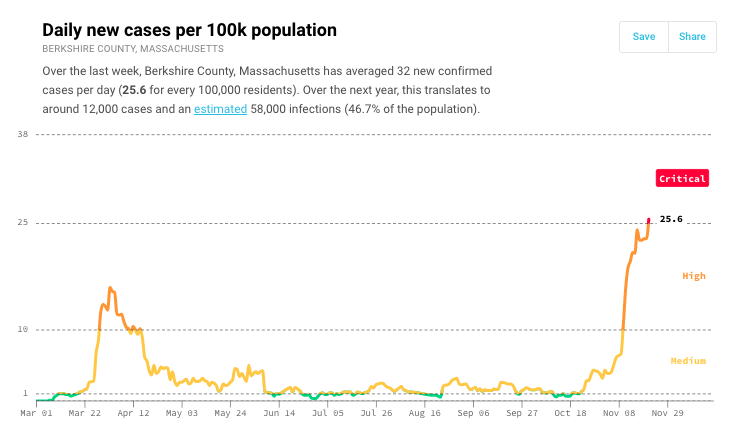 TWO STATES JOIN LIST: State health officials have added New Hampshire and Maine to the list of places that can trigger quarantines for travelers. People arriving in Massachusetts from "high-risk" states are required to quarantine for 14 days or show they don't have an active case of the virus, according to the DPH. States are labeled high risk if they average more than 10 new daily COVID-19 cases per 100,000 residents, according to the DPH.
AT THE COLLEGES: Williams College reports that as of Thursday, it encountered a problem with its testing partner, the Broad Institute. As a consequence, results for tests taken from Wednesday through Friday last week will be delayed until early this coming week. The college said it expects to be able to resume same-day test reports Tuesday. As of Thursday, the college was reporting 10 positive cases since Aug. 17, including three in the last week.
The Massachusetts College of Liberal Arts said Friday that 140 tests in the last week found two confirmed cases. In all, it was performed 3,617 tests with seven positive cases.
Bard College at Simon's Rock also released new information Friday. The college has performed 7,557 tests during the pandemic, with two positive results, none in the last week.
To contribute news to The Checkup, please email lparnass@berkshireeagle.com or call 413-588-8341.