With this daily feature, The Eagle runs down breaking local developments in the coronavirus crisis.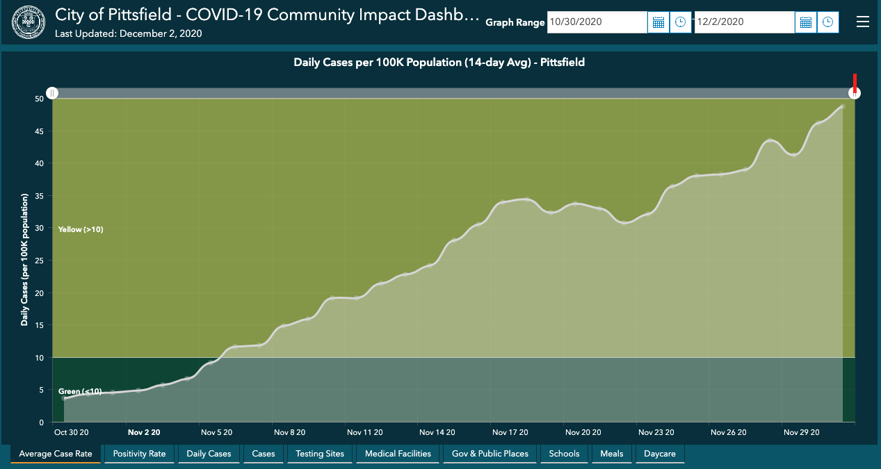 THE NUMBERS: Berkshire County's death toll rose by one to 65, with the confirmed COVID-19 case count climbing 83 to 1,728, the state Department of Public Health said.
That increase in new cases was part of a record-setting one-day increase across the state. The DPH said the number of confirmed cases rose 4,613 to 225,787.
The increase tops the 3,079 new cases identified April 23, during the peak of the spring infections. It is also more, the State House News Service notes, than the 3,570 new cases listed Nov. 24, when due to data issues the DPH combined several days of newly confirmed cases into one report.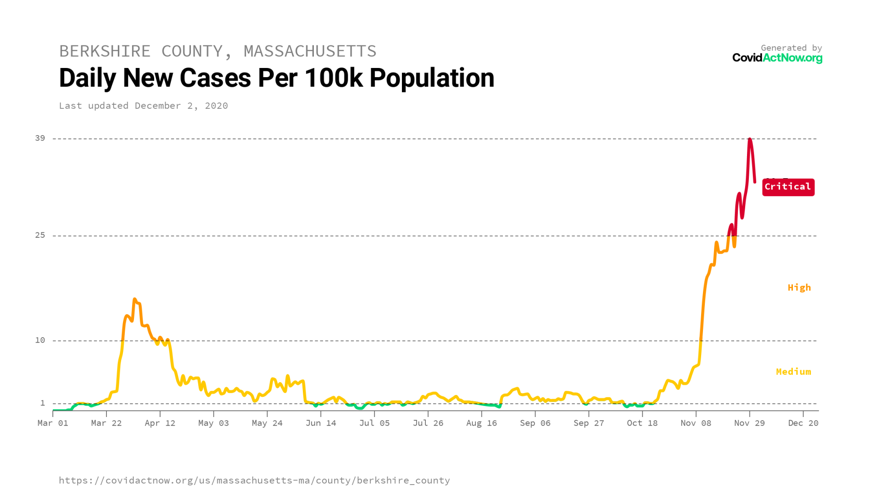 BEHIND THE NUMBERS: Here's a distinction from last spring. Far more tests are being conducted. For instance, the 4,613 new cases listed Wednesday resulted from 105,845 tests. That means 4.36 percent of tests came back positive. That positivity rate is far lower than the one seen April 23, when the state reported those 3,079 cases. That tally was based on 14,614 tests, which works out to a positivity rate of more than 21 percent.
As of now, the statewide positive test rate, based on a seven-day average, is 4.94, up from 4.61 percent Tuesday.
The DPH said 46 new deaths were reported in Massachusetts, pushing the statewide total to 10,588. Deaths including those listed as probably caused by COVID-19 is 10,824.
According to data provided by Johns Hopkins University, 155,473 people in Massachusetts with COVID-19 have recovered.
NUMBER OF ACTIVE CASES: 45,390 statewide
WESTERN MASS. PICTURE: The case totals (and death counts) in neighboring counties: Franklin, up 18 to 676 (76); Hampshire, up 45 to 2,390 (up 1 to 164); Hampden, up 278 to 16,735 (up 4 to 917).
LONG-TERM CARE WATCH: As of Wednesday, 27,776 cases have been confirmed among residents and staff of long-term care facilities, up 453 since Tuesday. In all, 402 facilities have had at least one confirmed case (one more than Tuesday) and have seen 6,819 deaths linked to COVID-19, a one-day increase of 22.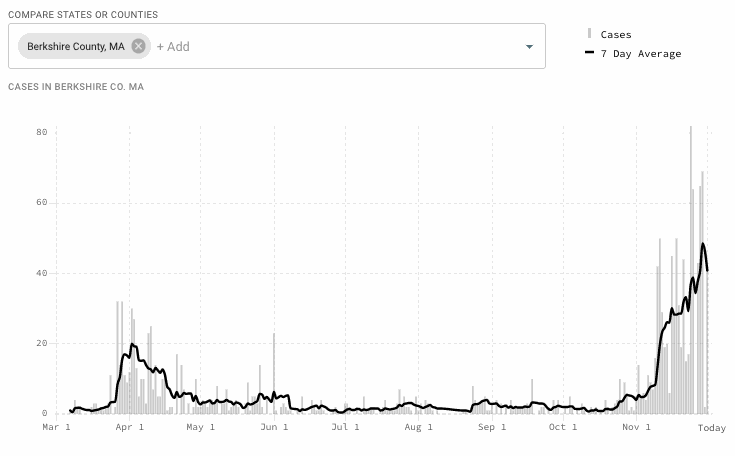 HOSPITAL CHECK: As of Wednesday, Berkshire Medical Center reported caring for 32 COVID-19 patients, up from 28 on Tuesday and 21 on Monday. Fairview Hospital in Great Barrington had no cases. Meantime, BMC reported having tested 38,978 people, with 1,333 positive results. There were 705 pending test results.
Statewide, 1,259 people are hospitalized. Of those hospitalized, 264 are in ICU and 126 are on ventilators. The number of those hospitalized rose by 68 from Monday to Tuesday, which appears to be the second-largest daily increase since April 21; the number jumped by 93 on Nov. 29.
To date, 8,460,417 tests for the virus have been conducted in Massachusetts, according to Johns Hopkins.
WIDER WORLD OF COVID: Global cases top 64,360,815, with 1,489,816 deaths, according to data provided by Johns Hopkins University. The U.S. has seen 13,900,350 cases and 273,170 deaths.
LEADING INDICATORS: The DPH provides the following statistics as indicators in the fight against coronavirus infection. Each provides a number and then a change in either the count or "lowest observed value." Wednesday's figures:
– Seven-day average of new confirmed cases: 1,727, up 1,002 percent
– Seven-day weighted average of positive test rate: 4.9, up 538 percent
– Seven-day average of number of COVID-19 patients in hospitals: 1,100, up 609 percent
– Seven-day average of COVID-19 deaths: 28, up 169 percent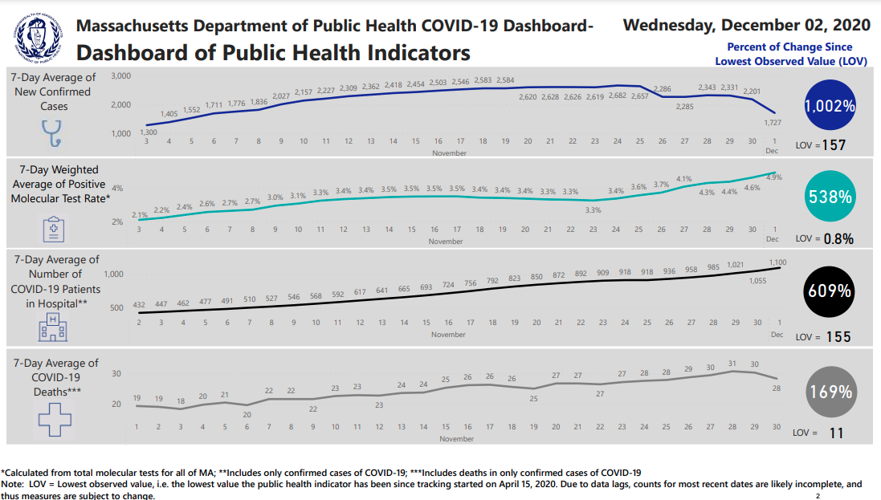 To contribute news to The Checkup, please email lparnass@berkshireeagle.com or call 413-588-8341.