With this daily feature, The Eagle runs down breaking local developments in the coronavirus crisis.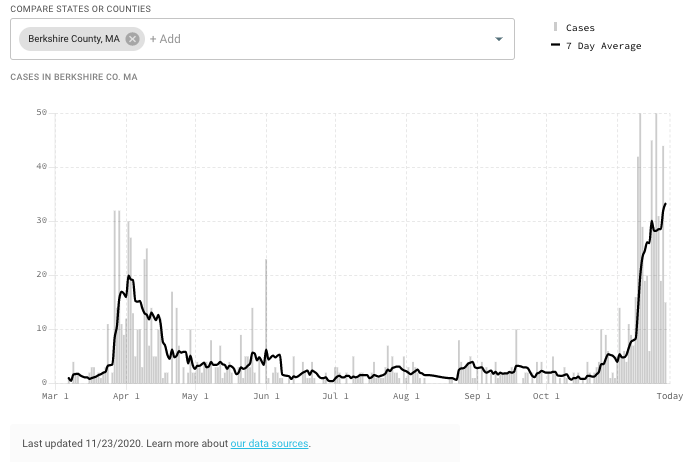 BACK TO NORMAL, EVENTUALLY?: The wording of a new pandemic hashtag for the Bay State, #GetBackMass, sounds a little anti-social. The "back," though, refers not to keeping one's distance, but returning to normal social life — at least someday. In the state's campaign, #GetBackMass is a call to observe precautions like social distancing, mask use and regular testing to be able to resume things like sports events and concerts.
In the meantime, though, this is a worrisome week. Dr. Monica Bharel, the commissioner of public health, said she is worried that Thanksgiving gatherings in the state will produce superspreader events. Gov. Charlie Baker said Monday that with case numbers rising, people in Massachusetts "can't afford to do Thanksgiving and the holidays the same way we've done it in years past."
THE NUMBERS: Berkshire County added 17 confirmed COVID-19 cases, extending a string of days of double-digit increases. In the past four days, the county added 95 cases. The total is now 1,277. The county's death toll was unchanged, at 52, the state Department of Public Health said.
The DPH said 18 new deaths were reported in Massachusetts, pushing the statewide total to 10,299. Deaths including those listed as probably caused by COVID-19 are 10,531. Confirmed cases rose 1,785 to 201,835. According to data provided by Johns Hopkins University, 145,682 people in Massachusetts with COVID-19 have recovered.
NUMBER OF ACTIVE CASES: 40,202 statewide.
WESTERN MASS. PICTURE: The case totals (and death counts) in neighboring counties: Franklin, up two, to 592 (75); Hampshire, up 14, to 2,119 (161); Hampden, up 178, to 14,582 (up one, to 884).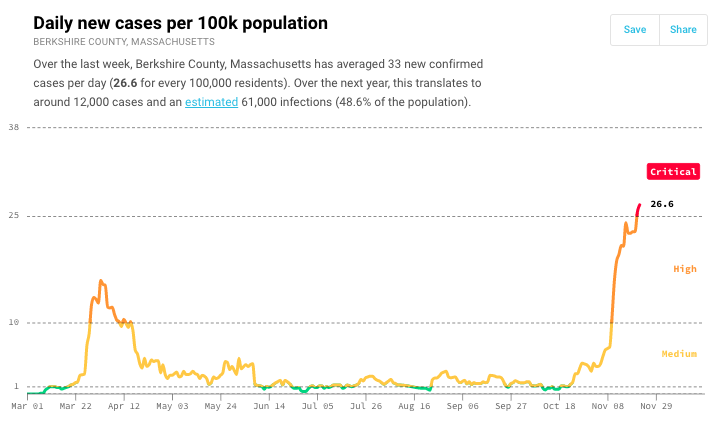 LONG-TERM CARE WATCH: As of Monday, 26,872 cases have been confirmed among residents and staff of long-term care facilities. In all, 398 facilities have had at least one confirmed case and have seen 6,685 deaths linked to COVID-19, 10 more than Sunday.
HOSPITAL CHECK: As of Monday, Berkshire Medical Center reported caring for nine COVID-19 patients. Fairview Hospital in Great Barrington had no cases. Meantime, BMC reported having tested 37,246 people, with 1,064 positive results. There were 1,561 pending test results.
Statewide, 922 people are hospitalized. Of those hospitalized, 204 are in ICU and 91 are on ventilators.
To date, 7,867,762 tests for the virus have been conducted in Massachusetts, according to Johns Hopkins.
WIDER WORLD OF COVID: Global cases top 59,049,641, with 1,394,366 deaths, according to data provided by Johns Hopkins. The U.S. has seen 12,379,135 cases and 257,514 deaths. [In Monday's The Checkup, the numbers for global deaths and cases in the U.S. were accidentally reversed.]
LEADING INDICATORS: The DPH provides the following statistics as indicators in the fight against coronavirus infection. Each provides a number and then a change in either the count or "lowest observed value." Monday's figures:
• Seven-day average of new confirmed cases: 1,941, up 1,139 percent;
• Seven-day weighted average of positive test rate: 3.1, up 296 percent;
• Seven-day average of number of COVID-19 patients in hospitals: 892, up 475 percent;
• Seven-day average of COVID-19 deaths: 23, up 118 percent.
AT THE COLLEGES: As of Monday, Williams College switched to conducting weekly, not daily, tests because students have shifted to remote study. As of Monday, the campus had administered 44,139 tests for COVID-19 since Aug. 17, and those produced 10 positive results. Those include 3,730 tests in the past seven days that resulted in three positive results.
HOLIDAY FOR DATA: The DPH said Monday that it will not provide statistics Thursday, Thanksgiving Day. Instead, Friday's report will include results for two days. The weekly report, which lists data by all of the state's cities and towns, also will be made public Friday.
To contribute news to The Checkup, please email lparnass@berkshireeagle.com or call 413-588-8341.