With this daily feature, The Eagle runs down breaking local developments in the coronavirus crisis.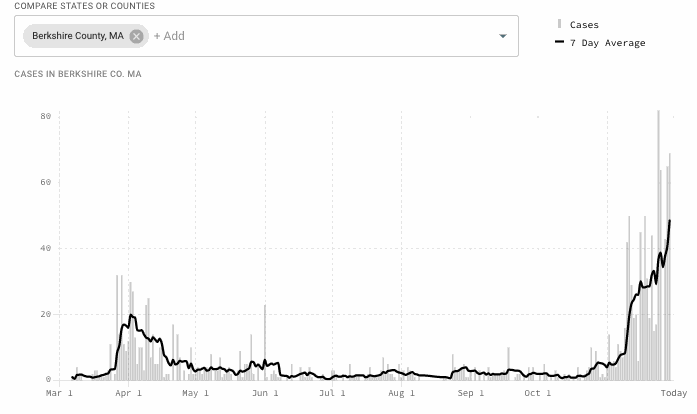 HILLCREST INFECTIONS GROW: The number of residents of the Hillcrest Commons Nursing and Rehabilitation Center in Pittsfield confirmed to have COVID-19 rose to 127 as of Monday, according to a spokeswoman. Also, 46 staff members have been confirmed to have had the virus.
Lisa Gaudet, vice president of business development and marketing for Berkshire Healthcare Systems, said Monday that 10 residents of the Valentine Road center are hospitalized with the disease and five others who were hospitalized have been cleared to return. Two residents are in critical condition due to underlying conditions, Gaudet told The Eagle's Heather Bellow.
As staff members clear quarantine, the center's staffing issues are improving. Gaudet said that some employees initially infected are able to return to work. Many of those who were confirmed to have the virus did not show symptoms, she said. And staffers who did have symptoms were, by and large, affected only mildly.
Hillcrest, with 224 residents, is the second-largest nursing home in the state.
THE NUMBERS: Berkshire County's COVID-19 death toll climbed by two on Monday to 63, with the confirmed case count up two to 1,602, the state Department of Public Health said.
The DPH said 25 new deaths were reported in Massachusetts, pushing the statewide total to 10,512. Deaths including those listed as probably caused by COVID-19 is 10,748. Confirmed cases rose 1,166 to 218,329. According to data provided by Johns Hopkins University, 155,473 people in Massachusetts with COVID-19 have recovered.
NUMBER OF ACTIVE CASES: 43,856 statewide
WESTERN MASS. PICTURE: The case totals (and death counts) in neighboring counties: Franklin, up 6 to 645 (76); Hampshire, up 18 to 2,322 (up 1 to 163); Hampden, up 158 to 16,143 (up 1 to 911).
LONG-TERM CARE WATCH: As of Monday, 27,323 cases have been confirmed among residents and staff of long-term care facilities. In all, 401 facilities have had at least one confirmed case and have seen 6,788 deaths linked to COVID-19.
HOSPITAL CHECK: As of Monday, Berkshire Medical Center reported caring for 21 COVID-19 patients, up from 16 on Friday, the last day numbers were reported. Fairview Hospital in Great Barrington had no cases. Since the start of the pandemic, BMC has cared for 140 people with COVID-19 since March 1. In the last 14 days, it has had 29 COVID-19 patients, roughly one fifth of the total to date.
Meantime, BMC reported having tested 38,509 people, with 1,234 positive results since the pandemic began. There were 818 pending test results.
Statewide, 1,174 people are hospitalized. Of those hospitalized, 244 are in ICU and 126 are on ventilators.
To date, 8,371,390 tests for the virus have been conducted in Massachusetts, according to Johns Hopkins.
WIDER WORLD OF COVID: Global cases top 63,118,430, with 1,465,492 deaths, according to data provided by Johns Hopkins University. The U.S. has seen 13,511,194 cases and 267,792 deaths.
LEADING INDICATORS: The DPH provides the following statistics as indicators in the fight against coronavirus infection. Each provides a number and then a change in either the count or "lowest observed value." Monday's figures:
– Seven-day average of new confirmed cases: 1,721, up 998 percent
– Seven-day weighted average of positive test rate: 3.9, up 408 percent
– Seven-day average of number of COVID-19 patients in hospitals: 1,021, up 558 percent
– Seven-day average of COVID-19 deaths: 27, up 151 percent
AND THEN THERE WAS ONE: Only Hawaii, of the 50 U.S. states, has COVID-19 cases low enough to qualify it as low-risk under Massachusetts travel rules. Only travelers from Hawaii, as of Monday, do not have to fill out paperwork, undergo a quarantine or show a negative COVID-19 test result. Vermont had been on the low-risk list until late last week. States are considered low-risk if their average daily cases are less than 10 per 100,000 residents and their positive test rate is below 5 percent. As of Monday, 34.9 positive cases per 100,000 residents were confirmed daily in Massachusetts, averaged over two weeks.
To contribute news to The Checkup, please email lparnass@berkshireeagle.com or call 413-588-8341.