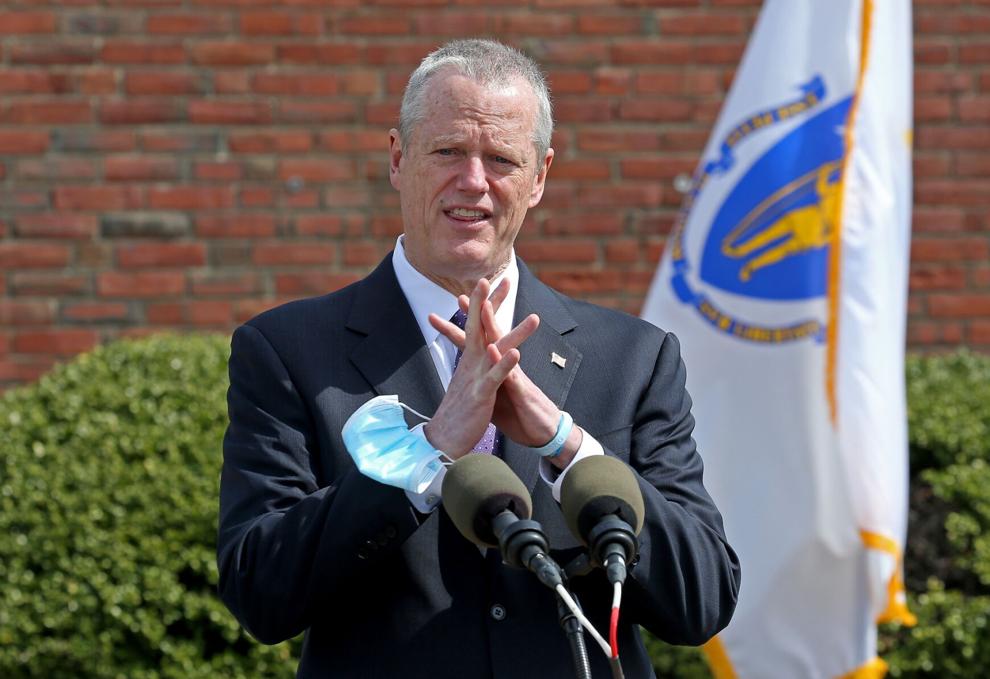 VACCINE REPORT: As of Monday morning, 1,789,004 people in Massachusetts are fully vaccinated against COVID-19, according to the state Department of Public Health. Gov. Charlie Baker said more than 2 million people will achieve that status by week's end.
Shots are rolling out across the U.S. More vaccinations were administered last Saturday — 4.6 million — than on any other day. The seven-day average on vaccinations has been just over 3 million a day. About 120 million Americans have received at least one vaccine shot and 72 million are fully vaccinated, according to the White House. Massachusetts accounted for 79,086 of the 4.6 million doses given on Saturday.
BY THE NUMBERS: Berkshire County saw no new COVID-19 deaths as of Monday, leaving the total at 281 deaths, with the confirmed case count up 24 to 5,903, the state Department of Public Health said. A week ago, the death total was 279 and the case total was 5,685. A month ago, the death total was 264 and the case total was 4,946.
The DPH said 19 new deaths were reported in Massachusetts, pushing the statewide total to 17,061. Confirmed cases rose 1,376 to 621,261.
NUMBER OF ACTIVE CASES: 36,775 statewide, compared to 35,167 a week ago; 641 active cases in Pittsfield, up from 523 a week ago; 337 Pittsfield households are in quarantine. It was 276 a week ago.
WESTERN MASS. PICTURE: The case totals (and death counts) in neighboring counties: Franklin, up 9 to 2,330 (110); Hampshire, up 10 to 8,642 (284); Hampden, up 147 to 47,939 (up 1 to 1,469).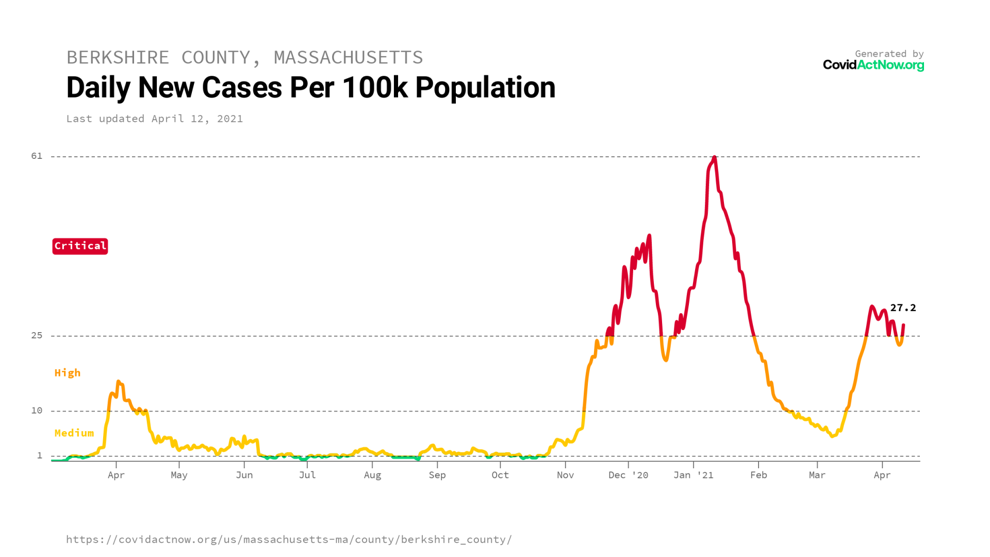 HOSPITAL CHECK: Berkshire Medical Center reported caring for 8 COVID-19 patients, up from 6 a week ago and 3 a month ago; no cases were reported at Fairview Hospital.
Statewide, 699 people are hospitalized, down from 707 a week ago. Of those hospitalized, 162 are in ICU and 102 are on ventilators.
Since the start of the year, hospitalizations have decreased significantly in Massachusetts. But they are up a bit over the last month. On Jan. 1, the seven-day average number of hospitalized patients was 2,231.6. While it is now 714.4 patients, it hit a low of 599 patients in mid-March, according to the DPH.
WIDER WORLD OF COVID: Global cases top 136,385,398, with 2,941,212 deaths, according to data provided by Johns Hopkins University. The U.S. has seen at least 31,259,849 cases and 562,500 deaths.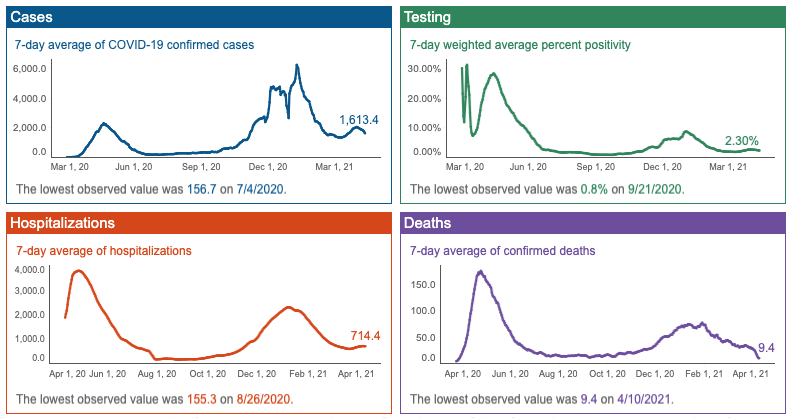 LEADING INDICATORS: The DPH provides the following statistics as indicators in the fight against coronavirus infection. Monday's figures:
– Seven-day average of new confirmed cases: 1,613. That is down from 1,579 on Feb. 15.
– Seven-day weighted average of positive test rate: 2.3. That is up from 2.19 on Feb. 15.
– Seven-day average of number of COVID-19 patients in hospitals: 714. That is down from 1,258 on Feb. 15.
– Seven-day average of COVID-19 deaths: 9.4. That is down from 38.9 on Feb. 15.
HOLY CROSS DEALS WITH OUTBREAK: Students enrolled at the College of the Holy Cross in Worcester faced mandatory COVID-19 tests Monday or Tuesday of this week due to dozens of new cases linked to the more infectious variants of the disease. The college canceled in-person classes and athletics last week. Officials say they saw more than 40 cases in the past week, with 130 people in isolation or quarantine, a situation "worse than any we have seen all semester," an official said. The transmission has been traced to outdoor gatherings and Easter travel. Last Sunday's Mass was held by streaming only.
AT THE COLLEGES: Local colleges report the following number of cases:
JUST THE FAQS: The Berkshire Eagle is regularly updating answers to frequently asked questions about access to the COVID-19 vaccine. Visit the Vax FAQs in the Coronavirus section on the home page at berkshireeagle.com.
COVID-19 WEBSITE AND INFOLINE: For information on vaccines and to schedule an appointment, when you are eligible, visit getvaccinatedberkshires.org.
INFORMATION ON TESTING: "Stop the Spread" testing sites are open at three Berkshire Health Systems locations. Tests will be conducted for any reason, with the state picking up the cost. To schedule a test, call the toll-free hotline, 855-262-5465, from 8 a.m. to 4:30 p.m. daily.
Locations are: Pittsfield, 505 East St., St Luke's Square, adjacent to BHS Urgent Care Center; North Adams, 98 Church St., next to the city library; Great Barrington: 475 Main St. Tests can also be obtained through CVS by filling out a form online.
JOIN US: Quality local journalism, like you find in The Checkup, needs your support. When you and your family subscribe to us, that's the fuel we need to keep reporting the essential news you want. Join us. Help us build our community. We are offering a 30-day free trial to readers of The Checkup.
How can we make The Checkup better or more informative? Email us at lparnass@berkshireeagle.com.