SCHOOL CASES: Districts reported a record high number of COVID-19 cases for the week ending Wednesday, the first full week after the state ordered elementary schools to return to in-person learning.
The 1,279 new cases reported include 1,095 among students and 184 among staff, the Department of Elementary and Secondary Education said in its weekly report. An estimated 650,000 students and 125,000 staff accessed school buildings in that period.
That case total surpassed the 1,045 recorded in the week ending March 31, when 801 student cases and 244 staff cases were reported among roughly 575,000 and 85,000 staff with access to buildings.
In March, Gov. Charlie Baker had declared debates over the safety of in-person learning "pretty much over."
An estimated 90 percent of elementary schools were offering full-time learning in classrooms as of April 5, and the state has asked middle schools to return to in-person learning by April 28. Parents, however, can hold their students out of in-person learning, and the families of more than 250 students in Pittsfield opted out.
In Berkshire County, Pittsfield has seen the most cases tied to schools, with 19 student cases and five staff cases reported by the state for the week ending Wednesday.
BY THE NUMBERS: Berkshire County saw 34 new COVID-19 cases as of Friday, for a new total of 6,023 cases, the state Department of Public Health said. To date, 282 people in the county have died of COVID-19. A week ago, the death total was 281 and the case total was 5,809. A month ago, the death total was 267 and the case total was 5,012.
The DPH said 13 new deaths were reported in Massachusetts, pushing the statewide total to 17,100. Confirmed cases rose 1,962 to 628,512.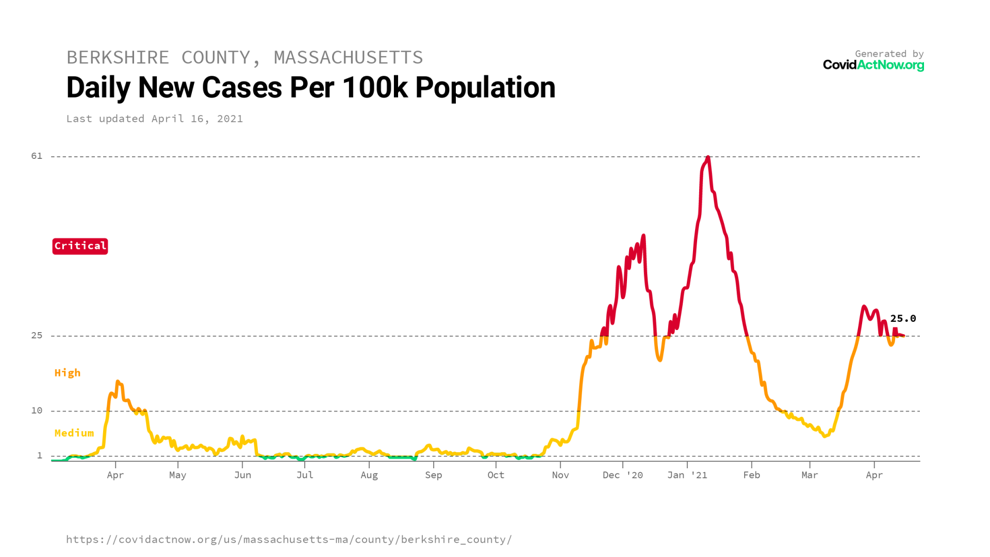 NUMBER OF ACTIVE CASES: 35,100 statewide, compared to 35,475 a week ago; 691 active cases in Pittsfield, compared to 597 a week ago; 368 Pittsfield households are in quarantine. It was 291 a week ago.
WESTERN MASS. PICTURE: The case totals (and death counts) in neighboring counties: Franklin, up 12 to 2,360 (up 1 to 111); Hampshire, up 26 to 8,728 (up 2 to 286); Hampden, up 156 to 48,673 (up 2 to 1,476).
TRACKING VARIANTS: Through the federal American Rescue Plan Act, Massachusetts will receive over $4.68 million next month aimed at bolstering efforts to track COVID-19 variants in the state.
Three of the five "variants of concern" as classified by the Centers for Disease Control and Prevention have been identified in Massachusetts. Those variants are thought to be more contagious or more severe than previous strains.
While only 1.4 percent of COVID-19 cases in the state go through genomic sequencing to determine what strain was responsible for infection, experts believe sequencing for 5 percent of cases would be necessary to track variants with confidence.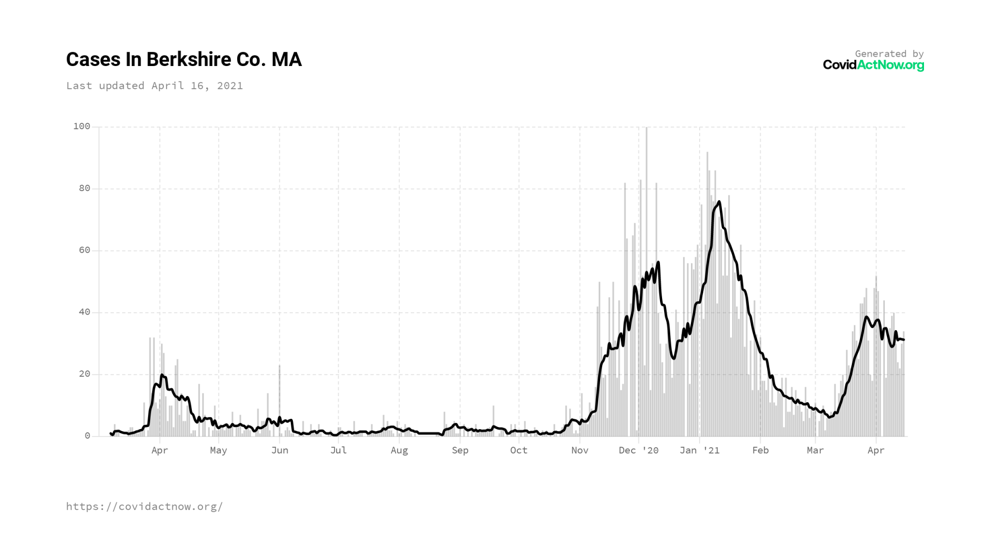 The funds headed to Massachusetts are part of the first $240 million wave of the $1 billion for sequencing in the American Rescue Plan Act.
HOSPITAL CHECK: Berkshire Medical Center reported caring for 10 COVID-19 patients, while it cared for five people a week ago and four people a month ago; no cases were reported at Fairview Hospital.
Statewide, 699 people are hospitalized. Of those hospitalized, 164 are in ICU and 98 are on ventilators.
WIDER WORLD OF COVID: Global cases top 139,501,416, with 2,992,237 deaths, according to data provided by Johns Hopkins University. The U.S. has seen at least 31,563,546 cases and 566,067 deaths.
LEADING INDICATORS: The DPH provides the following statistics as indicators in the fight against coronavirus infection. Friday's figures:
– Seven-day average of new confirmed cases: 1,359.1. That is down from 1,579 on Feb. 15.
– Seven-day weighted average of positive test rate: 2.28 percent. That is up from 2.19 percent on Feb. 15.
– Seven-day average of number of COVID-19 patients in hospitals: 703.4. That is down from 1,258 on Feb. 15.
– Seven-day average of COVID-19 deaths: 8.1. That is down from 38.9 on Feb. 15.
AT THE COLLEGES: Local colleges report the following number of cases in the past week of reported testing:
JUST THE FAQS: The Berkshire Eagle is regularly updating answers to frequently asked questions about access to the COVID-19 vaccine. Visit the Vax FAQs in the Coronavirus section on the home page at berkshireeagle.com.
COVID-19 WEBSITE AND INFOLINE: For information on vaccines and to schedule an appointment, when you are eligible, visit getvaccinatedberkshires.org. The city of Pittsfield is providing access by phone to weekly updates about access to the novel coronavirus vaccine in the city and in Berkshire County. A recorded message is posted at 413-449-5575.
INFORMATION ON TESTING: "Stop the Spread" testing sites are open at three Berkshire Health Systems locations. Tests will be conducted for any reason, with the state picking up the cost. To schedule a test, call the toll-free hotline, 855-262-5465, from 8 a.m. to 4:30 p.m. daily.
Locations are: Pittsfield, 505 East St., St Luke's Square, adjacent to BHS Urgent Care Center; North Adams, 98 Church St., next to the city library; Great Barrington: 475 Main St. Tests can also be obtained through CVS by filling out a form online.
JOIN US: Quality local journalism, like you find in The Checkup, needs your support. When you and your family subscribe to us, that's the fuel we need to keep reporting the essential news you want. Join us. Help us build our community. We are offering a 30-day free trial to readers of The Checkup.
How can we make The Checkup better or more informative? Email us at lparnass@berkshireeagle.com.