VACCINE DOORS SWING WIDE OPEN: As of Monday, anyone 16 and over is eligible to receive a COVID-19 vaccine in Massachusetts, as the state Department of Public Health enters Phase 3 of its rollout plan.
Some teens, though, already qualified based on their medical histories, or, in rare cases, their occupations.
Meantime, officials with the local vaccination effort are reminding people that supplies of vaccines remain limited. The group provides early notice through posts to its website at least six hours ahead of the general release of appointments.
HERD ON THE STREET: As of the end of last week, Massachusetts was close to having 2 million adults fully vaccinated. That would put the state halfway to the state's goal, in terms of the number of people considered to have an immunity to the disease.
Yes, we're talking about the notion of "herd immunity," the point at which the virus, because it cannot find a host able to infect, goes into retreat. That's the theory.
The DPH said Friday that 1,957,581 people in Massachusetts have been fully vaccinated, citing figures as of Thursday. Of the 4,921,580 vaccine doses administered so far, 2,963,999 have been first doses of the Moderna or Pfizer shots, 1,756,466 have been the second and final doses of those vaccines, and 201,115 have been the single-shot Johnson & Johnson variety, according to the State House News Service.
Since December, the federal government has shipped 5,784,700 vaccine doses to Massachusetts. And the state has administered 85.1 percent of them.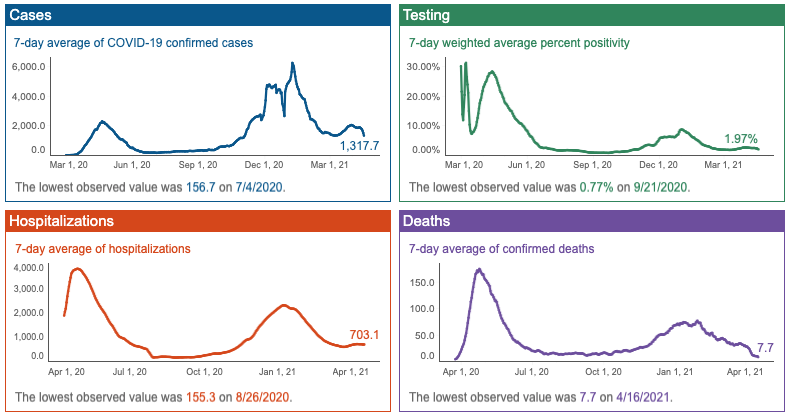 BY THE NUMBERS: Berkshire County saw no new COVID-19 deaths over the weekend, leaving the pandemic total at 282 deaths, with the confirmed case count up by 42 on Saturday and Sunday to 6,065, the state Department of Public Health said. A week ago, the death total was 281 and the case total was 5,879. On March 17, the death total was 267 and the case total was 5,040.
The DPH said seven new deaths were reported in Massachusetts, pushing the statewide total to 17,117. Confirmed cases rose 1,265 to 631,471.
NUMBER OF ACTIVE CASES: 34,553 statewide, down from 36,466 a week ago.
COVID-19 CASES, AND DEATHS, DROP IN NURSING HOMES: December and January were hellish months for caregivers and residents in nursing homes, including in Berkshire County. For all the grief encountered, that scale of losses now, finally, appears to be a thing of the past.
An analysis by the AARP finds that COVID-19 cases and deaths in Massachusetts nursing homes fell in the last week of February and the first three weeks of March. The group compared that four-week period with the one before.
Specifically: The death rate dropped from 0.79 per 100 residents to 0.10. Cases also fell, from 2.4 per 100 among both staff and residents to 0.34. The backdrop: a widespread vaccination campaign involving nursing home residents, and the people who work there. And the earlier deaths of some of the institutions' most medically vulnerable patients.
WESTERN MASS. PICTURE: The case totals (and death counts) in neighboring counties: Franklin, up 8 to 2,379 (111); Hampshire, up 17 to 8,771 (up 1 to 288); Hampden, up 99 to 48,991 (up 1 to 1,480).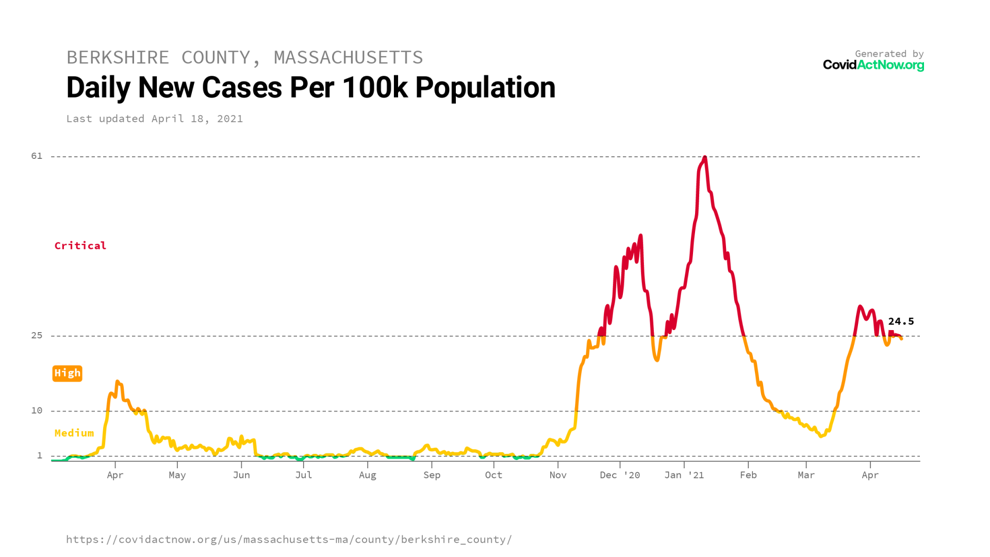 HOSPITAL CHECK: Berkshire Medical Center does not report COVID-19 patient numbers on the weekend. Statewide, 701 people are hospitalized, up slightly from 698 a week ago. Of those hospitalized, 162 are in ICU and 103 are on ventilators.
WIDER WORLD OF COVID: Global cases top 141,015,440, with 3,014,805 deaths, according to data provided by Johns Hopkins University. The U.S. has seen at least 31,666,205 cases and 567,198 deaths.
LEADING INDICATORS: The DPH provides the following statistics as indicators in the fight against coronavirus infection. Sunday's figures:
– Seven-day average of new confirmed cases: 1,318. That is down from 1,579 on Feb. 15.
– Seven-day weighted average of positive test rate: 1.97. That is down from 2.19 on Feb. 15.
– Seven-day average of number of COVID-19 patients in hospitals: 703. That is down from 1,258 on Feb. 15.
– Seven-day average of COVID-19 deaths: 7.7. That is substantially down from 38.9 on Feb. 15.
JUST THE FAQS: The Berkshire Eagle is regularly updating answers to frequently asked questions about access to the COVID-19 vaccine. Visit the Vax FAQs in the Coronavirus section on the home page at berkshireeagle.com.
COVID-19 WEBSITE AND INFOLINE: For information on vaccines and to schedule an appointment, when you are eligible, visit getvaccinatedberkshires.org.
INFORMATION ON TESTING: "Stop the Spread" testing sites are open at three Berkshire Health Systems locations. Tests will be conducted for any reason, with the state picking up the cost. To schedule a test, call the toll-free hotline, 855-262-5465, from 8 a.m. to 4:30 p.m. daily. Locations are: Pittsfield, 505 East St., St Luke's Square, adjacent to BHS Urgent Care Center; North Adams, 98 Church St., next to the city library; Great Barrington: 475 Main St. Tests can also be obtained through CVS by filling out a form online.
JOIN US: Quality local journalism, like you find in The Checkup, needs your support. When you and your family subscribe to us, that's the fuel we need to keep reporting the essential news you want. Join us. Help us build our community. We are offering a 30-day free trial to readers of The Checkup.
How can we make The Checkup better or more informative? Email us at lparnass@berkshireeagle.com.