BERKSHIRE MALL THEATER TO REOPEN MAY 21: Movies will return to the Regal Cinema at the Berkshire Mall in about a month, the national company that owns the site says. The Associated Press reports that Regal, the second-largest theater group in the U.S., closed early on in the pandemic.
Though it reopened theaters in some cities for a spell in 2020, it was a dark winter for movies. Regal said Wednesday its Fenway theater will open Friday. Other theaters will open May 7, with the Lanesborough theater to come back online May 21.
People will be required to wear face masks in most spaces, except to eat and drink in the theaters. The company's reservation system will, reportedly, keep two empty seats between groups, or one seat between groups in theaters with recliners, to maintain social distancing. Group sizes will be capped in accordance with local rules.
BY THE NUMBERS: It has been a full week since anyone died of COVID-19 in Berkshire County. The county saw no new COVID-19 deaths as of Wednesday. The total of deaths to date in the pandemic holds at 282 in the county, with the confirmed case count up 30 to 6,125, the state Department of Public Health said. A week ago, the death total was 282 and the case total was 5,955. A month ago, the death total was 265 and the case total was 4,978. The DPH said 13 new deaths were reported in Massachusetts, pushing the statewide total to 17,151. Confirmed cases rose 1,370 to 635,045.
NUMBER OF ACTIVE CASES: 32,134 statewide, compared to 35,786 a week ago; 742 active cases in Pittsfield, compared to 676 a week ago; 400 Pittsfield households are in quarantine. It was 354 a week ago.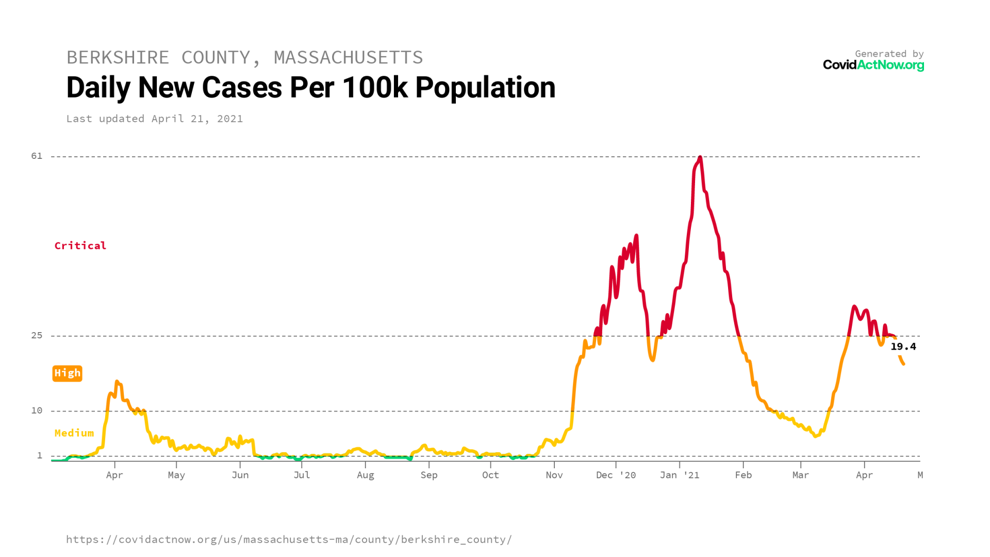 NEW QUARANTINE RULES IN SCHOOLS: The State House News Service reports that public schools in Massachusetts got new guidance on quarantines this week.
A Tuesday update to the COVID-19 guidance for schools revises protocols for responding to exposure to someone who has tested positive in classrooms or on a school bus. Under the updated version, close contacts exposed to a COVID-positive individual in a classroom or on a bus while both individuals wore masks do not have to quarantine unless they were within three feet of that individual for a total of 15 minutes during a 24-hour period. The close contacts still need to quarantine if masks were not worn by both persons during the exposure, or if someone is identified as a close contact in other settings like sports, extracurricular activities or lunch. Close contacts who are fully vaccinated also do not need to quarantine as long as they do not have symptoms. During the week from April 8-14, 1,095 new student cases of COVID-19 and 184 new staff cases were reported by Massachusetts schools.
WESTERN MASS. PICTURE: The case totals (and death counts) in neighboring counties: Franklin, up 6 to 2,394 (up 1 to 112); Hampshire, up 14 to 8,808 (up 1 to 290); Hampden, up 122 to 49,429 (up 1 to 1,483).
HOSPITAL CHECK: Berkshire Medical Center reported caring for 2 COVID-19 patients, down from 7 a week ago and 3 on March 12; no cases were reported at Fairview Hospital. Statewide, 686 people are hospitalized, compared to 711 a week ago. Of those hospitalized, 156 are in ICU and 92 are on ventilators.
WIDER WORLD OF COVID: Global cases top 143,335,581, with 3,050,464 deaths, according to data provided by Johns Hopkins University. The U.S. has seen at least 31,852,379 cases and 569,311 deaths.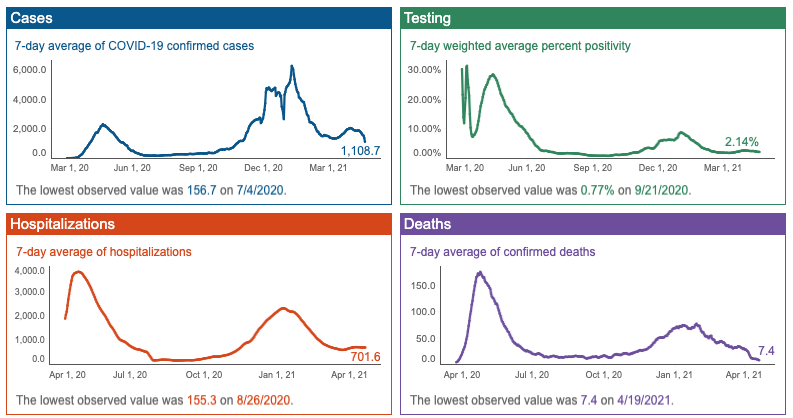 LEADING INDICATORS: The DPH provides the following statistics as indicators in the fight against coronavirus infection. Wednesday's figures:
– Seven-day average of new confirmed cases: 1,109. That is down from 1,579 on Feb. 15.
– Seven-day weighted average of positive test rate: 2.14. That is down from 2.19 on Feb. 15.
– Seven-day average of number of COVID-19 patients in hospitals: 701.6. That is down from 1,258 on Feb. 15.
– Seven-day average of COVID-19 deaths: 7.4. That is down from 38.9 on Feb. 15.
JUST THE FAQS: The Berkshire Eagle is regularly updating answers to frequently asked questions about access to the COVID-19 vaccine. Visit the Vax FAQs in the Coronavirus section on the home page at berkshireeagle.com.
COVID-19 WEBSITE AND INFOLINE: For information on vaccines and to schedule an appointment, when you are eligible, visit getvaccinatedberkshires.org.
INFORMATION ON TESTING: "Stop the Spread" testing sites are open at three Berkshire Health Systems locations. Tests will be conducted for any reason, with the state picking up the cost. To schedule a test, call the toll-free hotline, 855-262-5465, from 8 a.m. to 4:30 p.m. daily.
Locations are: Pittsfield, 505 East St., St Luke's Square, adjacent to BHS Urgent Care Center; North Adams, 98 Church St., next to the city library; Great Barrington: 475 Main St. Tests can also be obtained through CVS by filling out a form online.
JOIN US: Quality local journalism, like you find in The Checkup, needs your support. When you and your family subscribe to us, that's the fuel we need to keep reporting the essential news you want. Join us. Help us build our community. We are offering a 30-day free trial to readers of The Checkup.
How can we make The Checkup better or more informative? Email us at lparnass@berkshireeagle.com.