A CALL TO HASTEN RETURN TO 'NORMAL' ACTIVITY: The right-leaning Massachusetts Fiscal Alliance criticized Gov. Charlie Baker late last week for not saying when Massachusetts will end COVID-19 restrictions. The group noted Rhode Island Gov. Daniel McKee's call for that state to remove business capacity limits by Memorial Day weekend. "Even Rhode Island gets it. Their state is just a beach with two U.S. Senators," MassFiscal spokesperson Paul Diego Craney said. "As more people get vaccinated, our neighbors in New England have begun taking steps at getting back to normal."
New Hampshire Gov. Chris Sununu dropped his state's mask mandate for those in public, and Connecticut officials also unveiled plans to phase out business restrictions by May 19. Baker said he wants people to stay focused on vigilance while vaccinations continue and said he might "have some stuff to say before the end of April."
BY THE NUMBERS: Berkshire County saw no new COVID-19 deaths as of Sunday, leaving a total of 282 deaths, with the confirmed case count up 40 over the weekend (18 on Saturday, 22 on Sunday) to 6,204, the state Department of Public Health said. A week ago, the death total was the same, 282, and the case total was 6,055.
The DPH said 6 new deaths were reported in Massachusetts, pushing the statewide total to 17,199. Confirmed cases rose 1,085 to 640,399.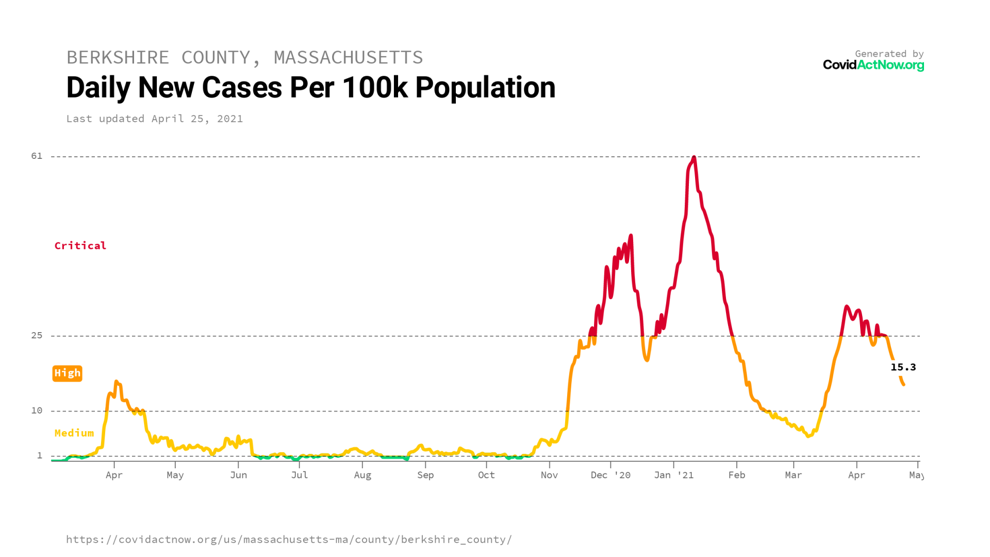 POLITO'S TURN COMES: The state's lieutenant governor, Karyn Polito, is young enough to have had to wait to get her COVID-19 vaccine. She was inoculated Friday at Worcester State University's wellness center. Polito is 54. Last week was the first time people under age 55 — excluding those who had qualified because of their job or a medical condition — became eligible to book vaccine appointments in Massachusetts. Gov. Charlie Baker got his first vaccine dose, a Pfizer shot, at the Hynes Convention Center April 6.
NUMBER OF ACTIVE CASES: 29,563 statewide, compared to 34,553 a week ago.
WESTERN MASS. PICTURE: The case totals (and death counts) in neighboring counties: Franklin, up 9 to 2,427 (112); Hampshire, up 14 to 8,896 (290); Hampden, up 114 to 50,020 (up 2 to 1,487).
HOSPITAL CHECK: Berkshire Medical Center does not updates its COVID-19 patient census on the weekend. Statewide, 641 people are hospitalized, down from 701 a week ago. Of those hospitalized, 152 are in ICU and 96 are on ventilators.
WIDER WORLD OF COVID: Global cases top 146,726,821, with 3,103,617 deaths, according to data provided by Johns Hopkins University. The U.S. has seen at least 32,073,423 cases and 572,192 deaths.
STATE GETS PAT ON BACK FROM WHITE HOUSE: The vaccination campaign in Massachusetts caught the attention of a top White House official on Friday, who pointed to the Bay State and a handful of others as examples of some of the highest vaccination rates in the country.
Andy Slavitt, a White House COVID-19 adviser, noted in a Friday morning tweet that Massachusetts and seven other states — New Hampshire, Connecticut, New Mexico, Maine, New Jersey, Vermont and Hawaii — have administered at least one shot to 60 percent or more of their adults.
All eight, Slavitt said, "have turned the corner on the number of cases & hospitalizations." Through Friday, more than 2.23 million adults in Massachusetts have been fully vaccinated with both doses of the Pfizer or Moderna vaccine or the single-shot Johnson & Johnson option, representing slightly more than 40 percent of the state's adult population.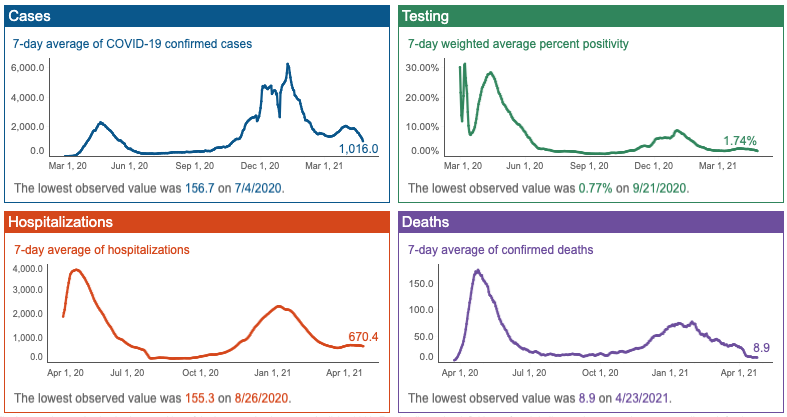 LEADING INDICATORS: The DPH provides the following statistics as indicators in the fight against coronavirus infection. Sunday's figures:
– Seven-day average of new confirmed cases: 1,016. That is down from 1,579 on Feb. 15.
– Seven-day weighted average of positive test rate: 1.74. That is down from 2.19 on Feb. 15.
– Seven-day average of number of COVID-19 patients in hospitals: 670. That is down from 1,258 on Feb. 15.
– Seven-day average of COVID-19 deaths: 8.9. That is down from 38.9 on Feb. 15.
JUST THE FAQS: The Berkshire Eagle is regularly updating answers to frequently asked questions about access to the COVID-19 vaccine. Visit the Vax FAQs in the Coronavirus section on the home page at berkshireeagle.com.
COVID-19 WEBSITE AND INFOLINE: For information on vaccines and to schedule an appointment, when you are eligible, visit getvaccinatedberkshires.org.
INFORMATION ON TESTING: "Stop the Spread" testing sites are open at three Berkshire Health Systems locations. Tests will be conducted for any reason, with the state picking up the cost. To schedule a test, call the toll-free hotline, 855-262-5465, from 8 a.m. to 4:30 p.m. daily.
Locations are: Pittsfield, 505 East St., St Luke's Square, adjacent to BHS Urgent Care Center; North Adams, 98 Church St., next to the city library; Great Barrington: 475 Main St. Tests can also be obtained through CVS by filling out a form online.
JOIN US: Quality local journalism, like you find in The Checkup, needs your support. When you and your family subscribe to us, that's the fuel we need to keep reporting the essential news you want. Join us. Help us build our community. We are offering a 30-day free trial to readers of The Checkup.
Material from the State House News Service was included in this report. How can we make The Checkup better or more informative? Email us at lparnass@berkshireeagle.com.