WILL THERE BE A ROLLBACK? Still hundreds a day. But the 812 new COVID-19 cases reported Monday in Massachusetts is the smallest single-day total since early last November. With that as backdrop, Gov. Charlie Baker continued this week to raise expectations that he will roll back on restrictions.
"Stay tuned," he said Monday, when asked what he has in mind, in light of the fact that it's been reported the Biden administration may relax outdoor mask use requirements.
"We're going to make some additional announcements here in Massachusetts this week," Baker said. He declined to say more. CNN reported Monday that President Joe Biden plans to update the federal government's mask policy on Tuesday.
The 812 new cases announced Monday brought the state's total to 641,211 infections since last February. But, that total is the lowest since Nov. 2, when Massachusetts reported 725 new infections.
BY THE NUMBERS: No COVID-19 deaths were reported Monday in any of the state's four western counties. Berkshire County toll held at 282 deaths, where it has been since April 14, with the confirmed case count up 20 in a day to 6,224, the state Department of Public Health said. A week ago, the death total was the same and the case total was 6,079.
NUMBER OF ACTIVE CASES: 29,601 statewide, compared to 34,675 a week ago; 792 active cases in Pittsfield, compared to 691 a week ago; 434 Pittsfield households are in quarantine. It was 368 a week ago.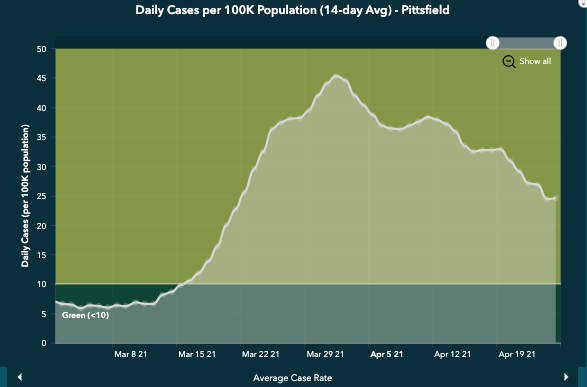 MCLA LEADER ON REQUIRED VACCINES: James Birge, president of Massachusetts College of Liberal Arts in North Adams and chair of the Massachusetts State University Council of Presidents, said he and other educators will require students to arrive fully vaccinated in the fall.
"Student safety and the safety of our communities remains at the forefront of our planning as we prepare to return to in-person learning and campus life in the fall," Birge said.
MCLA is joining with other public higher education institutions to take that stance, following earlier announcements by Northeastern University, Emerson College and the University of Massachusetts Amherst.
The policy on required vaccination will apply to undergraduate and graduate students who are attending in-person classes, conducting research on campus, living in residence halls or participating in campus life activities.
State university employees will also be expected to get vaccinated before the fall semester begins. Along with MCLA, the new rule applies to students at Bridgewater, Fitchburg, Framingham, Salem, Westfield and Worcester state universities, Massachusetts College of Art & Design, and the Massachusetts Maritime Academy.
Birge knows well what can happen when the virus is transmitted on a campus. MCLA had to send students home early this semester due to an outbreak.
WESTERN MASS. PICTURE: The case totals (and death counts) in neighboring counties: Franklin, up 5 to 2,432 (112); Hampshire, up 7 to 8,903 (290); Hampden, up 88 to 50,108 (1,487).
HOSPITAL CHECK: Berkshire Medical Center reported caring for 3 COVID-19 patients, down from 10 a week ago and 12 on March 24; no cases were reported at Fairview Hospital. Statewide, 625 people are hospitalized, down from 705 a week ago. Of those hospitalized, 154 are in ICU and 97 are on ventilators.
WIDER WORLD OF COVID: Global cases top 147,428,071, with 3,114,005 deaths, according to data provided by Johns Hopkins University. The U.S. has seen at least 32,113,705 cases and 572,605 deaths.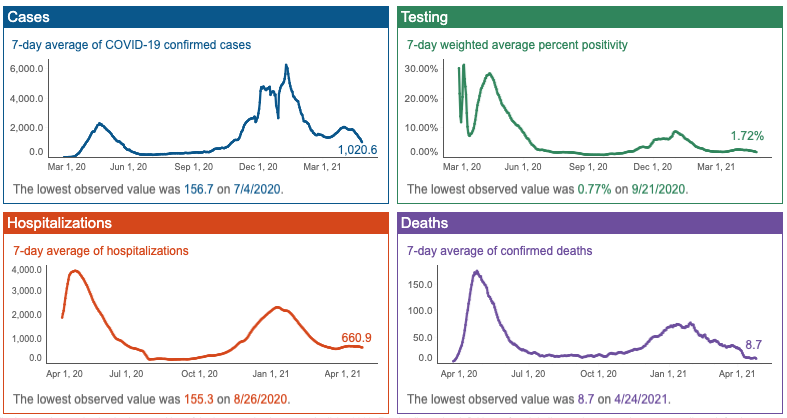 LEADING INDICATORS: The DPH provides the following statistics as indicators in the fight against coronavirus infection. Monday's figures:
– Seven-day average of new confirmed cases: 1,021. That is down from 1,579 on Feb. 15.
– Seven-day weighted average of positive test rate: 1.72 That is down from 2.19 on Feb. 15.
– Seven-day average of number of COVID-19 patients in hospitals: 661. That is down from 1,258 on Feb. 15.
– Seven-day average of COVID-19 deaths: 8.7. That is down from 38.9 on Feb. 15.
JUST THE FAQS: The Berkshire Eagle is regularly updating answers to frequently asked questions about access to the COVID-19 vaccine. Visit the Vax FAQs in the Coronavirus section on the home page at berkshireeagle.com.
COVID-19 WEBSITE AND INFOLINE: For information on vaccines and to schedule an appointment, when you are eligible, visit getvaccinatedberkshires.org.
INFORMATION ON TESTING: "Stop the Spread" testing sites are open at three Berkshire Health Systems locations. Tests will be conducted for any reason, with the state picking up the cost. To schedule a test, call the toll-free hotline, 855-262-5465, from 8 a.m. to 4:30 p.m. daily.
Locations are: Pittsfield, 505 East St., St Luke's Square, adjacent to BHS Urgent Care Center; North Adams, 98 Church St., next to the city library; Great Barrington: 475 Main St. Tests can also be obtained through CVS by filling out a form online.
JOIN US: Quality local journalism, like you find in The Checkup, needs your support. When you and your family subscribe to us, that's the fuel we need to keep reporting the essential news you want. Join us. Help us build our community. We are offering a 30-day free trial to readers of The Checkup.
Material from the State House News Service was included in this report. How can we make The Checkup better or more informative? Email us at lparnass@berkshireeagle.com.