JUST WONDERING DEPARTMENT: Readers, does this seem like an adequate punishment for a false business claim that put human health at risk?
– WHAT HE DID: A Quincy man sold lanyards that he falsely claimed would protect buyers against viruses during the COVID-19 pandemic.
– HOW DID HE DO IT? Federal prosecutors said Jiule Lin, 38, began advertising card-shaped devices to be worn as a lanyard on eBay in March 2020 with "the explicit claim that the product would protect the buyer or wearer of the product from viruses or bacteria, stating that the product's main ingredient was chlorine dioxide and showed images of the device's purported removal of bacteria, germs and viruses."
– WHAT IS THAT STUFF? The product, Toamit Virus Shut Out, was on the radar of federal authorities throughout 2020 and Lin is not the first person sentenced for selling the products. "The shut out devices claim efficacy against Corona virus strains and often contain the hazardous pesticide Chlorine Dioxide, a pesticide that can leach into the skin on contact, cause breathing issues, and lead to additional health concerns for the wearer. The shutout devices often lead to a false sense of security and in no way protects the bearer from the Coronavirus," U.S. Customs and Border Protection wrote in a September press release. The group had seized 10,000 of the lanyards.
-- WHAT HE GOT: Lin pleaded guilty to one count of distribution and sale of an unregistered pesticide. He was sentenced to one year of probation and fined $1,500.
BY THE NUMBERS: Berkshire County saw no new COVID-19 deaths as of Wednesday, leaving the total at 282 for the pandemic, with the confirmed case count up in the last day by 27 to 6,253, the state Department of Public Health said. A week ago, the death total was the same, 282, and the case total was 6,125.
The DPH said 12 new deaths were reported in Massachusetts, pushing the statewide total to 17,227. Confirmed cases rose 1,392 to 643,428.

NUMBER OF ACTIVE CASES: 27,321 statewide, compared to 32,134 a week ago.
ARTS ECONOMY REVIEW TO BEGIN: A commission created to recommend strategies for the recovery of the state's cultural and creative sectors will meet for the first time next week as it works toward a June 30 deadline for submitting its work.
Created under last year's economic development law, the panel is led by Tourism, Arts and Cultural Development Committee Chairs Sen. Ed Kennedy and Rep. Carole Fiola. The commission plans to hold virtual hearings every other Tuesday at 1 p.m. through the end of June, starting May 4. Next week's meeting will include presentations from commission members regarding their priorities and top concerns, the State House News Service reported.
The Berkshires are represented by A.J. Pietrantone of Jacob's Pillow. Another member from Western Massachusetts is Springfield poet laureate Magdalena Gomez. Others are Massachusetts Cultural Council executive director Michael Bobbit and MassCreative executive director Emily Ruddock, and Aminah Pilgrim, whom the commission described as a "Humanist, artist, author, community organizer and award-winning educator."
WESTERN MASS. PICTURE: The case totals (and death counts) in neighboring counties: Franklin, up 8 to 2,443 (112); Hampshire, up 12 to 8,917 (290); Hampden, up 158 to 50,351 (up 2 to 1,489).
HOSPITAL CHECK: Berkshire Medical Center reported caring for 7 COVID-19 patients, up from 2 a week ago and down from 16 on March 29; no cases were reported at Fairview Hospital. Statewide, 594 people are hospitalized, compared to 686 a week ago. Of those hospitalized, 153 are in ICU and 89 are on ventilators.
WIDER WORLD OF COVID: Global cases top 149,036,962, with 3,141,143 deaths, according to data provided by Johns Hopkins University. The U.S. has seen at least 32,214,382 cases and 574,156 deaths.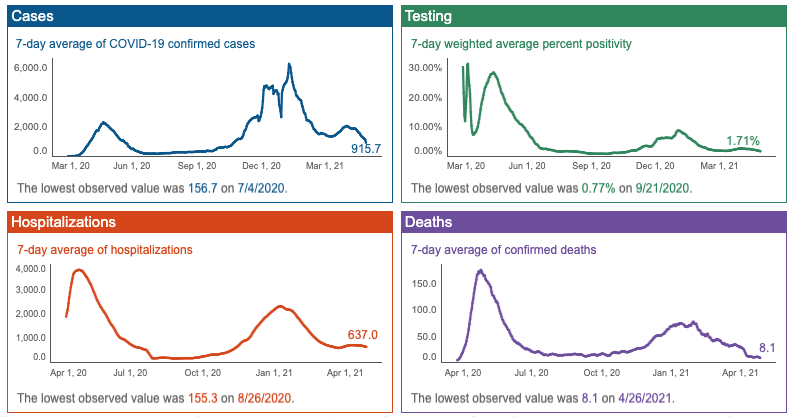 LEADING INDICATORS: The DPH provides the following statistics as indicators in the fight against coronavirus infection. Wednesday's figures:
– Seven-day average of new confirmed cases: 916. That is down from 1,579 on Feb. 15.
– Seven-day weighted average of positive test rate: 1.71. That is down from 2.19 on Feb. 15.
– Seven-day average of number of COVID-19 patients in hospitals: 637. That is down from 1,258 on Feb. 15.
– Seven-day average of COVID-19 deaths: 8.1. That is down from 38.9 on Feb. 15.
AT THE COLLEGES: None of the local colleges reported any COVID-19 cases in the last week.
JUST THE FAQS: The Berkshire Eagle is regularly updating answers to frequently asked questions about access to the COVID-19 vaccine. Visit the Vax FAQs in the Coronavirus section on the home page at berkshireeagle.com.
COVID-19 WEBSITE AND INFOLINE: For information on vaccines and to schedule an appointment, when you are eligible, visit getvaccinatedberkshires.org.
INFORMATION ON TESTING: "Stop the Spread" testing sites are open at three Berkshire Health Systems locations. Tests will be conducted for any reason, with the state picking up the cost. To schedule a test, call the toll-free hotline, 855-262-5465, from 8 a.m. to 4:30 p.m. daily.
Locations are: Pittsfield, 505 East St., St Luke's Square, adjacent to BHS Urgent Care Center; North Adams, 98 Church St., next to the city library; Great Barrington: 475 Main St. Tests can also be obtained through CVS by filling out a form online.
JOIN US: Quality local journalism, like you find in The Checkup, needs your support. When you and your family subscribe to us, that's the fuel we need to keep reporting the essential news you want. Join us. Help us build our community. We are offering a 30-day free trial to readers of The Checkup.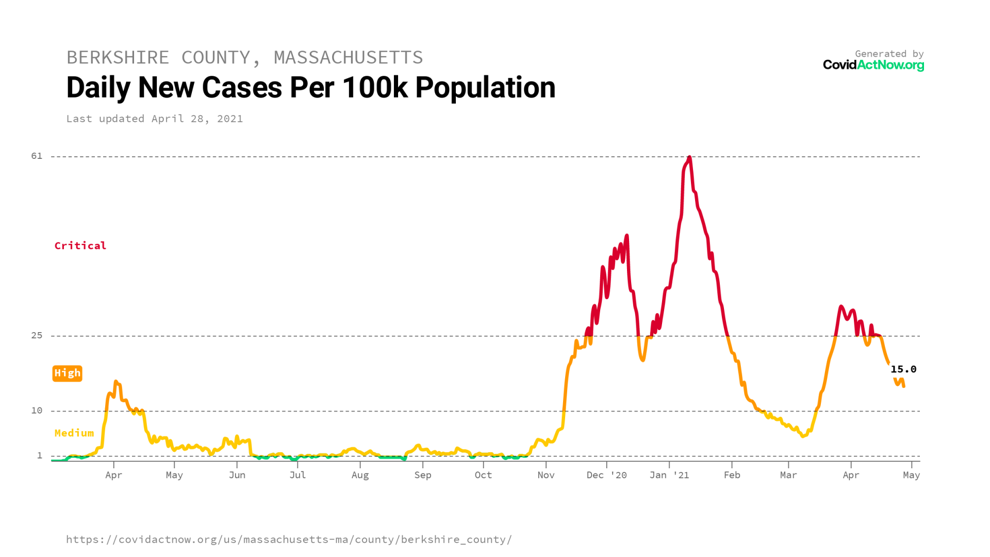 Material from the State House News Service may have been included in this report. How can we make The Checkup better or more informative? Email us at lparnass@berkshireeagle.com.