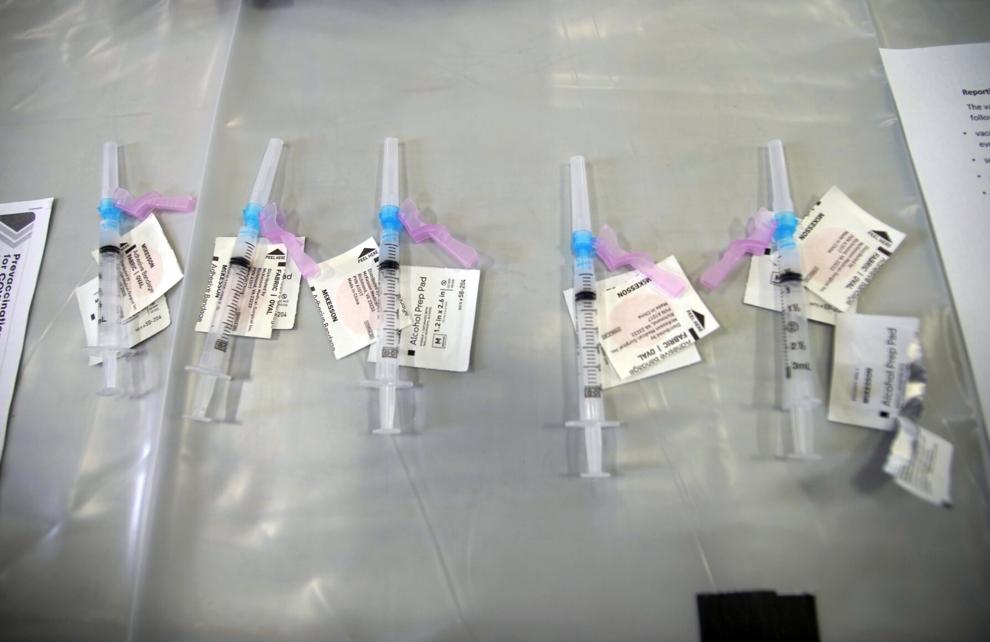 VACCINES ROLL ON, BUT DEMAND SOARS: As of 6 p.m. Monday, new vaccine appointments were listed for the Berkshires. Demand continues to outrun supply, so even as tens of thousands of people are vaccinated every day, more are foiled in efforts to secure appointments.
That's because more than a million people in Massachusetts became newly eligible Monday for COVID-19 vaccines, including people age 55 and older and those with one medical condition that puts them at higher risk.
On Sunday, clinics in the state administered more than 37,000 doses of vaccine, the state Department of Public Health said. That means that 3,941,555 vaccine doses have been administered, a one-day increase of 37,376 doses.
Among those newly eligible for vaccines in Massachusetts are people with substance use disorders, HIV infection, stroke or cerebrovascular disease, Type 1 diabetes, and dementia. Based on recommendations from the federal Centers for Disease Control and Prevention, those eligible also now include people with a body-mass index of 25, down from 30.
BY THE NUMBERS: Berkshire County saw one new COVID-19 death as of Monday, for a new total of 279 deaths, with the confirmed case count up 44 to 5,685, the DPH said. The data covers two days, since the DPH did not report figures on Sunday. A week ago, the death total was 275 and the case total was 4,893. A month ago, the death total was 262 and the case total was 5,441.
The DPH said 43 new deaths were reported in Massachusetts over the two days, pushing the statewide total to 16,981. Confirmed cases rose 2,912 to 607,967.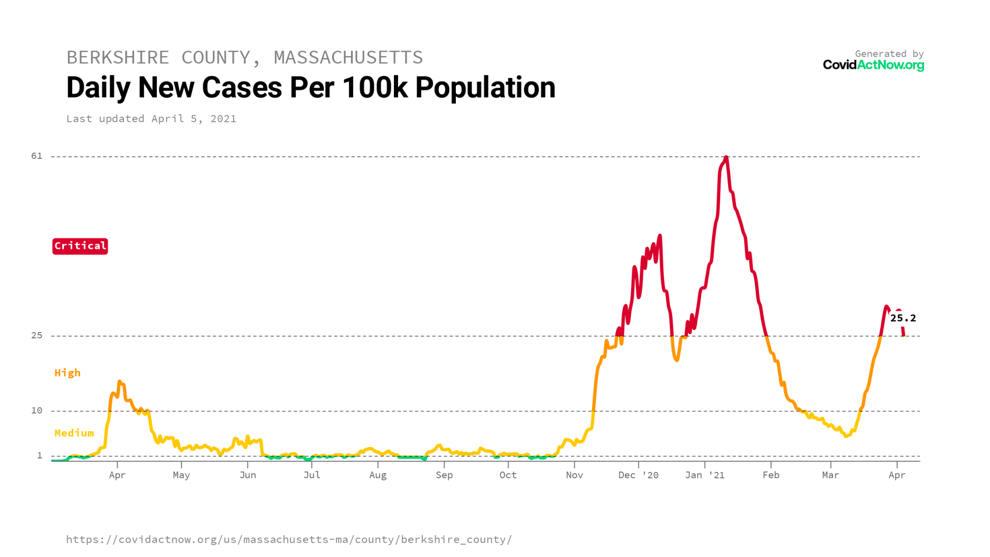 NUMBER OF ACTIVE CASES: 35,167 statewide, compared to 31,428 a week ago; 523 active cases in Pittsfield, compared to 406 a week ago; 276 Pittsfield households are in quarantine. It was 218 a week ago.
WESTERN MASS. PICTURE: The case totals (and death counts) in neighboring counties for the two days covered in Monday's DPH report: Franklin, up 30 to 2,275 (109); Hampshire, up 53 to 8,481 (284); Hampden, up 255 to 46,719 (up 3 to 1,458).
HOSPITAL CHECK: Berkshire Medical Center reported caring for 6 COVID-19 patients, down from 16 a week ago and 10 a month ago; no cases were reported at Fairview Hospital. Statewide, 707 people are hospitalized, up from 675 a week ago. Of those hospitalized, 163 are in ICU and 93 are on ventilators.
STATE LEADS ON BRAZILIAN VARIANT: The coronavirus variant first found in travelers from Brazil has been detected in Massachusetts more than anywhere else in the country, The Boston Globe reports. Most people with the variant live on Cape Cod. The newspaper reports that new data from the Broad Institute of MIT and Harvard showed 54 cases of the so-called P.1 variant were reported in Massachusetts.
WIDER WORLD OF COVID: Global cases top 131,593,180, with 2,856,632 deaths, according to data provided by Johns Hopkins University. The U.S. has seen at least 30,755,089 cases and 555,273 deaths.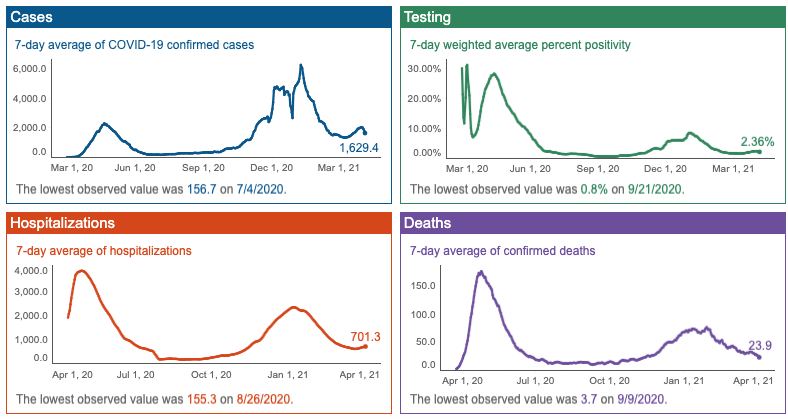 LEADING INDICATORS: The DPH provides the following statistics as indicators in the fight against coronavirus infection. Monday's figures:
– Seven-day average of new confirmed cases: 1,629. That is up from 1,579 on Feb. 15.
– Seven-day weighted average of positive test rate: 2.36. That is up from 2.19 on Feb. 15.
– Seven-day average of number of COVID-19 patients in hospitals: 701. That is down from 1,258 on Feb. 15.
– Seven-day average of COVID-19 deaths: 23.9. That is down from 38.9 on Feb. 15.
AT THE COLLEGES: Local colleges report the following number of cases:
JUST THE FAQS: The Berkshire Eagle is regularly updating answers to frequently asked questions about access to the COVID-19 vaccine. Visit the Vax FAQs in the Coronavirus section on the home page at berkshireeagle.com.
COVID-19 WEBSITE AND INFOLINE: For information on vaccines and to schedule an appointment, when you are eligible, visit getvaccinatedberkshires.org. The city of Pittsfield is providing access by phone to weekly updates about access to the novel coronavirus vaccine in the city and in Berkshire County. A recorded message is posted at 413-449-5575.
INFORMATION ON TESTING: "Stop the Spread" testing sites are open at three Berkshire Health Systems locations. Tests will be conducted for any reason, with the state picking up the cost. To schedule a test, call the toll-free hotline, 855-262-5465, from 8 a.m. to 4:30 p.m. daily.
Locations are: Pittsfield, 505 East St., St Luke's Square, adjacent to BHS Urgent Care Center; North Adams, 98 Church St., next to the city library; Great Barrington: 475 Main St. Tests can also be obtained through CVS by filling out a form online.
JOIN US: Quality local journalism, like you find in The Checkup, needs your support. When you and your family subscribe to us, that's the fuel we need to keep reporting the essential news you want. Join us. Help us build our community. We are offering a 30-day free trial to readers of The Checkup.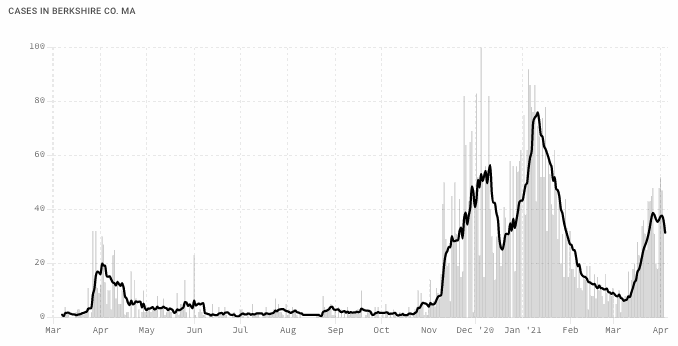 How can we make The Checkup better or more informative? Email us at lparnass@berkshireeagle.com.