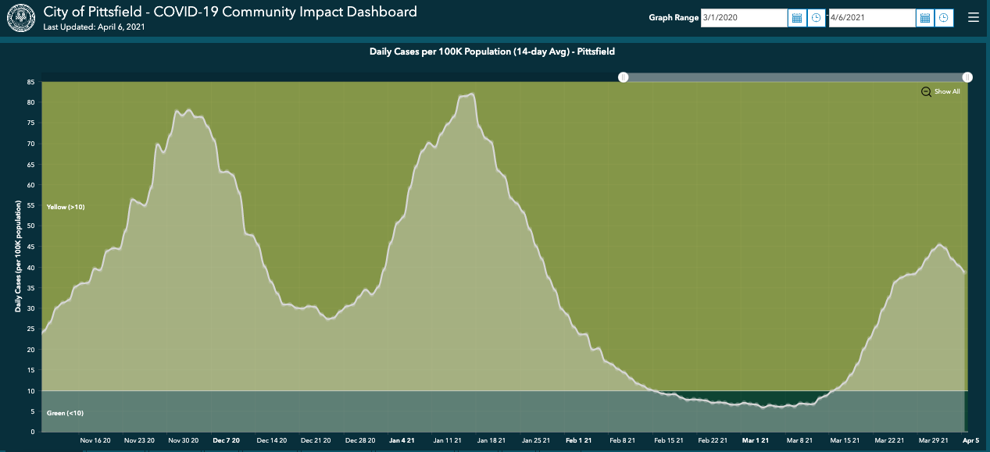 Gov. Charlie Baker had big news Tuesday for a vaccine-starved state: The federal government this week has not only steered 445,000 vaccine doses to the Massachusetts government itself, it allocated another 385,000 doses to community health centers, the retail pharmacy program and community vaccination centers.
That's a heap of vaccine, well more than the Bay State has been seeing recently. As of Tuesday, 1,530,080 people in Massachusetts are considered to be fully vaccinated against the coronavirus.
The shipment numbers are good news, given that one million more people became eligible for vaccines this week. But, Baker cautioned that the numbers won't stay that high.
The state's direct allocation included 198,000 first and second doses of the Pfizer vaccine, 138,000 first and second doses of the Moderna vaccine and about 109,000 doses of the single-shot Johnson & Johnson vaccine, the State House News Service reported.
Here's Baker's crystal ball on vaccines: "While we expect to see increased shipments of J&J in the weeks ahead, right now, this week's significant shipment should be thought of as sort of a one-time allocation."
BY THE NUMBERS: Berkshire County saw no new COVID-19 deaths as of Tuesday, leaving the total at 279 deaths, with the confirmed case count up 19 to 5,704, the state Department of Public Health said. A week ago, the death total was 275 and the case total was 5,459. A month ago, the death total was 262 and the case total was 4,895.
The DPH said 12 new deaths were reported in Massachusetts, pushing the statewide total to 16,993. Confirmed cases rose 1,566 to 609,533.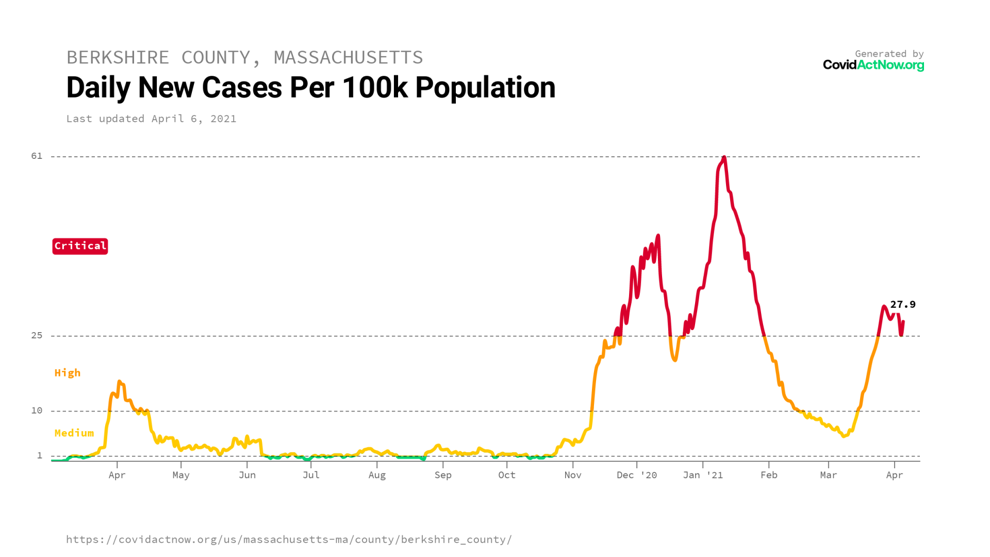 NUMBER OF ACTIVE CASES: 34,652 statewide, up from 31,298 a week ago; 535 active cases in Pittsfield, compared to 424 a week ago; 277 Pittsfield households are in quarantine. It was 218 a week ago.
WESTERN MASS. PICTURE: The case totals (and death counts) in neighboring counties: Franklin, up 2 to 2,277 (109); Hampshire, up 17 to 8,498 (284); Hampden, up 136 to 46,855 (up 1 to 1,459).
SKIP THE PROM, STATE SAYS: File this bit of "updated guidance" from the state Department of Elementary and Secondary Education in the bummer category.
The department is strongly recommending that Massachusetts high schools not hold proms this year.
Too much respiration, you know.
Here's DESE's rationale: "Prom is an inherently high-risk activity, as it is a social gathering that involves dancing and singing (both of which are activities with increased respiration), and also presents concerning opportunities for students to break health and safety protocols in a relaxed environment."
Schools that decide to let proms take place are being urged to do it after school ends, giving more time for vaccinations.
The state still hasn't said when high schools will be expected to return to in-person learning.
HOSPITAL CHECK: Berkshire Medical Center reported caring for 4 COVID-19 patients, down from 11 a week ago and 10 on March 5; no cases were reported at Fairview Hospital.
Statewide, 725 people are hospitalized, up from 711 a week ago. Of those hospitalized, 169 are in ICU and 97 are on ventilators.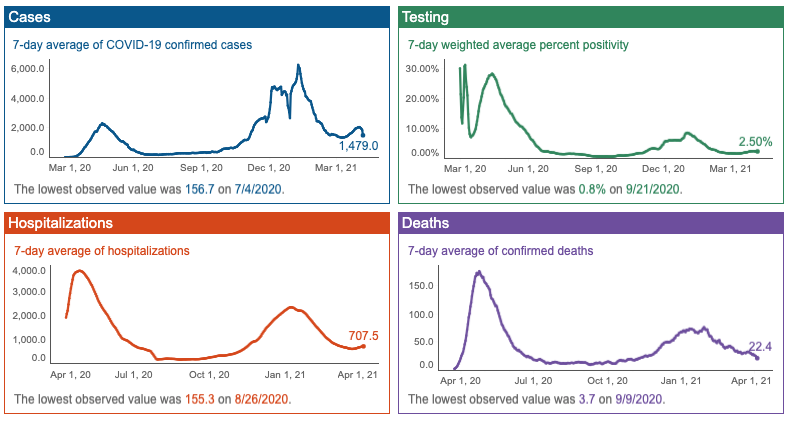 WIDER WORLD OF COVID: Global cases top 132,275,687, with 2,870,797 deaths, according to data provided by Johns Hopkins University. The U.S. has seen at least 30,844,434 cases and 556,489 deaths.
LEADING INDICATORS: The DPH provides the following statistics as indicators in the fight against coronavirus infection. Tuesday's figures:
– Seven-day average of new confirmed cases: 1,479. That is down from 1,579 on Feb. 15.
– Seven-day weighted average of positive test rate: 2.5. That is up from 2.19 on Feb. 15.
– Seven-day average of number of COVID-19 patients in hospitals: 707.5. That is down from 1,258 on Feb. 15.
– Seven-day average of COVID-19 deaths: 22.4. That is down from 38.9 on Feb. 15.
AT THE COLLEGES: Local colleges report the following number of cases:
JUST THE FAQS: The Berkshire Eagle is regularly updating answers to frequently asked questions about access to the COVID-19 vaccine. Visit the Vax FAQs in the Coronavirus section on the home page at berkshireeagle.com.
COVID-19 WEBSITE AND INFOLINE: For information on vaccines and to schedule an appointment, when you are eligible, visit getvaccinatedberkshires.org. The city of Pittsfield is providing access by phone to weekly updates about access to the novel coronavirus vaccine in the city and in Berkshire County. A recorded message is posted at 413-449-5575.
INFORMATION ON TESTING: "Stop the Spread" testing sites are open at three Berkshire Health Systems locations. Tests will be conducted for any reason, with the state picking up the cost. To schedule a test, call the toll-free hotline, 855-262-5465, from 8 a.m. to 4:30 p.m. daily.
Locations are: Pittsfield, 505 East St., St Luke's Square, adjacent to BHS Urgent Care Center; North Adams, 98 Church St., next to the city library; Great Barrington: 475 Main St. Tests can also be obtained through CVS by filling out a form online.
JOIN US: Quality local journalism, like you find in The Checkup, needs your support. When you and your family subscribe to us, that's the fuel we need to keep reporting the essential news you want. Join us. Help us build our community. We are offering a 30-day free trial to readers of The Checkup.
How can we make The Checkup better or more informative? Email us at lparnass@berkshireeagle.com.