With this daily feature, The Eagle runs down breaking local developments in the coronavirus crisis.
BY THE NUMBERS: Berkshire County's death toll was unchanged Friday at 66. The confirmed COVID-19 case count climbed 23 to 1,803, the state Department of Public Health said.
The DPH said 37 new deaths were reported in Massachusetts, pushing the statewide total to 10,674. Deaths including those listed as probably caused by COVID-19 is 10,910. Confirmed cases rose 5,192 to 237,456. The new cases came from 96,701 tests; the state's seven-day average positive test rate is now 5.44 percent, or 7.48 percent when leaving out tests from colleges and universities.
As of now, 4.6 percent of those infected with COVID-19 in Massachusetts have been killed by the disease.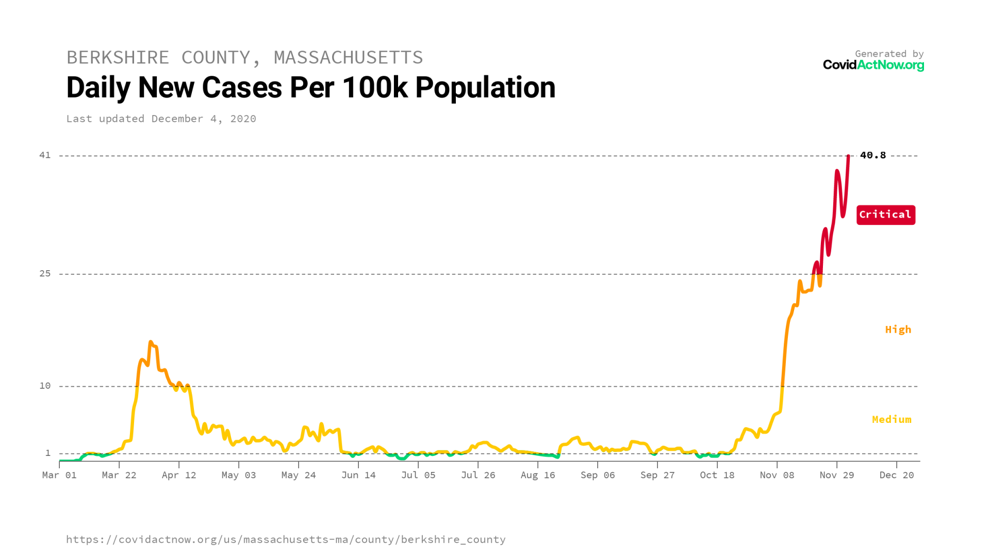 According to data provided by Johns Hopkins University, 169,809 people in Massachusetts with COVID-19 have recovered.
NUMBER OF ACTIVE CASES: 51,371 statewide
WESTERN MASS. PICTURE: The case totals (and death counts) in neighboring counties: Franklin, up 17 to 716 (76); Hampshire, up 42 to 2,492 (165); Hampden, up 388 to 17,551 (up 2 to 922).
BY THE NUMBERS, PART 2: In a report at week's end, the State House News Service offered this data-rich recap of the week: "Since last Friday, Massachusetts has confirmed 25,708 new cases of COVID-19 and announced 275 COVID-19 deaths, the state's seven-day average positive test rate has climbed 66 percent from 3.28 percent to 5.44 percent, 408 more people are hospitalized, and statewide hospital capacity has dropped from 35 percent to 20 percent of non-ICU beds and from 53 percent to 38 percent of ICU beds."
SITUATION AT HILLCREST: The number of confirmed infections at Hillcrest Commons Nursing and Rehabilitation Center in Pittsfield rose slightly in the latest report for both staff and residents. As of Friday at 7 p.m., Berkshire Healthcare Systems was reporting 132 active cases among residents (163 total in the pandemic), up from 129 in the previous report. The number of active cases among staff was 60 (67 total in the pandemic), up from 57.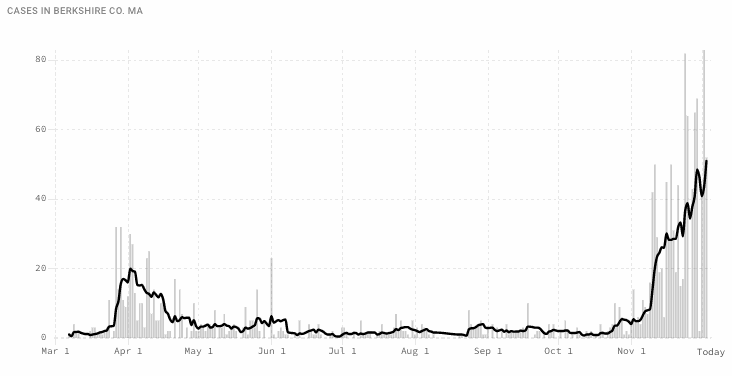 LONG-TERM CARE WATCH: As of Friday, 27,945 cases have been confirmed among residents and staff of long-term care facilities, up 77 since Thursday. In all, 402 facilities have had at least one confirmed case and have seen 6,858 deaths linked to COVID-19, a one-day increase of 15. Since the start of the pandemic, deaths in long-term care centers represent 64 percent of all those lost to the disease in Massachusetts.
BART WILL STICK TO REMOTE STUDY: Students at the Berkshire Arts & Technology (BART) Charter Public School will continue learning remotely through the end of the year. In a letter to families on Friday, Executive Director James C. White II wrote that local and regional COVID-19 numbers remain high enough to "exceed our threshold for reopening."
"Because of this, and with a view to what is happening in communities from which our students come to BART, we have decided that BART will pause all in-person learning and will remain with the School's fully remote model of teaching and learning from now through the end of December," he wrote. White said he anticipates a return to limited in-person teaching and learning in January. The school moved to all-remote learning in mid-November due to a rise of cases in Berkshire County.
MOUNT GREYLOCK ALSO REMOTE: The Eagle's Scott Stafford reports that Mount Greylock schools have shifted to all-remote learning until at least Dec. 14. In a dispatch Friday, Stafford said that Superintendent Jason "Jake" McCandless called for the Mount Greylock Middle/High School to be closed for in-person learning after a student tested positive for COVID-19. What's more, when the county's positivity rate in testing exceeded 3 percent, as it did this week, that triggered a previous agreement to shift to all-remote instruction.
HOSPITAL CHECK: As of Friday, Berkshire Medical Center reported caring for 34 COVID-19 patients, one more than Thursday. Fairview Hospital in Great Barrington had no cases. Meantime, BMC reported having tested 39,348 people, with 1,427 positive results since the pandemic began. There were 454 pending test results.
In the past seven days, BMC's positivity rate was 7.3 percent; in the past 14 days, 6.3 percent. And for all tests since March 1, the positivity rate is 3.6 percent.
Statewide, 1,394 people are hospitalized. Of those hospitalized, 278 are in ICU and 134 are on ventilators. Eighty percent of non-ICU hospital beds are full in Massachusetts, the DPH said. Available ICU capacity is at 38 percent on average, with notable differences around the state. The DPH said no ICU beds are available in the northeast part of the state, which half of ICU capacity is unused in western, central and southeastern Massachusetts.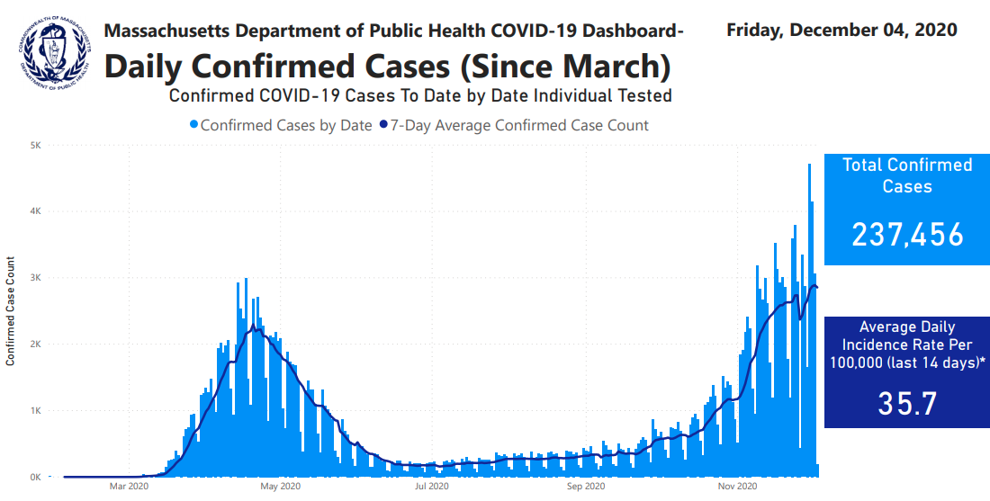 To date, 8,677,996 tests for the virus have been conducted in Massachusetts, according to Johns Hopkins.
WIDER WORLD OF COVID: Global cases top 65,686,172, with 1,514,549 deaths, according to data provided by Johns Hopkins University. The U.S. has seen 14,297,251 cases and 278,083 deaths.
LEADING INDICATORS: The DPH provides the following statistics as indicators in the fight against coronavirus infection. Each provides a number and then a change in either the count or "lowest observed value." Friday's figures:
– Seven-day average of new confirmed cases: 2,855, up 1,722 percent
– Seven-day weighted average of positive test rate: 5.4, up 603 percent
– Seven-day average of number of COVID-19 patients in hospitals: 1,210, up 679 percent
– Seven-day average of COVID-19 deaths: 33, up 209 percent
To contribute news to The Checkup, please email lparnass@berkshireeagle.com or call 413-588-8341.