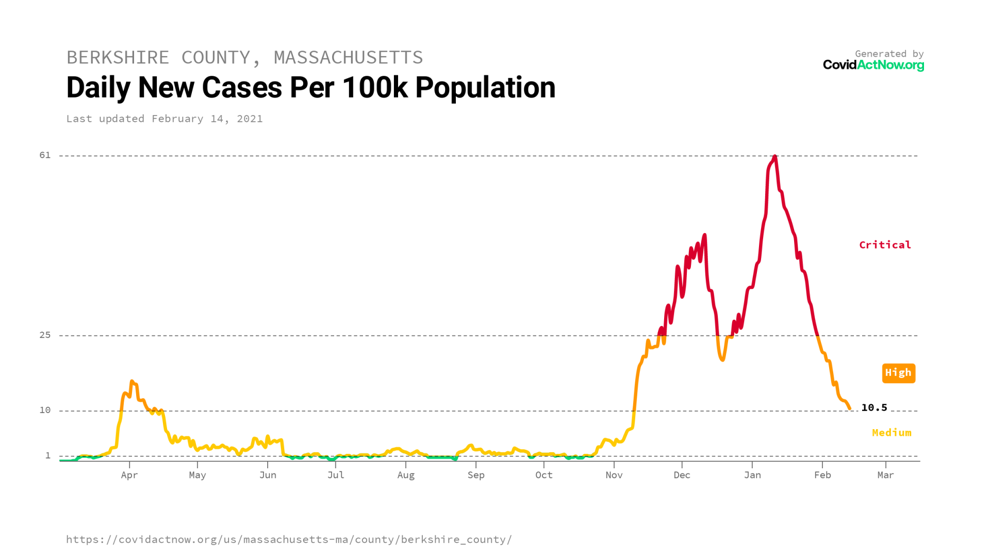 LOOKING BETTER: The COVID-19 picture continues to improve across the county and state. As a chart with today's Checkup illustrates, the number of new infections in Berkshire County as a percentage of population continues to drop.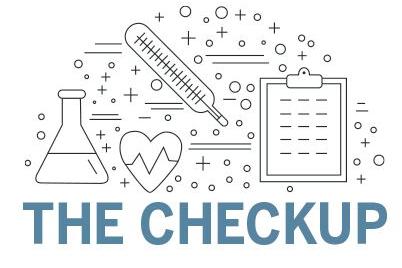 With this daily feature, The Eagle runs down breaking local developments in the coronavirus crisis.
In its weekly report Thursday, the state Department of Public Health showed that 43 fewer cities and towns are in the highest-risk category for transmission of the disease. That still left 110 municipalities coded red, but down from 153 in that category the week before, and down from 192 in the previous weekly report. The improving numbers come after a particularly deadly month in the Berkshires, which saw losses to the disease climb from 138 on Jan. 2 to 216 on Jan. 31 (and to 242 as of Sunday) Cases rose in that same time from 2,982 to 4,501.
The statewide improvement last week led the DPH not only to delist 43 former "red" zones but to downgrade the Bay State's status from red to yellow. Driving that: a drop in the 14-day average incidence rate from 48.9 cases per 100,000 in the prior reporting period to 38.5 cases as of Thursday.
BY THE NUMBERS: Berkshire County saw three new COVID-19 deaths over the week, with one reported Saturday and two on Sunday, for a new total of 242 deaths, with the confirmed case count up 21 over both days to 4,730, the state Department of Public Health said. A week ago, the death total was 230 and the case total was 4,639. A month ago, the death total was 178 and the case total was 3,807.
The DPH said 60 new deaths were reported in Massachusetts, pushing the statewide total to 15,176. Confirmed cases rose 1,820 to 529,255.
NUMBER OF ACTIVE CASES: 45,916 statewide.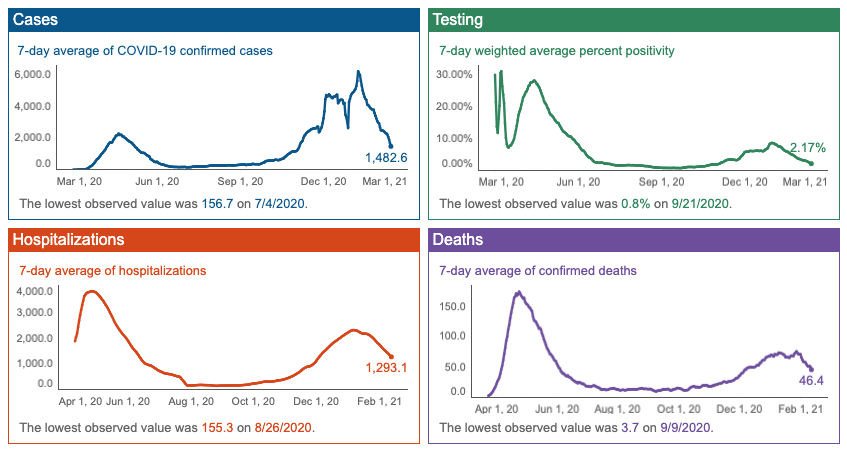 COVID-19 WEBSITE AND INFOLINE: For information on vaccines and to schedule an appointment, when you are eligible, visit getvaccinatedberkshires.org. People 75 and older are eligible now. No date has been set for the start of the next group that can receive vaccines: those 65 and older.
The city of Pittsfield is providing access by phone to regular updates about access to the novel coronavirus vaccine in the city and in Berkshire County. A recorded message is posted at 413-449-5575.
VACCINE INFORMATION: A new statewide call center is available to help people schedule vaccination appointments. The hours for the call line are 8:30 a.m. to 5 p.m. on weekdays. The helpline is available by calling 211. People in the Berkshires can continue to use local telephone numbers as well, calling councils on aging. Here is a recap of those numbers: Williamstown: 413-458-8250; Adams: 413-743-8333; North Adams: 413-662-3125; Sheffield: 413-229-7037; Pittsfield: 413-499-9346; Great Barrington: 413-528-1881; Lee: 413-243-5545; Dalton: 413-684-2000; Lenox: 413-637-4787; Cheshire: 413-743-9719.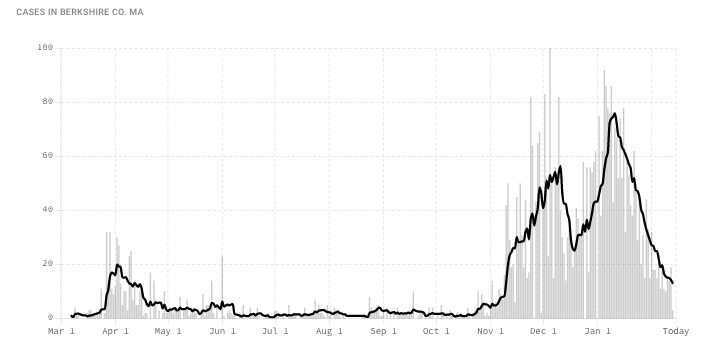 WESTERN MASS. PICTURE: The case totals (and death counts) in neighboring counties: Franklin, up 10 to 1,909 (99); Hampshire, up 106 to 6,751 (up 2 to 249); Hampden, up 169 to 39,752 (up 5 to 1,274).
HOSPITAL CHECK: Berkshire Medical Center does not report COVID-19 patient census numbers over the weekend. Statewide, 1,125 people are hospitalized. Hospitalizations statewide have been trending down. Of those hospitalized, 290 are in ICU and 183 are on ventilators.
WIDER WORLD OF COVID: Global cases top 108,727,299, with 2,397,385 deaths, according to data provided by Johns Hopkins University. The U.S. has seen at least 27,625,859 cases and 485,029 deaths.
LEADING INDICATORS: The DPH provides the following statistics as indicators in the fight against coronavirus infection. Sunday's figures:
– Seven-day average of new confirmed cases: 1,483. That is down from the recent high of 6,239 on Jan. 8.
– Seven-day weighted average of positive test rate: 2.17. That is down from the recent high of 8.7 on Jan. 1.
– Seven-day average of number of COVID-19 patients in hospitals: 1,293. That is down from the recent high of 2,336 on Jan. 9.
– Seven-day average of COVID-19 deaths: 46.4. That is down from the recent high of 73.9 on Jan. 11.
INFORMATION ON TESTING: "Stop the Spread" testing sites are now open at three Berkshire Health Systems locations. Tests will be conducted for any reason, with the state picking up the cost. To schedule a test, call the toll-free hotline, 855-262-5465, from 8 a.m. to 4:30 p.m. daily.
Locations are: Pittsfield, 505 East St., St Luke's Square, adjacent to BHS Urgent Care Center; North Adams, 98 Church St., next to the city library; Great Barrington: 475 Main St.
Tests can also be obtained through CVS by filling out a form online.
To contribute news to The Checkup, please email lparnass@berkshireeagle.com or call 413-588-8341.