VACCINE ACCESS UPDATE: People looking for available COVID-19 vaccine appointments in the Berkshires may well wonder: Where'd they go?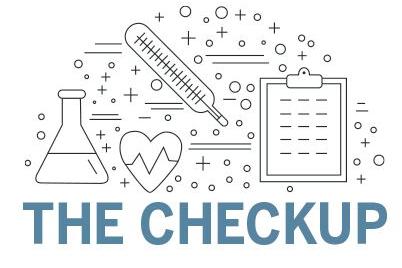 With this daily feature, The Eagle runs down breaking local developments in the coronavirus crisis.
The local website, www.getvaccinatedberkshires.org, does not list any clinics this week for those eligible in Phase 2 — people 75 and over. Here's what's going on.
The region did not receive additional vaccine doses this week, according to Laura Kittross, director of the Berkshire County Boards of Health Association and the Berkshire Public Health Alliance.
While no clinics are listed, there will be opportunities for people who received the first dose to get the second. Those slots do not show up on the state's website.
Kittross said she and her colleagues hope to add vaccine appointments next week, either for people 75 and over who have not yet gotten their shots or their companions. They may also expand availability to people who are up next in Phase 2: those aged 65 to 74 and others who have health conditions that put them at high risk for the disease.
However, Kittross says the region needs approval from Boston to add the next age group. She said the local program will also need to confirm it will be allocated vaccines. "We should know that on Wednesday or Thursday," Kittross said, "and open slots accordingly."
The halt to vaccine distribution this week may be due, in part, to the region's success in getting people the shots.
"We have largely completed our 75+ age group," Kittross said. By that she means that clinics, pharmacies and long-term care facility vaccination programs have reached three-quarters of people in that age group in the Berkshires. To make contact with others 75 and over, including those who are homebound, will take specific outreach efforts down the road, Kittross said.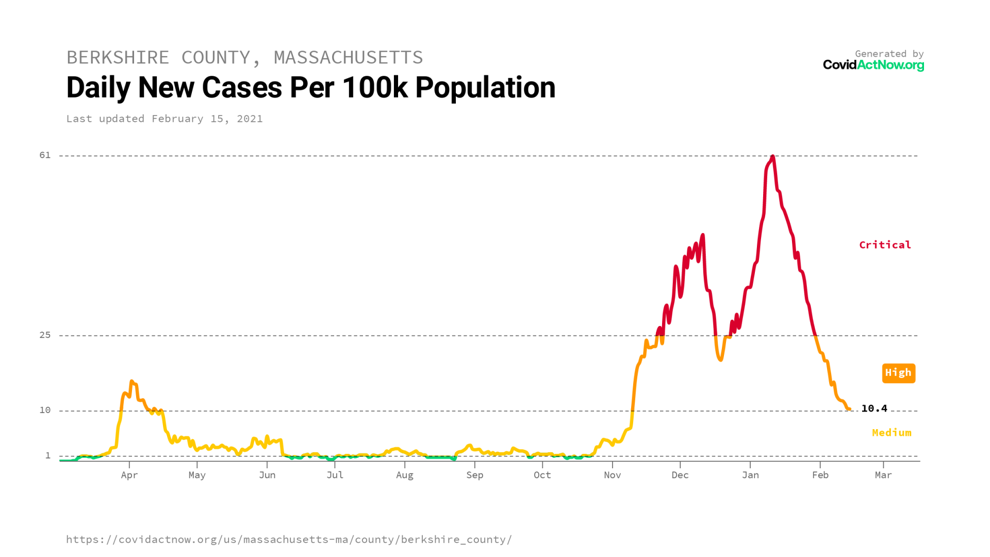 BY THE NUMBERS: Berkshire County saw no new COVID-19 deaths as of Monday, with the total of deaths unchanged at 242. The confirmed case count rose eight to 4,738, the state Department of Public Health said. A week ago, the death total was 234 and the case total was 4,650. A month ago, the death total was 180 and the case total was 3,859.
The DPH said 32 new deaths were reported in Massachusetts, pushing the statewide total to 15,208. Confirmed cases rose 1,480 to 530,735.
NUMBER OF ACTIVE CASES: 45,833 statewide; 485 in Pittsfield as of Saturday, when 357 Pittsfield households were in quarantine.
COVID-19 WEBSITE AND INFOLINE: For information on vaccines and to schedule an appointment, when you are eligible, visit getvaccinatedberkshires.org. The city of Pittsfield is providing access by phone to regular updates about access to the novel coronavirus vaccine in the city and in Berkshire County. A recorded message is posted at 413-449-5575.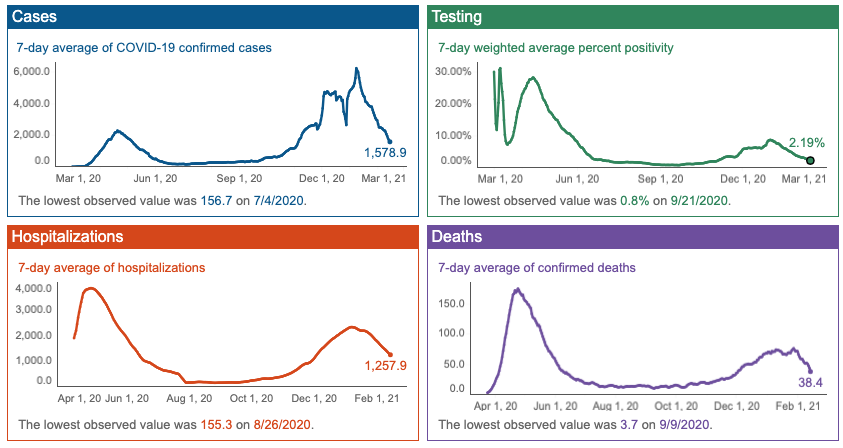 SCHOOL CASES: Last week, as public school vacation week neared, the state said COVID-19 cases involving schools continued to fall. The Department of Elementary and Secondary Education said that 674 cases were confirmed the week of Feb. 4-10, down 200 from the week before. Of those, 462 involved students and 212 involved staff.
VACCINE INFORMATION: A statewide call center is available to help people schedule vaccination appointments. The hours for the call line are 8:30 a.m. to 5 p.m. on weekdays. The helpline is available by calling 211. People in the Berkshires can continue to use local telephone numbers as well, calling councils on aging. Here is a recap of those numbers: Williamstown: 413-458-8250; Adams: 413-743-8333; North Adams: 413-662-3125; Sheffield: 413-229-7037; Pittsfield: 413-499-9346; Great Barrington: 413-528-1881; Lee: 413-243-5545; Dalton: 413-684-2000; Lenox: 413-637-4787; Cheshire: 413-743-9719.
WESTERN MASS. PICTURE: The case totals (and death counts) in neighboring counties: Franklin, up 5 to 1,914 (99); Hampshire, up 39 to 6,790 (249); Hampden, up 101 to 39,853 (up 4 to 1,278).
HOSPITAL CHECK: Berkshire Medical Center did not update its COVID-19 patient census numbers on the Presidents Day holiday. Statewide, 1,107 people are hospitalized. Of those hospitalized, 286 are in ICU and 174 are on ventilators.
WIDER WORLD OF COVID: Global cases top 109,067,558, with 2,405,546 deaths, according to data provided by Johns Hopkins University. The U.S. has seen at least 27,676,502 cases and 486,106 deaths.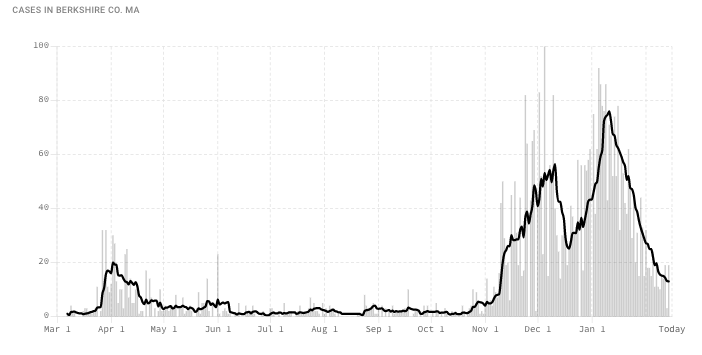 LEADING INDICATORS: The DPH provides the following statistics as indicators in the fight against coronavirus infection. Monday's figures:
– Seven-day average of new confirmed cases: 1,579. That is down from the recent high of 6,239 on Jan. 8.
– Seven-day weighted average of positive test rate: 2.19. That is down from the recent high of 8.7 on Jan. 1.
– Seven-day average of number of COVID-19 patients in hospitals: 1,258. That is down from the recent high of 2,336 on Jan. 9.
– Seven-day average of COVID-19 deaths: 38.4. That is down from the recent high of 73.9 on Jan. 11.
INFORMATION ON TESTING: "Stop the Spread" testing sites are open at three Berkshire Health Systems locations. Tests will be conducted for any reason, with the state picking up the cost. To schedule a test, call the toll-free hotline, 855-262-5465, from 8 a.m. to 4:30 p.m. daily.
Locations are: Pittsfield, 505 East St., St Luke's Square, adjacent to BHS Urgent Care Center; North Adams, 98 Church St., next to the city library; Great Barrington: 475 Main St. Tests can also be obtained through CVS by filling out a form online.
To contribute news to The Checkup, please email lparnass@berkshireeagle.com or call 413-588-8341.