BRITISH VIRUS VARIANT SPREADS IN MASSACHUSETTS: Nineteen new cases have been found in Massachusetts of a mutant form of the virus that causes COVID-19, but none of them in Berkshire County, the state Department of Public Health said this week.
Those cases add to 10 other cases in the state already linked to the variant first identified in the United Kingdom. The British variant is a concern because it has been found to spread more easily, leading to outbreaks in Florida and California, the DPH said.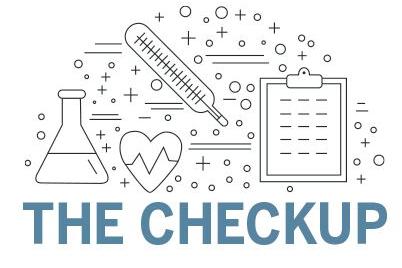 With this daily feature, The Eagle runs down breaking local developments in the coronavirus crisis.
Neither of two other known variants, one found in South Africa and another in Brazil, have been confirmed in Massachusetts.
Of the 29 cases identified Massachusetts so far, only four have been associated with travel. That means most of the infections are the result of community transmission, the DPH said.
Most of the new cases were identified in Worcester County (14), with three cases in Norfolk County and two in Middlesex County.
The westernmost infection linked to the British variant reported by the DPH concerns a man in his 20s in Hampden County. That case was among the first group of the mutant form — known as B.1.1.7 — reported by the DPH since Jan. 17.
In all, there have been 17 cases of the British variant in Worcester County, one in Hampden County, two in Middlesex County, six in Norfolk County, two in Plymouth County and one in Suffolk County.
The youngest person affected was 4 years old and the oldest nearly 70. They include 16 males and 13 females.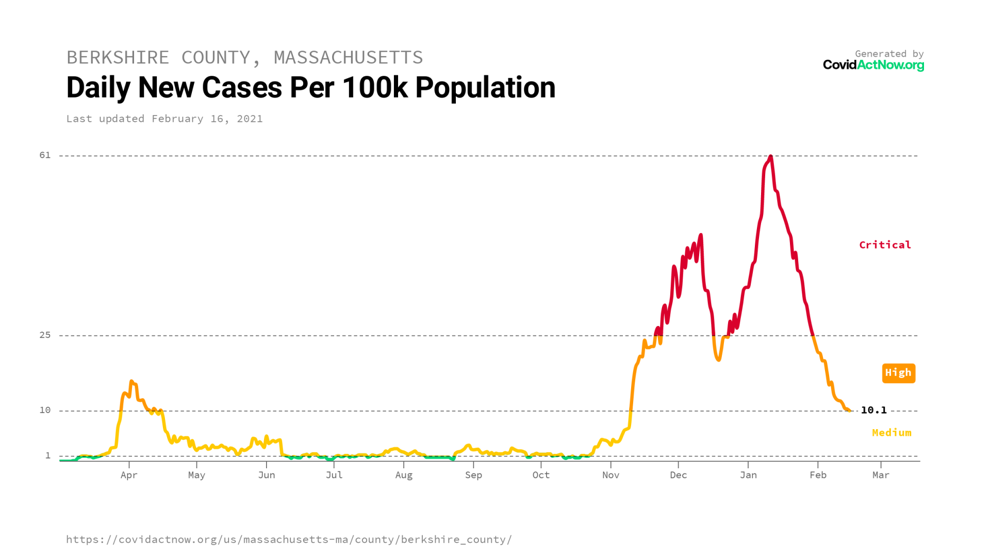 BY THE NUMBERS: Berkshire County saw one new COVID-19 death as of Tuesday, for a new total of 243 deaths, with the confirmed case count up 8 to 4,746, the state Department of Public Health said. A week ago, the death total was 237 and the case total was 4,660. A month ago, the death total was 183 and the case total was 3,937.
The DPH said 49 new deaths were reported in Massachusetts, pushing the statewide total to 15,257. Confirmed cases rose 967 to 531,702.
NUMBER OF ACTIVE CASES: 42,395 statewide, less than half the number a month ago, when the DPH reported 98,317 active cases. Pittsfield reported 356 active cases (down from 647 a week ago); 364 Pittsfield households are in quarantine, down from 425 a week ago.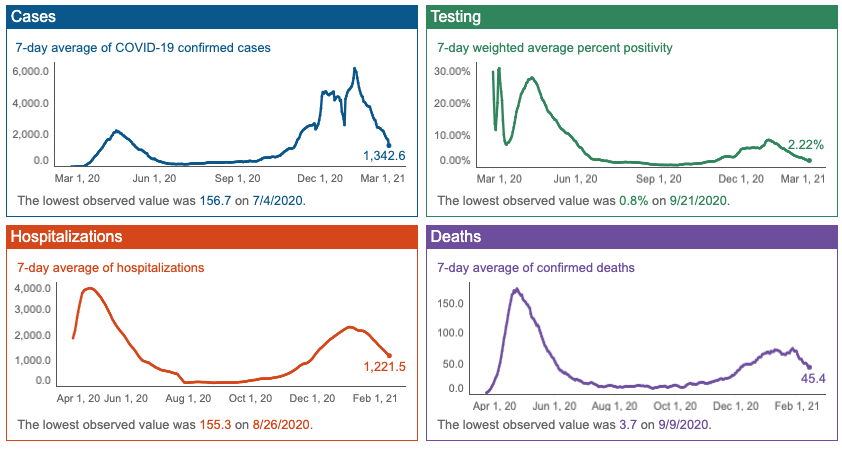 COVID-19 WEBSITE AND INFOLINE: For information on vaccines and to schedule an appointment, when you are eligible, visit getvaccinatedberkshires.org. People 75 and older are eligible now. No date has been set for the start of the next group that can receive vaccines: those 65 and older. As reported in The Checkup, local officials hope to win approval from Boston to move to the next eligible age group next week.
The city of Pittsfield is providing access by phone to regular updates about access to the novel coronavirus vaccine in the city and in Berkshire County. A recorded message is posted at 413-449-5575.
VACCINE INFORMATION: A statewide call center is available to help people schedule vaccination appointments. The hours for the call line are 8:30 a.m. to 5 p.m. on weekdays. The helpline is available by calling 211. People in the Berkshires can continue to use local telephone numbers as well, calling councils on aging. Here is a recap of those numbers: Williamstown: 413-458-8250; Adams: 413-743-8333; North Adams: 413-662-3125; Sheffield: 413-229-7037; Pittsfield: 413-499-9346; Great Barrington: 413-528-1881; Lee: 413-243-5545; Dalton: 413-684-2000; Lenox: 413-637-4787; Cheshire: 413-743-9719.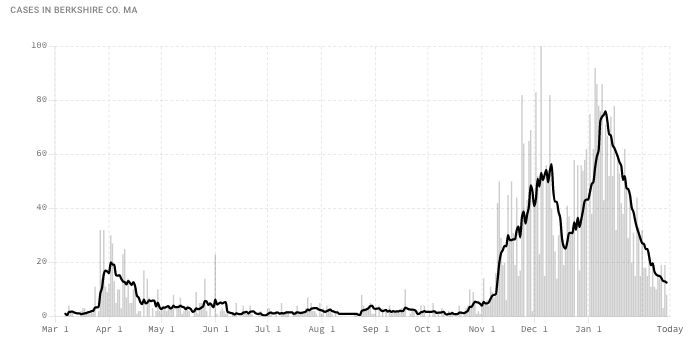 WESTERN MASS. PICTURE: The case totals (and death counts) in neighboring counties: Franklin, up 4 to 1,918 (99); Hampshire, up 22 to 6,812 (up 2 to 251); Hampden, up 150 to 40,003 (up 4 to 1,282).
HOSPITAL CHECK: Berkshire Medical Center reported caring for 14 COVID-19 patients, down from 18 a week ago and 36 on Jan. 15. Statewide, 1,096 people are hospitalized, down from 2,197 a month ago. Of those hospitalized, 275 are in ICU and 183 are on ventilators.
WIDER WORLD OF COVID: Global cases top 109,449,313, with 2,416,282 deaths, according to data provided by Johns Hopkins University. The U.S. has seen at least 27,744,089 cases and 487,656 deaths.
LEADING INDICATORS: The DPH provides the following statistics as indicators in the fight against coronavirus infection. Tuesday's figures:
– Seven-day average of new confirmed cases: 1,343. That is down from the recent high of 6,239 on Jan. 8.
– Seven-day weighted average of positive test rate: 2.22. That is down from the recent high of 8.7 on Jan. 1.
– Seven-day average of number of COVID-19 patients in hospitals: 1,221.5. That is down from the recent high of 2,336 on Jan. 9.
– Seven-day average of COVID-19 deaths: 45.4. That is down from the recent high of 73.9 on Jan. 11.
INFORMATION ON TESTING: "Stop the Spread" testing sites are now open at three Berkshire Health Systems locations. Tests will be conducted for any reason, with the state picking up the cost. To schedule a test, call the toll-free hotline, 855-262-5465, from 8 a.m. to 4:30 p.m. daily.
Locations are: Pittsfield, 505 East St., St Luke's Square, adjacent to BHS Urgent Care Center; North Adams, 98 Church St., next to the city library; Great Barrington: 475 Main St.
Tests can also be obtained through CVS by filling out a form online.
To contribute news to The Checkup, please email lparnass@berkshireeagle.com or call 413-588-8341.