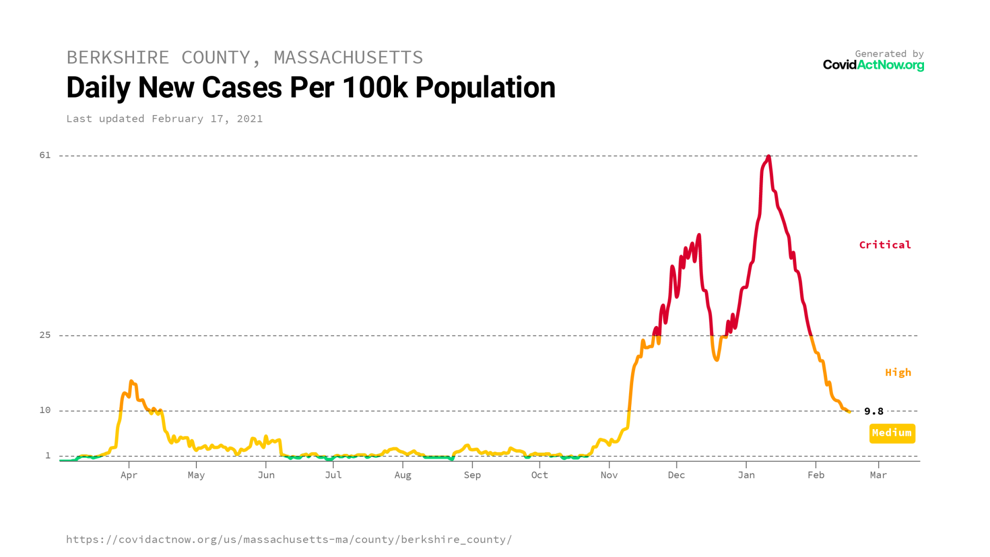 ON CAMPUS: With students back at area colleges, tests are finding new COVID-19 infections. At Williams College, 10 cases have been confirmed in the past week. That is more than half the number of all cases involving students since testing began Aug. 17, the college reports on its COVID-19 online dashboard.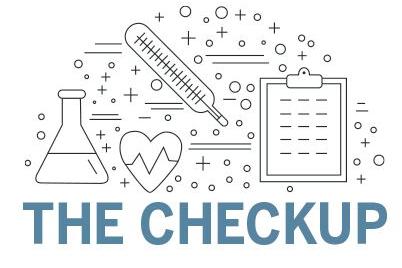 With this daily feature, The Eagle runs down breaking local developments in the coronavirus crisis.
The 10 cases were identified out of 3,636 tests, for a positivity rate of 0.27 percent — roughly one-fifth of 1 percent. That compares to a statewide seven-day test positivity rate of 2.2 percent as of Wednesday. Berkshire Medical Center said Wednesday that the average positivity rate in tests it conducted over the last week was 2.6 percent.
According to the Centers for Disease Control and Prevention, the World Health Organization considers test positivity rates of 5 percent and below over 14 days to be grounds for governments to consider loosening restrictions on gatherings.
Since Aug. 17, Williams has reported 17 cases among students and 17 cases among faculty and staff.
PHASE TWO EXPANDS: As reported elsewhere by The Eagle, the state is expanding access to the vaccine as of Thursday to people aged 65 to 74 and those with certain health conditions.
The state will roughly double the population eligible for COVID-19 vaccines, when people age 65 and over, those with at least two health conditions that put them at higher risk, and others will be able to make appointments.
In a state with a population of about 6.9 million, about 1.1 million people are now eligible for vaccines, and approximately another million will join them Thursday, including roughly 16,000 people in the new age group from Berkshire County.
The Berkshire Vaccine Collaborative estimates that roughly three-quarters of eligible Phase Two recipients have been vaccinated, between long-term care facility clinics, pharmacy vaccinations and public clinics.
Statewide, 316,302 people had received both required doses of the available vaccines as of Tuesday. In all, 1,527,150 doses had been shipped to Massachusetts, the DPH said Wednesday. Of those, 79.2 percent had been administered.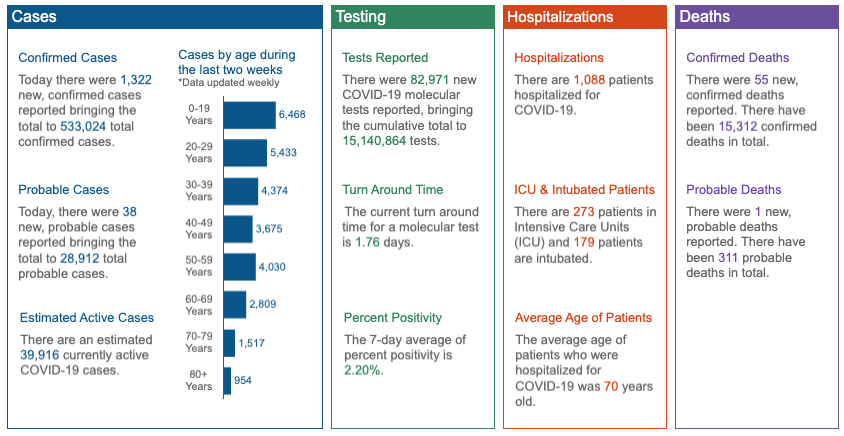 BY THE NUMBERS: Berkshire County saw one new COVID-19 death as of Wednesday, for a new total of 244 deaths, with the confirmed case count up 16 to 4,762, the state Department of Public Health said. A week ago, the death total was 239 and the case total was 4,675. A month ago, the death total was 184 and the case total was 3,969.
The DPH said 55 new deaths were reported in Massachusetts, pushing the statewide total to 15,312. Confirmed cases rose 1,322 to 533,024.
NUMBER OF ACTIVE CASES: 39,916 statewide; 363 in Pittsfield (compared to 964 a week ago); 364 Pittsfield households are in quarantine (compared to 422 a week ago).
COVID-19 WEBSITE AND INFOLINE: For information on vaccines and to schedule an appointment, when you are eligible, visit getvaccinatedberkshires.org or vaxfinder.mass.gov.
The city of Pittsfield is providing access by phone to regular updates about access to the novel coronavirus vaccine in the city and in Berkshire County. A recorded message is posted at 413-449-5575. Also, a statewide call center is available to help people schedule vaccination appointments. The hours for the call line are 8:30 a.m. to 5 p.m. on weekdays. The helpline is available by calling 211.
People in the Berkshires can continue to use local telephone numbers as well, calling councils on aging. Here is a recap of those numbers: Williamstown: 413-458-8250; Adams: 413-743-8333; North Adams: 413-662-3125; Sheffield: 413-229-7037; Pittsfield: 413-499-9346; Great Barrington: 413-528-1881; Lee: 413-243-5545; Dalton: 413-684-2000; Lenox: 413-637-4787; Cheshire: 413-743-9719.
WESTERN MASS. PICTURE: The case totals (and death counts) in neighboring counties: Franklin, up 5 to 1,923 (99); Hampshire, up 79 to 6,891 (up 1 to 252); Hampden, up 127 to 40,130 (up 4 to 1,286).
HOSPITAL CHECK: Berkshire Medical Center reported caring for 11 COVID-19 patients. It had 18 a week ago and 39 on Jan. 18. Statewide, 1,088 people are hospitalized. Of those hospitalized, 273 are in ICU and 179 are on ventilators.
WIDER WORLD OF COVID: Global cases top 109,836,395, with 2,427,316 deaths, according to data provided by Johns Hopkins University. The U.S. has seen at least 27,811,617 cases and 489,933 deaths.
LEADING INDICATORS: The DPH provides the following statistics as indicators in the fight against coronavirus infection. Wednesday's figures:
– Seven-day average of new confirmed cases: 1,268. That is down from the recent high of 6,239 on Jan. 8.
– Seven-day weighted average of positive test rate: 2.2. That is down from the recent high of 8.7 on Jan. 1.
– Seven-day average of number of COVID-19 patients in hospitals: 1,182. That is down from the recent high of 2,336 on Jan. 9.
– Seven-day average of COVID-19 deaths: 40.7. That is down from the recent high of 73.9 on Jan. 11.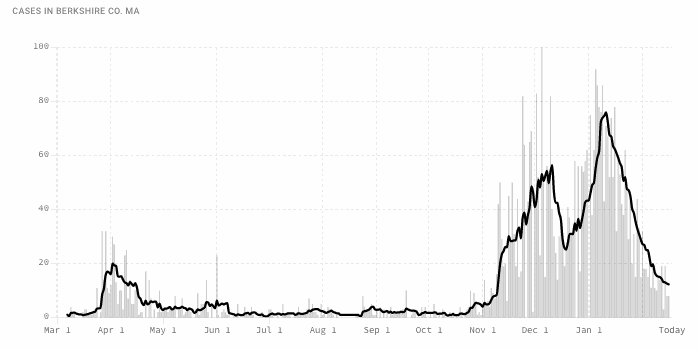 INFORMATION ON TESTING: "Stop the Spread" testing sites are open at three Berkshire Health Systems locations. Tests will be conducted for any reason, with the state picking up the cost. To schedule a test, call the toll-free hotline, 855-262-5465, from 8 a.m. to 4:30 p.m. daily.
Locations are: Pittsfield, 505 East St., St Luke's Square, adjacent to BHS Urgent Care Center; North Adams, 98 Church St., next to the city library; Great Barrington: 475 Main St. Tests can also be obtained through CVS by filling out a form online.
To contribute news to The Checkup, please email lparnass@berkshireeagle.com or call 413-588-8341.