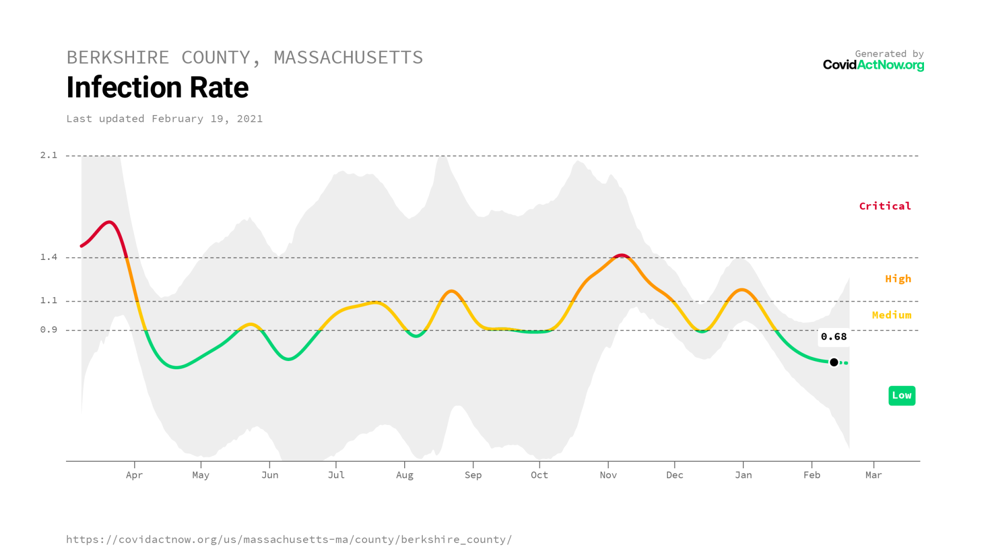 THE CHECKUP NEWSLETTER: Starting today, The Berkshire Eagle is providing full access by emailed newsletter to our daily report on the impact of the coronavirus on Berkshire County and beyond. Thanks for reading. We welcome your comments and suggestions. See a note at the end on how to reach us.
BY THE NUMBERS: Berkshire County saw two new COVID-19 deaths as of Friday, for a new total of 248 deaths, with the confirmed case count up 15 to 4,784, the state Department of Public Health said. A week ago, the death total was 239 and the case total was 4,708. A month ago, the death total was 187 and the case total was 4,081. The DPH said 36 new deaths were reported in Massachusetts, pushing the statewide total to 15,409. Confirmed cases rose 1,679 to 536,506.
NUMBER OF ACTIVE CASES: 37,210 statewide, down from 48,280 a week ago; 400 in Pittsfield (down from 579 a week ago); 292 Pittsfield households are in quarantine. A week ago, 429 were in quarantine.
LAST TWO WEEKS AT A GLANCE: In its weekly report Thursday, the state Department of Public Health provided this COVID-19 data for Berkshire County. (For comparison sake, the figures are followed by the corresponding state data):
Total number of cases: 4,762 (4,784 as of Friday)
Case in last 14 days: 198
Relative change: Lower
Total tests: 253,968
Tests last 14 days: 19,948
Number positive results last 14 days: 228
Percent positive: 1.14 percent
Change in percentage of positive cases: Lower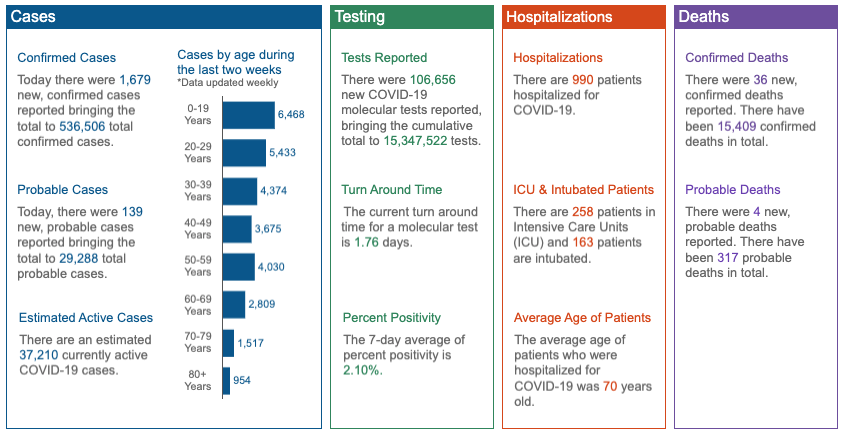 Berkshire County had the lowest rate in the state. The highest percentage on test positivity was found in the following counties: Bristol (5.07), Hampden (4.86), Plymouth (4.46) and Barnstable (3.68). The statewide rate was 2.7 at the time of the report.
COVID-19 WEBSITE AND INFOLINE: For information on vaccines and to schedule an appointment, when you are eligible, visit getvaccinatedberkshires.org. The city of Pittsfield is providing access by phone to regular updates about access to the novel coronavirus vaccine in the city and in Berkshire County. A recorded message is posted at 413-449-5575.
PART TWO OF PHASE TWO: As those of a certain age know by now, eligibility for the COVID-19 vaccine expanded late this week to include people 65 and over and those with health conditions that leave them at special risk. Clinics in the Berkshires began giving shots to those people this week.
The widening of Phase Two means that about 2.1 million of the state's roughly 6.9 million residents will be eligible to be vaccinated against the coronavirus. It is expected that working through those newly eligible could take up to a month — and depends on supplies of the vaccines reaching Massachusetts.
To keep tabs on supplies, as of March 1, the state says it will no longer ship vaccines to cities holding clinics for their own residents. Instead, supplies will be used to expand capacity at regional centers and at mass vaccination sites.
VACCINE INFORMATION: A statewide call center is available to help people schedule vaccination appointments. The hours for the call line are 8:30 a.m. to 5 p.m. on weekdays. The helpline is available by calling 211.
GOVERNOR ON BLOWBACK: Problems with the state's vaccine appointment website this week kept the spotlight on how well Gov. Charlie Baker is managing the COVID-19 crisis. He told GBH's "Boston Public Radio" program this week that other people have had it far worse than he has. "That is nothing compared to people who've lost everything just because they were on the wrong side of the COVID arc when all hell broke loose last March," he said.
Baker said that since the pandemic began, he's received tons of mail about what people have been through, testimonies, he said, that "just break your heart."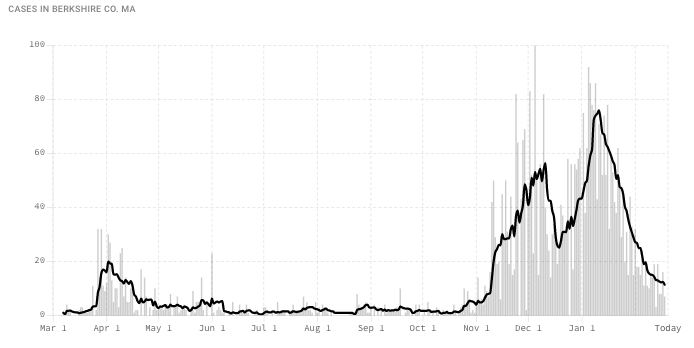 WESTERN MASS. PICTURE: The case totals (and death counts) in neighboring counties: Franklin, up 9 to 1,936 (99); Hampshire, up 64 to 7,003 (up 1 to 254); Hampden, up 193 to 40,458 (up 6 to 1,298).
HOSPITAL CHECK: Berkshire Medical Center reported caring for 11 COVID-19 patients, down from 17 a week ago and 31 a month ago. Statewide, 990 people are hospitalized, down from 1,223 a week ago. Of those hospitalized, 258 are in ICU and 163 are on ventilators.
WIDER WORLD OF COVID: Global cases top 110,584,159, with 2,448,706 deaths, according to data provided by Johns Hopkins University. The U.S. has seen at least 27,961,870 cases and 495,334 deaths.
LEADING INDICATORS: The DPH provides the following statistics as indicators in the fight against coronavirus infection. Friday's figures:
– Seven-day average of new confirmed cases: 1,141. That is down from the recent high of 6,239 on Jan. 8.
– Seven-day weighted average of positive test rate: 2.1. That is down from the recent high of 8.7 on Jan. 1.
– Seven-day average of number of COVID-19 patients in hospitals: 1,101. That is down from the recent high of 2,336 on Jan. 9.
– Seven-day average of COVID-19 deaths: 44.1. That is down from the recent high of 73.9 on Jan. 11.
SECOND CANCELLATION FOR TESTS? No, not those kinds of tests.
Education and civil rights groups want the Legislature to cancel the MCAS exams this year due to the pandemic. The tests were not held last year.
In a letter to lawmakers signed by more than a dozen groups, including the American Federation of Teachers Massachusetts and the Massachusetts Teachers Association, people say that given disruptions in schooling in the 2020-2021 year, the tests would be unfair.
"Standardized tests have never been an equitable measure of student learning, but in a time of pandemic cannot possibly measure student learning with any validity," the letter said. "Testing will only mean that all students will lose precious learning time, while, disproportionally, Black, Latinx, low-income, English learners and special education students will fall even further behind."
INFORMATION ON TESTING: "Stop the Spread" testing sites are open at three Berkshire Health Systems locations.
Tests will be conducted for any reason, with the state picking up the cost. To schedule a test, call the toll-free hotline, 855-262-5465, from 8 a.m. to 4:30 p.m. daily. Locations are: Pittsfield, 505 East St., St Luke's Square, adjacent to BHS Urgent Care Center; North Adams, 98 Church St., next to the city library; Great Barrington: 475 Main St. Tests can also be obtained through CVS by filling out a form online.
VIRUS VARIANT IS FOUND IN STATE: The DPH said this week that a woman in Middlesex County in her 20s was infected with the COVID-19 variant identified in South Africa. The woman is the first person in the state to have a confirmed case of what's known as the B.1.351 virus mutation. The variant is believed to be more contagious. As of this week, Massachusetts also had at least 34 cases of the B.1.1.7 variant originally detected in the United Kingdom.
JOIN US: Quality local journalism, like you find in The Checkup, needs your support. When you and your family subscribe to us, that's the fuel we need to keep reporting the essential news you want. Join us. Help us build our community. We are offering a 30-day free trial to readers of The Checkup.
How can we make The Checkup better or more informative? Email us at lparnass@berkshireeagle.com.